Newt Gingrich tells BP that for Israel, in a tough neighborhood, 'survival is victory'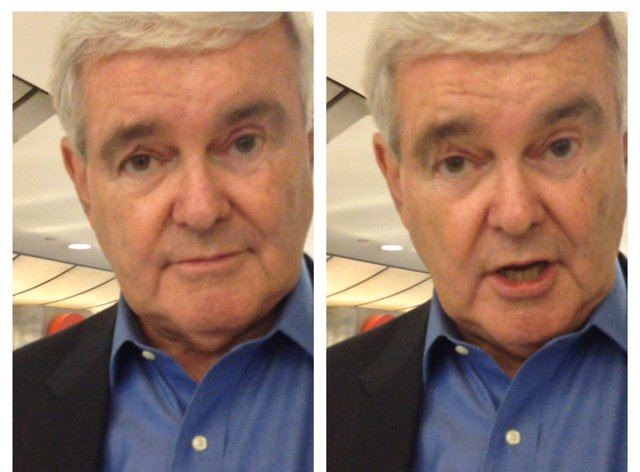 Former Speaker of the House and presidential candidate Newt Gingrich says that survival, not peace, is what Israel should strive for, because of the nature of its neighbors and the threat of nuclear attack from Iran.
In an interview at Los Angeles International Airport Oct. 1, where he had arrived from Washington, D.C., on the same flight as a Boiling Point reporter, Mr. Gingrich said Israel was in danger of a "holocaust" because it has neither the distance nor the means to protect its population should Iran launch a nuclear weapon.
"You have to understand how dangerous the region is and how potentially implacable your opponents are," Mr. Gingrich said, standing in the baggage claim area as suitcases slid toward waiting passengers.
"So if survival is victory—we're not going to get to peace—if survival is victory, what would that look like and how would we get there."
A former congressman from Georgia and now co-host of CNN's Crossfire, Mr. Gingrich was happy to answer a reporter's questions and suggested that the interview be videotaped.  He was told The Boiling Point represented a Jewish high school, and then asked, "What is your take on the Middle East?"
It was just days after new Iranian President Hassan Rouhani spoke at the United Nations and then conversed with President Obama on the telephone, and Mr. Gingrich's attention turned immediately to Iran.  Though referencing the fact that most of Israel's neighbors are still officially at war with it and refuse to recognize its existence, he spoke mostly about the Iranian nuclear threat to Israel, emphasizing how different that threat is to Israel than to the United States.
"The great problem, if you are Jewish and American, is to understand that we are a continent-wide nation of 311 million people, and Israel isn't," Mr. Gingrich said. "So we can afford to take risks.
"One of the reasons that I am frankly concerned is that two, at most three, Iranian nuclear weapons would be a holocaust [for Israel]," he continued. "I mean that literally, if you kill that many people.
"It's a very un-American model, because Israel does not have the scale that the U.S. has – to hide behind two oceans, and to be capable of surviving surprise."
By the time he finished that sentence, Mr. Gingrich's bags had arrived and he strode out of the terminal.
That left no time to ask him for his thoughts on the U.S. government shutdown, which had started that very morning.  Mr. Gingrich was Speaker of the House – the same position held now by John Boehner – last time the government was shut down due to political gridlock, in 1995.
Mr. Christopher Buckley, who advises the debate team, said that even though Mr. Gingrich is better known for his domestic views, his opinion on the Middle East is worth considering.
"He has been a presidential candidate and he has worked for and started numerous political foundations," Mr. Buckley said, "and he's also a former history professor who has written a number of books…
"I don't know if his opinion carries the same weight as a former President or Secretary of State, but it's definitely up in that area.  He definitely knows his facts."
Meet the Writer
Tamar Willis, Editor-in-Chief Emeritus
Tamar Willis is a graduate of Princeton University where she wrote and served as business manager for the culture magazine Nassau Weekly.

She joined the Boiling Point staff in ninth grade and served as Staff Writer, Features Editor, Outside News Editor and Sports Editor, winning national awards in feature writing from Quill and Scroll, the American Jewish Press Association and the Columbia Scholastic Press Association.  In high school, English and US History were her favorite subjects, and she loved to read and write, especially for the Boiling Point!

Tamar says that if she were a punctuation mark, she would be an Oxford comma or an exclamation point.  Tamar could eat sushi for breakfast, lunch, and dinner, and she thinks Clueless is one of the best movies ever made.

Tamar was Deputy Editor and then Editor-in-Chief of the Boiling Point in 2013-14 school year, leading the paper to its second CSPA Gold Crown Award the following spring.  After graduating from Shalhevet,...