Alumni in Boston in lockdown during hunt for second Marathon suspect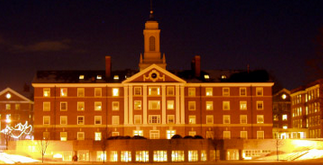 Shalhevet alumni in the Boston area reported varying degrees of abnormalcy on their campuses Friday after a shootout the night before that killed one of the Boston Marathon suspects while leaving the other at large, apparently in the Boston area.
At Harvard University, which is located near MIT where a campus security guard was killed the night before apparently by the Marathon suspects, alumnus Trevor Brandt-Sarif '10 said the atmosphere on campus was "somber." He said that even though no students lost their lives, it felt very close to home.
"I think that a little bit of the insecurity last night came from knowing the MIT security guard was killed, knowing it was a campus police," Trevor said in an interview with The Boiling Point. "I haven't been worried it would happen at Harvard, but it reminded people were not as safe as we like to assume."
He said one of the three people killed at the Marathon was the sister of someone who works in the dining hall of his dorm. Because of that, he said, "it's been more personal to Harvard than we would have expected."
Per instructions from Harvard and the Police, Trevor was on lockdown all day, pretty much confined to his dorm room in Pforzheimer House. The suspects were reported to have lived in Cambridge, and MIT is located there as well.
According to alumna Jaclyn Kellner '11, the situation was essentially the same at Brandeis University in Waltham, which is one town over from Watertown — where the suspects were last seen — but there were some students walking around campus.
"They're checking everyone coming in and out so it feels a lot safer and people don't feel very scared," Jaclyn said in a telephone interview. "People who do feel scared are embarrassed, because no one around them is."
Neither Jaclyn nor Trevor reported seeing more security officers than usual on campus grounds. But the entire Boston area had been effectively shut down, with no transit or AMTRAK trains running, businesses closed, and people told to stay where they were if at all possible since the early hours of Friday morning.
Since waking up to a text alert from the Harvard Police saying that the school was shut down and classes were canceled for the day, in mid-afternoon Friday Trevor was still in his dorm room, about a half-mile northeast of Harvard Yard.
He had Shabbat plans, but they were cancelled for the time being because the university discouraged students from walking around outside. Instead, he planned to observe Shabbat with one of his Jewish roommates.
He said that the dining hall staff would accommodate them and that the Hillel was preparing dinner in case the lockdown was lifted.
"Honestly, I feel very safe in my dorm and not insecure at all, nor have I been, now that where I am is safe," Trevor added.
"It's been a hard week for Boston. The city is hurting and I definitely feel that, as can my friends, even though it has not affected us in any direct ways."
Meanwhile, Jaclyn Kellner '11 said most people at Brandeis feel safe but are definitely "shaken up."
"People feel safe, but it's still kind of scary for a lot of people," she said. "But it's not something that people are constantly freaking about, and the university is handling it really well, and all of the student leaders are handling it really well. It doesn't feel like anything's going to happen here."
Like Harvard, Brandeis was on lockdown Friday and classes were canceled, but students are allowed to go to dining halls and the library. Jaclyn said that some people were outside on the quad because the weather was nice out, but not as many people were there as there would be on a Sunday.
Jaclyn was waiting to see if the lockdown was lifted to finalize her Shabbat plans. Since the Chabad is off-campus, the weekly Shabbat preparation that begins at 2 pm was canceled until after lockdown. She said that there are on-campus options for Shabbat meals and there is also davening on campus.
"We don't feel very endangered because we're on Brandeis's campus, which has really high security," Jaclyn said. "My friend had to go through security to get on campus."
Even though they remained unharmed and feel safe, both Jaclyn and Trevor expressed gratitude for the concern of family and friends.
"I very much appreciated the consistent texts and emails from friends and family over the past couple days just generally expressing concern over my safety and Boston's welfare," Trevor said. "It's been nice knowing that a lot of people I care about are thinking about us."