YULA, you're us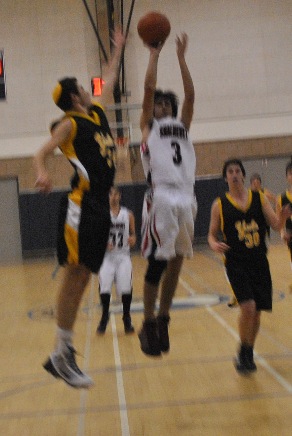 By the Boiling Point Editorial Board
March 18, 2010
The varsity boys' basketball game against YULA on February 13th was a turning point in Shalhevet sports. Though the Firehawks lost (again) in the annual rivalry game, it was close the entire time, ending on a heartbreaking missed shot in the final seconds.
Why a turning point? Because the one-point loss is miniscule next to the 53-point loss to YULA back in 2006 and the 20-point losses suffered over the last two seasons. No longer is the rivalry a one-sided Shalhevet bloodbath; instead it has become a competitive matchup.  For the first since 1998, Shalhevet basketball has proved to YULA that we are capable of competing with them. We warned them to watch out: we will end up beating them. (Next time.)
Meanwhile, other components of Shalhevet Athletics are also giving a good showing in this rivalry that's as old as our school. Both the boys' and girls' soccer teams beat YULA Feb. 6, reversing losses from last year. The newly rebuilt baseball team looks to give YULA a scare when the teams match up in April.
More important than the final score, Shalhevet continues to beat YULA in the stands. Though in different locations, both soccer games had sizable student turnout and a very large group of students cheered from the Shalhevet bleachers at the basketball game. The incessant shouts of "Shalhevet is good" and "Let's go Firehawks!" reminded everyone why we are number one in spirit.
The rivalry between Shalhevet and YULA is more than just our team against their team. Beating YULA means a great deal to us because we're so different from them and yet, so much like them. We're both Orthodox high schools in Los Angeles that care about academics as well as extra-curriculars. These kids aren't our enemies, they're the friends we met in elementary school and grew up with and see every Saturday in shul.
Yet the styles of education of our schools differ greatly and at a rivalry game, we are also fighting to prove that ours is best.  It's great that we're competitive now and the games aren't one-sided blow-outs – and a blessing that we can play our hearts out on the court and burn our lungs out from the stands, but then go daven together for mom, Israel, and apple pie.