Students learn swimming, sports, empathy at special needs camps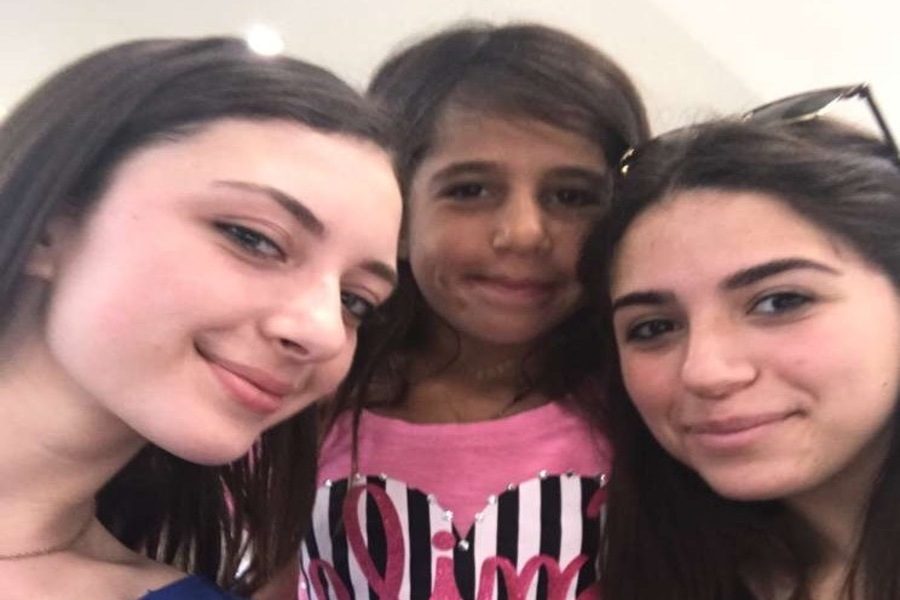 Like many of their peers, seniors Maya Schechter, Naomi Bijou and Noa Segal spent their summer at Jewish summer camp.
But their job descriptions were different from those of their friends. Maya and Naomi worked at Camp Chesed in the Valley, and Noa worked at Camp HASC in New York — both camps for people with special needs.
Summer camp is a vital part of life and Jewish education for many Jewish kids. But for special needs children, finding a summer camp to enjoy can be a challenge.
"The campers at Camp Chesed have a wide range of special needs and disabilities, and all year they look forward to this two-week chunk that's so amazing for them," said Maya.
She said the camp is very personalized and individualized, with a 1:3 camper-to-counselor ratio.
According to its website, Camp Chesed is the oldest Jewish camp for special needs children, having opened in 1995. Located in Reseda, California, it is a daycamp that is completely free of charge to all campers, and counselors volunteer their time for 14 day-long sessions. 
"When you're doing this it's really just for the soul of it," said Maya, who worked there last summer as well. "To be able to give these people an experience that they deserve and that they're not going to get unless you give it to them."
Camp Chesed offers field trips to amusement parks including Disneyland and Universal Studios, and campers' families can join their children at 4 p.m. of each field trip.
"Most camps aren't so personalized and individualized," Maya said.
"Everything is completely taken care of," she said. "The families are just sending their children, or brothers or sisters for free and they're just having an amazing experience."
Naomi said working at Camp Chesed was "harder than it looks."
She and Maya were assigned to the same camper, but sometimes if their camper did not need attention, they would help other counselors, Naomi said.
"It made me reflect on how there are families that deal with this," Naomi said. "It feels good to know you're helping out."
Noa worked as a lifeguard at Camp HASC, a 7-week-long sleepaway camp for children and adults with specialized needs in New York's Catskill Mountains.  HASC stands for Hebrew Academy for Special Children.
Camp HASC's programming targets campers' individual social, emotional, therapeutic or physical needs. Its camper-counselor ratio is more than 1:1, compared to Camp Chesed's ratio of at least 1-3.
"We have something like 500 staff for 300 campers, including nurses, recreational staff, kitchen staff, and therapy staff," Noa said.
Campers take academic classes Monday through Friday during their summers until age 21. But they aren't typical classes one would see in school.
"They work on goals that they work on the whole year," Noa said. "For one camper it might be identifying their name in a line of three names, for another it's reaching out to touch a ball, or reading three pages, or doing multiplication."
Once they turn 21, they begin participating in recreational activities rather than academics, including drama, art, music and swim.
Noa didn't take care of campers as she wasn't a counselor, but she enjoyed seeing the relief that swimming in the pool brought the campers.
"There are some campers who it takes so much stress off of them that they're able to talk when they're in the water," she said. "Because other times they're so focused on just sitting up that they can't speak."
She said the large number of staffers made it possible to provide care that the kids can't get at any other time of year.
In Los Angeles, Noa works with special needs through Yachad, a Jewish organization that creates year-round activities for special needs children. She attended HASC as a "staff kid" during her summers going into 9th and 10th grade, when her mother worked there.
"My two summers there were the best summers I've ever had," Noa said, "I just loved the camp and I loved the people and I loved the campers there. I knew that I wanted to come back to HASC."
Maya also had had past experience working with special needs people, and described it as something she's passionate about. Both of her older sisters participated in local special needs organizations Yachad, Friendship Circle and Etta.
"My older sister met her husband because they both worked at Etta," Maya said. "Working with special needs has always been a very big part of all of our lives."
In 9th grade, she was paired through Friendship Circle with a special needs camper for activities every Sunday.
"They don't have these experiences otherwise," she said. "They don't have a lot of opportunities to be social, so it's a really great thing to do for them."
Noa said that a fully special needs camp is more beneficial than similar sleepaway camps with mainstreaming programs.
"The whole entire camp is just people with special needs," she said. "Their tagline is 'Heaven on Earth,' and I've never seen a place where that's more true."
Both Noa and Maya said their experiences this summer made them more empathetic.  Maya said that working at Camp Chesed challenged her and made her grow.
"I know some campers are amazing and such a handful, but they're so much fun and super wild and full of life," she said. "It was definitely a bit challenging but it's for sure worth it."
Noa held a similar opinion and did not cease to gush about how much she loved each and every camper.
"I just enjoy so much making them happy," she said. "When you're able to connect with a camper it makes you feel so good, and you just see the world differently."
Meet the Writer
Lucy Fried, Co Editor-in-Chief Emeritus
Lucy Fried was co-editor-in-chief during the 2018-19 school year and is now a student at the Hartman Institute in Jerusalem. She will attend UC Berkeley beginning next year.