Satire finds a home at The Freezing Point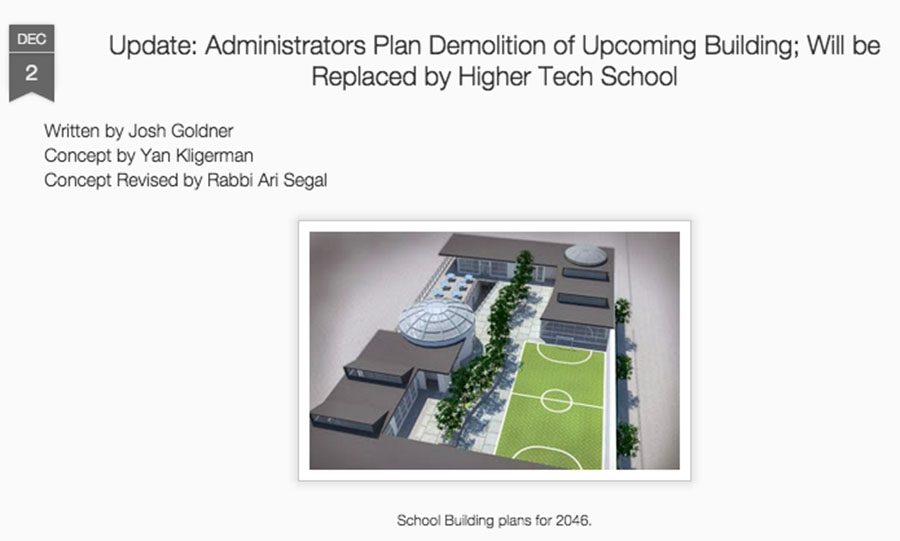 On Facebook one night last December, Josh Goldner, Henry Wineburgh, Daniel Steinberg, Jacob Toczek and Gabe Silverstein were brainstorming about Rabbi Segal's release of the latest in his "Kosher Korner" video series.
Ideas were popping up at every second. Some were discarded, such as a plan to make a cooking video with non-kosher food and insisting it was kosher.
"We pretend like we're doing a normal Kosher Korner…Play up how excited we are about all the kosher food," wrote Daniel Steinberg.
"Extreme exclamations," suggested Henry Wineburgh. "Make up ridiculous French words for him to use… Let's go with a simple twist ending. It was non-kosher the whole time."
Other ideas were tossed around and rejected. It was decided not to do a review of a non-kosher restaurant because that would be "too obvious a joke." But many other concepts suggested that night made it into the final video, which was released on line at freezingpoint.blogspot.com, Shalhevet's comedy and satire site – or as it calls itself, "The Fake Source for Shalhevet News."
The Freezing Point was launched more than a year ago by then-junior Josh Goldner with the help of then seniors Paul Merrit, David Ohana, Yan Kligerman and Benny Balazs, its goal being to publish parodies and satire of the Shalhevet community while giving its creators the chance to break out of established molds.
The site's first story, published Dec. 2, 2013, was about the construction of the new building, which had already been delayed about six months at the time.
"The demolition of the old building will only commence in 2026, when Shalhevet can get the proper funding for the new school," wrote Josh in his debut. "This will be followed by a 15-year period where the school waits for confirmation from the City of Los Angeles to begin construction."
Most Shalhevet students think that The Freezing Point is funny and unique.
"I like the Freezing Point because it's something different," said freshman Shannon Asiss. "Not a lot of people have that in their school."
In a non-scientific poll conducted by The Boiling Point on its website, 86 percent of 36 respondents had either a strongly or part . Sixty-nine percent said they loved it and read it all the time.
"The Freezing Point adds to the communal feeling of the school because it feels like we have school-wide inside jokes," said senior Anna Gordon.
A few respondents — 14 percent, or 5 out of 36 — think it's inappropriate.
"I think it could be funny," said sophomore Sarit Ashkenazi, "but it's occasionally inappropriate and not the right place to make a joke."
That is also apparently the view of Shalhevet's administration. Josh and last year's seniors decided from the beginning to give Rabbi Segal veto power over their articles – believing that they had to, Josh said — and he has used it several times.
One was in the "Kosher Korner" video, when Rabbi Segal asked the Freezing Point to make it clearer that the food they were eating on camera was, in fact, kosher.
The Freezing Point changed the video to make it clear that though it was filmed at (not kosher) Brooklyn Pizza, only food from Schnitzly's – which is kosher — was used in the video.
"He just wanted us to make it a bit more obvious that we were actually eating kosher food, which I think was reasonable" Josh said.
More recently, the group for the first time was told by the administration to take down a story from its site. This one was a satirical take on a punishment that seven students had received for ditching davening (prayer).
According to Josh, who was also one of the students caught ditching, the punishment was two weeks of "Toranut" — having to stack chairs and fix siddurs – and two weeks of no off-campus privileges. For the Freezing Point, he wrote about a fictitious Muslim student who had been caught ditching prayers at his school.
"The 18-year-old legal adult, who does not believe in the Muslim concept of Allah and rather accepts modern scientific data, refused to join the community in songs and hymns asking and thanking Allah for rain and sustenance," Josh wrote in the article.
"In defense of the punishment itself, not only was the man 'Pitter Pattering' (the Muslim term for walking) when authorities caught him, but also, because of his actions, Mecca will not see rain for another century."
Within half an hour of the article's posting, he received a call from Principal Reb Noam Weissman, asking him to take it down and suggesting that he might want to skip the senior Poland-Israel trip too.
Josh took the article down immediately.
"I like school," Josh said. "I didn't want to miss even one day or miss the trip, so I took it down."
But the administration also set up a meeting with Josh and his parents, and at the meeting, Rabbi Segal and Reb Weissman continued to suggest that if Josh was unhappy at school, perhaps he should not come back, or at least skip the senior Poland-Israel trip.
"They said multiple times, 'We are not threatening him,' but my mom took it as a threat and, obviously, I took it as a threat," said Josh.
In an interview, Reb Weissman said the problem was not with the article, but with the fact that it was Josh's response to a punishment.
"We all make mistakes, but then the way to go about the mistake that you made is not to dig deeper by being angry and acting in an angry way." Reb Weissman said. "It was just not a good way for him to respond…It wasn't the content."
Perhaps the school's reaction was not entirely a surprise. Josh said he started the website to add a rebellious spirit to school events. By comparison, he said, Senior Ditch Day and Senior Prank are not the most spontaneous forms of rebellion because they require approval by the administration.
"There aren't exactly forums to rebel," he said. "This was the one thing where we could push back a bit."
But when they started the project, they brought their idea to the administration for approval, assuming that they had to ask for permission.
Rabbi Segal said the group could post articles as long as each article was approved, Josh said, although now the staff instead responds to administration requests after things are posted. In reality, California law grants wide freedoms to student publications, including satirical ones.
Josh mentioned that the Freezing Point also self-censors, not wanting to "cross the line" into inappropriateness, and this is something the staff considers regularly. At times they hold their tongue for obvious reasons.
For example, last year the Shalhevet soccer team lost to a team of special needs students, and the Freezing Point did not post an article on the matter because it would be passing the line of parody.
But it still pushes the envelope for humor's sake.
"Our goal is sometimes just to be funny and make people laugh," Josh said.
This year's staff includes Josh, fellow senior Daniel Steinberg and like-minded juniors Henry Wineburgh, Jacob Toczek, and Gabe Silverstein along with freshman Rami Gruman.
"I love watching and reading satire, and I love making fun of the weird and ridiculous things that tend to happen at Shalhevet," said Henry.
Earlier this year, when Shalhevet finally allowed boys to wear jeans to school, junior Henry made fun of the fact that the rules allowed only certain shades of blue.
"The administration's board of scientific analysts, led by both Rabbi Stein's and Rabbi Schwarzberg's toddlers, used crayons to determine which types of blue give off overly casual vibes."
Overall, the Freezing Point team believes it has succeeded in using the outlet not just to entertain, but to bring about positive changes in Shalhevet.
Josh believes that by making jokes about school issues, the administration has noticed problems and made improvements – for example, in favoritism and unequal dress code enforcement, which the blog spent a lot of time on last year.
Currently, the Freezing Point is in the form of a website and not printed on paper, which means it is free to produce and needs no administration funding. There are no plans to print it, Josh said.
According to Josh, the biggest challenge the Freezing Point faces is organization. The Freezing Point operates without deadlines. Josh said that staffers are hoping to become more organized in the future.
He also hopes that the Freezing Point will continue to run after he graduates, with Henry Wineburgh or Jacob Toczek at the helm. And perhaps – even – some girls.
"Girls have asked to be on the staff and I've asked girls as well," he said. "It's just never ended up working out for whatever reason. Either they never got around to writing an article or didn't want to take the leap to be the first girl on the Freezing Point.
"I'm still totally open to it and hope a girl will join the staff next year."