Prize-winning chefs take guest turns at Mexikosher
Food show fans join the usual kosher customers when competitors turn up on Pico.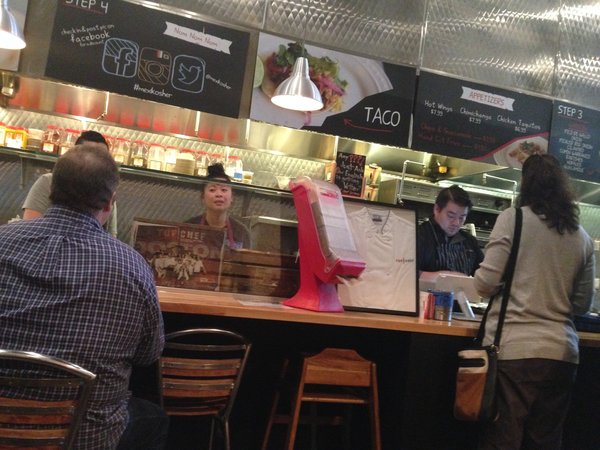 It was supposed to last until 9, but by 7:30 p.m. Feb 19 Mexikosher was all sold out of fresh, made-from-scratch tostadas — fried tortillas topped with sliced chicken, red cabbage, radishes, and a peanut, ginger dressing – created by Mei Lin, who had come for the evening to cook at the restaurant of her friend, the restaurant's owner, Katsuji Tanabe.
In a reunion of reality show royalty, the pair joined forces that night to showcase their talents on kosher restaurant row – also known as Pico Boulevard. Mr. Tanabe won the Food Network's Chopped last August and came in sixth in Season 12 of Top Chef.  [See related story.]
And Ms. Lin was not his first guest. Mr. Tanabe has invited other Top Chef competitors, including Gregory Gordet and Keriann von Raesfeld, on Jan. 27th and Feb. 17th respectively. Both prepared tacos.
This time it was Mei Lin, who is sous chef at Ink. on Melrose and won season 12 of Food Network's Top Chef: Boston on Feb. 16, making her star appearance at MexiKosher just three days later.
Customers had found about Ms. Lin's appearance via MexiKosher's Facebook page. The presence of a celebrity chef at a local Kosher restaurant caused a commotion at the site.
Two tween girls rushed into the restaurant, tapped Ms. Lin on the shoulder as she took a break from cooking and asked to take a picture with her. A couple who are Top Chef fans and also regular patrons of MexiKosher came in that night specially to see Ms. Lin.
Local resident Josh Pashman — a bit of food show royalty himself, since he was a runner-up on The Next Great Kosher Chef in 2011 — heard about Ms. Lin's appearance through Facebook.
"I thought the tostadas were good," said Mr. Pashman, who normally works as strategic planner at Keck Medical Center of USC. "It was well poached chicken, which kosher places rarely, if ever, do."
But for Ms. Lin, it was a step outside of her comfort zone. At ink., she usually cooks foods like oyster, octopus and pork.
"Once you figure out the guidelines to kosher cooking, it's pretty simple," Ms. Lin said in an interview. "I thought about what I usually like to make that doesn't involve dairy or, any unkosher food, and I made it."
After her pan of tostadas was empty, Ms. Lin stayed to mingle with the MexiKosher customers and chefs until closing hours, chatting about her cooking style and how it felt to win Top Chef.
Previous guest chef .Mr. Gourdet was from Season 12 of Top Chef, and was runner-up to Ms. Lin, while Ms.Von Raesfeld was eliminated in the seventh round of Season 15.
Although Ms. Lin emerged as a victor of Top Chef, Mr. Pashman had expected more intricate fare.
"All in all, it wasn't amazing because it seemed to be a very safe and simple dish," said Mr. Pashman. His second-prize dish on The Next Great Kosher Chef was chicken topped with squash, raisins, cumin and honey.