Fashion show promotes a new view of beauty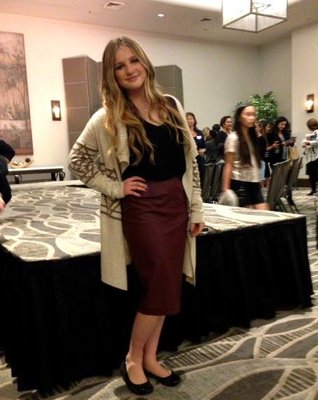 By Rose Lipner, Staff Writer
Karen Michelle, a women's clothing store on Robertson, treated over 200 women of all ages to manicures, makeovers and pastas as they strolled through a pop-music filled ballroom at the Luxe Hotel last Sunday, Nov. 3.  The occasion was a fashion show that benefitted Healthy is the New Skinny, an organization whose mission is to promote positive body image.
Karen Halaszi, owner of Karen Michelle, put the show together.
"I think that it's extremely important to embrace who you are," said Ms. Halaszi, mother of alumnus Josh Halaszi '10. "At the fashion show, women were able to see other young women embracing their bodies and people were also able to be in a healthy environment of positive body image."
Frustration with the fashion industry led founders Katie and Bradford Willcox to form LA-based Healthy is the New Skinny in 2010.  Katie, a former plus-size model who was present at Sunday's show, said she gave up being a model because she'd become preoccupied with the notion of being a particular size.
"Our goal at Healthy is the New Skinny is to help girls realize their value outside of their size," said Katie in an interview. "We teach them to put their health and happiness first, and to celebrate all types of beautiful."
The Willcoxes now travel throughout the United States addressing schools that invite them to speak about body image. They also bring in models to share how the fashion industry has affected their thoughts on their own bodies.
Outside the fashion show at the Luxe in Brentwood, heaters kept guests warm as they circulated on the chilly November night. Inside, booths displayed information relating to the theme of the evening, including various fitness booths as well as Healthy is the New Skinny's.
Models, not necessarily professional and in all shapes and sizes, donned dresses, skirts and vests from different designers — including Ms. Halaszi herself, who has manufactured a few pieces for her Karen Michelle line. Other designers represented included Andreas Fashion for the Bride, Fate, Stellestial and Love Stitch.
They strutted down the runway and struck a pose. Guests were riveted and enthusiastic.
One of the models was Shalhevet junior Rebecca Elspas, who was excited to sign up as soon as she heard about it.  She was reading the Boiling Point one day when she saw an advertisement from Karen Michelle looking for models for the fashion show.
Rebecca had her hair and makeup done and wore a Karen Michelle skirt, shirt and vest to model. Even though the night was fun and relaxed, Rebecca understood the purpose of the evening.
"Be proud of who you are and always remember to appreciate yourself," said Rebecca.
Ms. Halaszi heard about Healthy is the New Skinny from a friend. Her store has been open for two years and sells items that are, as she describes them, "casual and contemporary."