RESTAURANT REVIEW: Sand-Which Bar shows good food is good business on Pico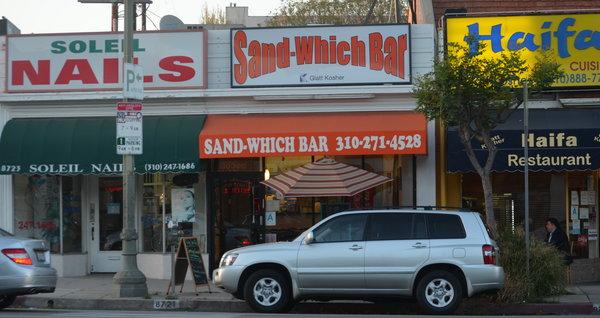 As I learned a few weeks ago in U.S. History class, America's economy thrives on competition. You might have thought there were enough kosher restaurants on Pico, but the latest contender proves that there's always room for something that no one else is doing yet — in this case, top-notch and inexpensive sandwiches.
Sand-Which Bar, which opened last July on Pico in between Haifa Restaurant and Shalom Pizza, serves healthy salads and entrees. But what really attracts customers are the creative sandwiches, which cannot be found at any other kosher restaurant in Los Angeles.
The name of the restaurant says it: there are so many sandwiches, it's hard to choose "which."
That made it the perfect place to go on a Sunday night after eight bread-less days of Passover. Pico's restaurants are usually packed with families avoiding Shabbat leftovers on Sunday nights, so my family and I were pleasantly surprised to find a place when we arrived – though with four of seven tables already filled, which I took as a good sign. White walls with abstract pictures, dark wood tables, and overhanging light bulbs completed a casual yet homey atmosphere.
As soon as we walked in, a smiling waitress told us to pick a table, then brought us menus. Personally, I did not need to look any further than the first item—a grilled chicken, pesto, and avocado sandwich. I love pesto, and I was very excited to find homemade pesto combined with healthy grilled chicken.
There were 12 sandwiches in all, ranging from falafel to brisket, along with a very intriguing sounding Spicy Jamaican Blackberry sandwich. For the less adventurous, the menu also offered a hamburger.
I also noticed six salads on the menu, including salads with tuna, chicken, and beef—a rarity at Israeli-style restaurants, where Israeli salad and the occasional green salad are ubiquitous.
For those avoiding bread, there were also plates of steak, brisket, falafel, and fish. All entrees were $10-$12, comparable to main courses at many other popular kosher restaurants in the area.
Everyone in my family ordered something different. And since no Sunday night meal is complete without French fries, we excitedly ordered both sweet potato fries and garlic herb fries for the table.
The fries arrived before our soup, 10 minutes after we ordered. I prefer to eat my appetizer before my side dish, so I was kind of disappointed that the fries would not last until the main course.
My sister's kid's-size schnitzel nuggets were bigger than expected and just crispy enough. My dad and brother thoroughly enjoyed their mushroom barley and chicken soups, respectively, though I thought the chicken soup could have used some salt. My brother was satisfied with his burger and fries (yes, we just had to order more garlic-herb fries), but not overly enthusiastic. I guess that when it comes to Israeli restaurants, you shouldn't order American food.
My father's brisket plate and mouth-watering array of grilled veggies had the perfect amount of spice, and he gladly polished off his entire plate.
But my pesto and chicken sandwich was the best meat sandwich I've ever tasted. The toasted bread, perfectly charred chicken, and homemade pesto came together into something delectable. For the first time ever at a restaurant, I actually finished my entire portion.
Then came a surprise. We asked about dessert, but were told the restaurant had none. Anyone with a post-dinner sweet tooth should make other plans. SandWhich Bar won't help you with that one.
My sister and I completed our obligatory bathroom check, because my mom always says that the bathroom reflects the cleanliness of the kitchen. The bathroom was very clean, so we happily returned to the table.
The waitress then brought over an iPad, and swiped our credit card right in front of my dad. It is a nice idea, perhaps guarding against credit card fraud, but it makes giving a tip uncomfortable because the waitress is standing right behind you. Still, the meal was so good that we left the restaurant feeling very satisfied.
For students craving a delicious sandwich who can get to Pico for lunch, do stop at Sand-Which Bar, and check in on Facebook for a discount. Sand-Which Bar proves that no matter how many kosher restaurants there already are on Pico, there is always something new and delicious yet to be seen.