Teens can learn if they're carriers for Ashkenazic, Sephardic genetic diseases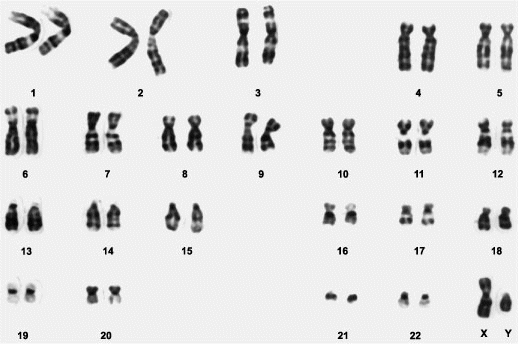 Hang on for a minute...we're trying to find some more stories you might like.
Of every 27 Ashkenazi Jews, who make up about one half of the Shalhevet community, one is a carrier of the Tay-Sachs gene. If two carriers have a child, there is a 25 percent chance that the child will be born with Tay-Sachs disease.
A child born with Tay-Sachs develops normally. However, by six months the child will begin to deteriorate and usually become blind and have frequent seizures. Usually by ages two to five, the child dies.
"If the babies have seizures you treat them," Dr. William Wilcox, attending physician and professor at Cedars Sinai, said. "When they stop being able to eat, you put in feeding tubes. You get care to help with the family. The child who looks like a normal baby deteriorates and dies. It's an awful disease to watch. Nobody in their right mind would want to have a kid with Tay-Sachs."
Tay-Sachs disease is one of the several diseases that Ashkenaz Jews have an increased carrier frequency due to their common ancestry. In the Persian Jewish community, there is a similar increased frequency with Wolman disease, which is just as dangerous as Tay-Sachs.
Since 1970, genetic testing has become common in order to stop the number of Tay-Sachs babies being born, and since being introduced, there has been a 90 percent decrease in the number of Ashkenazi Jewish babies born with the disease. Newer tests are equally effective in preventing Wolman and other genetic illnesses.
The question for unmarried Jewish teens is thus when to be tested- before dating and choosing a spouse, or after marriage and during pregnancy.
Waiting until after marriage means having to decide what to do when testing shows and unborn child will be struck with a genetic illness. Finding out in high school means asking prospective dates whether they have been tested too.
About 70 percent of 85 Shalhevet students who were surveyed said that they would want to make sure to get tested before they get married. But only about 50 percent said they would only date non-carriers if they were a carrier for the gene.
"I think it is very important for people to get tested," sophomore Rena Ohana said. "If I were a carrier I wouldn't want to date someone who was a carrier because the chances are too risky."
"If I am in love with someone and we are both carriers, then it doesn't matter," sophomore Eric Lunzer said. "I would just adopt or find another option."
Dr. Wilcox says that it is more common now for a baby with Tay-Sachs to be born to non-Jewish families than to Jewish ones, since it is less common for non-Jewish couples to be tested. Non-Jews carry the gene much less frequently – one every 250 people, according to the National Human Genome Research Institute.
For a genetic test after marriage, only one partner needs to be tested at first. Then, if he or she is a carrier, the other partner is tested.
If a couple learns that they are both carriers before they have a child, they can avoid pregnancy. Or they can use gametes (either eggs or sperm) from a non-carrier donor, and fertilize them in vitro — a fertility treatment permissible under Jewish law – and implant only embryos that are disease-free so that the child will not be at risk.
"We definitely don't want a couple to not have children," said Judaic studies teacher Rabbi Ari Schwarzberg. "Even if it isn't because of Tay-Sachs, fertility treatments can be used."
For couples who find out they are both carriers after they are already expecting a child, the fetus can be tested to see if it will have a genetic illness or not.
Since there is no treatment for such illnesses, the only options once finding out a baby will be born with the disease are to accept the prognosis for their future child or to terminate the pregnancy.
"Usually you will find some sects of Judaism against terminating the pregnancy," Rabbi Schwarzberg said. "But I believe the normative approach is that as long as a couple finds out early enough, they can abort."
Dr. Wilcox says that the Jews he has seen in this position haven't been against terminating the pregnancy for religious reasons. Those firmly opposed to abortion would not terminate the pregnancy in this situation, so they usually wouldn't have their unborn child tested.
But for those who view abortion as unacceptable even in such a case, a religious response has arisen in the ultra-orthodox community with the organization Dor Yeshorim, established in order to avoid a situation where a couple is pregnant with at Tay-Sachs baby.
Dor Yeshorim, based in New York, is an organization that tests young people who are about to enter the shidduch, or matchmaking, process. Dor Yeshorim does not actually let the individual know their results. Instead, a person is given a number that is sent to their matchmaker.
In fact, the process is so shrouded in secrecy that a representative for Dor Yeshorim didn't give her full name, wanting to only be referred to as Mrs. Pearl.
"When there is a shidduch, both parties exchange their numbers, and we say whether or not they are compatible," Mrs. Pearl said. "As long as they are not both carriers for the same disease, they can marry. It's a compatibility program."
As of 2006, Dor Yeshorim had prevented over 800 incompatible matches, according to the website, shidduchim.info.
If a student wants their number processed in two to three weeks, the test costs about $200, Mrs. Pearl said. However, it is less expensive when a student waits three to four months for results. For that reason, many students test at a young age so that their results can be ready for when they want to start the matchmaking process.
Dor Yeshorim tests high school students throughout the United States. In Los Angeles, they come to several schools, including Bais Channa Chabad and Bais Yaacov.
Rabbi Yoel Bursztyn, Bais Yaakov's educational director, said that testing at the school happens once very two years for students in 11th and 12th grade, but it is not mandatory.
"In the world of yeshivas it's very accepted to use Dor Yeshorim," Rabbi Bursztyn said. "Its important and it's only relevant if they're (the two people being matched) both carriers. No one is labeled. No one is stigmatized. This way it's wonderful."
Students at Bais Yaakov also find testing valuable.
"It's important to see if you're compatible and will be able to have healthy kids – it's very dangerous otherwise," said a Bais Yaakov alumna, 21, who is currently going through the shidduch process. Like others associated with Dor Yeshorim, she asked that her name not be used.
In the Shalhevet poll, 34 students out of 84 students asked, or 40 percent, said Shalhevet should offer testing for its students. Eight students said that they were not sure.
"I definitely do not think Shalhevet should offer testing," junior Erin Sharfman said. "It's an individual decision for someone to make when they are older and thinking of having children."
Tay-Sachs is not the only genetic disease common to Ashkenazi Jews. Others are Canavan Disease, Cystic Fibrosis, Familial dysautonomia, Fanconi anemia type C, Mucolipidosis type IV, and Gaucher disease. At least one in five Ashkenazi Jews is a carrier for the genetic mutation for one of these diseases.
"Whenever you have a small founder population, you get a number of recessive diseases carried," said Dr. Wilcox. "Because the Jews shared a lot of common ancestry there is an increased frequency of different recessive diseases. "
For that same reason, Iranian Jews have an increased frequency to carry the abnormal LAL (lysosomal acid lipase) gene that causes Wolman disease. One in every 50 Iranian Jews is a carrier.
Like Tay-Sachs, babies born with Wolman disease are healthy at birth but later develop symptoms. Children generally do not survive past early childhood.
It is estimated that one in every 350,000 babies develops Wolman disease, according to the National Library of medicine, and there is no cure to the disease. Treatments including bone marrow transplants are being experimented with to try and prevent the disease.
Meet the Writer
Colleen Bazak, Co-Editor Emeritus
Colleen Bazak started working for the Boiling Point as Chief Copy Editor in ninth grade and moved on to hold the positions of Features Editor, Outside News Editor and Sports Editor before becoming Co-Editor-in-Chief during the fall semester of 2012. At Shalhevet Colleen also participated in Yearbook, the Community Service Commitee and AIPAC.
She is now a sophomore at USC, where she has written for the Daily Trojan, and she has held several internships in the entertainment industry.