Lenny's Casita fills an L.A. kosher food gap
Street-style tacos and optional drone delivery make kosher Mexican hip and upscale
When Mexikosher closed three years ago, it was a dagger into the taco-loving heart of LA Jews who longed for a kosher Mexican spot. Now, Lenny's Casita, which opened in 2020,  is greater than Mexikosher ever was. 
The menu combines classic Mexican street food with kosher favorites like ribs and stuffed pita, while finding a healthy middle ground between fancy and casual through atmosphere and mood. It feels more like a sit-down outing than most kosher restaurants, but the music and indoor-outdoor flow keep the mood upbeat.
Upon walking into Lenny's, the first thing you'll notice is the exuberant energy. It's a party, and it is clear that the staff enjoys working there.  An ongoing blast of contemporary hip-hop classics adds to the aura, but thankfully the music is muffled by customer voices.  The Spanish word casita means "house," and as Lenny Nour, the founder, owner and chef, explained it in his blog, "the name encapsulates everything that we do, making people feel like they are a guest in our home."
"
With almost a dozen options, covering multiple meat, sauce and shell varieties, there's a taco for everyone.
The restaurant's layout contributes to its congeniality. Seating consists of mostly outdoor tables, occupying a sizeable section of the sidewalk. There's a hedge of artificial plants to act as a barrier between the dining area and busy Pico Boulevard, which creates a somewhat indoor dining experience.  
There are more tables than you'd think a place of that size would need, but on an ordinary weeknight, each one is full. The staff might even pull out benches and set up temporary tables on a particularly crowded day.
Food usually arrives less than 10 minutes after ordering via the QR code on each table, an impressive statistic for a popular restaurant. This contemporary method for purchase doesn't account for beverage buying, however. If you want a drink you have to get up and grab it from the fridge and pay for it separately.
Their newest dish, the $15 Kosher Crunchwrap Supreme, is modeled after the popular Taco Bell Crunchwrap Supreme and is an upgraded rendition of fast food. It's more expensive and probably better quality, and its surplus of ingredients wrapped in a flour tortilla with a choice of meat, salsa and corn tostada make it a lavish spin on a well-known classic.
Lenny's doesn't restrict itself to just Mexican food, however. The Arayis, which are four pitas stuffed with Mediterranean spiced ground beef, are served with pico de gallo and makes for an unorthodox yet tasty blend Mexico and Middle East. The menu continues the trend of blending Mexican and other cultures' foods with the Bazaar Bowl, which is described as the "Ultimate Mediterranean bowl," but incorporates carne asada.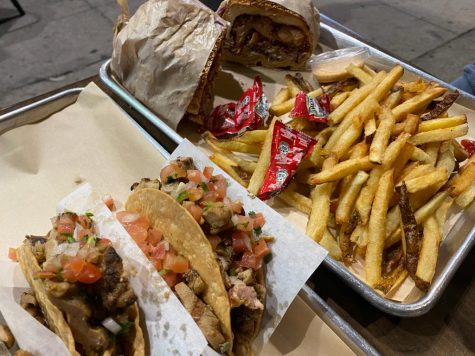 The pricey $22 Fried Chicken Sandwich consists of crispy coated boneless chicken, homemade coleslaw, chipotle honey sauce and a fluffy sesame seed bun. Albeit the same cost as two months 0f a Netflix subscription, it just might be worth every penny. Tender chicken combines gracefully with the chipotle honey sauce, and even opponents of sesame buns should try it.
The crux of the menu, the tacos, also do not disappoint. With almost a dozen options,  covering multiple meat, sauce and shell varieties, there's a taco for everyone. Two of the tacos served at Lenny's, the Carne Asada Taco and Smoked Brisket Taco, can also be found on the menu of the renowned Leo's Taco Truck on La Brea and Venice. 
If you're looking for a family-style meal to order, Lenny's offers the perfect setup. Mexican rice, black beans, pico de gallo, guacamole and impressively perfected brisket are suitable for makeshift tacos or bowl-style. The Lenny's Cauliflower is an appropriate side dish for any meal, incorporating multiple fresh ingredients that jive fluently.
Physically, Lenny's displays a chic look that distinguishes it from its competitors. The snazzy neon sign reading Lenny's Casita attracts the eyes of anyone driving through Pico-Robertson. 
The drive is less majestic when you're searching for a parking spot – a  frustration not new to Angelinos, especially those who participate in the kosher food scene. Pico-Robertson is a nightmare to park in. But finally finding that spot, tucked away behind a Honda Odyssey with an illegible meter, gives a feeling almost as good as taking the first bite of your Lenny's meal. 
The delivery service is on par with any kosher place – but Lenny's Casita has a new innovation: drone delivery. This giant leap for mankind in the realm of the LA kosher food scene is exclusively for Pico-Robertson area residents and is only available for select items on the menu. Still, drone delivery is new, and few LA restaurants, kosher or non-kosher, offer it.
"
Although Lenny's target demographic is the Jewish community, its menu, food, and energy would thrive in any market, suggesting that Lenny's is here to stay.
The drone, carrying a small order—perhaps chicken wings or short rib taquitos—hovers above a front lawn and releases the food, inciting a landing that requires extra-strength packaging.  It's enabled through an app called Flyby, and the only other kosher restaurant that uses it in Los Angeles is Lieder's Takeout. Although Lenny's target demographic is the Jewish community, its menu, food, and energy would thrive in any market, suggesting that Lenny's is here to stay, unlike its similarly experimental predecessors.
Of course, using drone delivery will come with a cost – especially if it's your birthday. Paul Janus, the manager, has an enthusiastic and welcoming manner, and his birthday dessert routine is its own surprise: at first, it seems the lights are malfunctioning, but as the music becomes louder and Paul dances out of the kitchen carrying a waffle with a candle, it becomes clear that it was all intentional. 
Chef Nour's unofficial goal is to "put smiles on our guests' faces every time they take a bite."  So far, he's succeeded.