Vacation plan: How about a museum?
Art museums are open to anyone wearing a mask, and the spherical new Academy Museum of Motion Pictures will make its debut Sept. 30
LA museums are open, and if you're willing to wear a mask, you can see LACMA, the Petersen Automotive Museum, the Getty Center and more and enjoy a change of scenery over the upcoming holiday break.
Los Angeles County fully reopened on June 15, and now after more than a year of closed doors due to Covid, local museums all around the County are finally accepting visitors again. 
Not just art is back on display. With everything in LA County returned to full capacity in indoor and outdoor spaces, restaurants, sports, movie theaters, concerts and more are running smoothly. 
Some of the museums are offering new exhibits and programming.  That includes LACMA and the Petersen Automotive Museum, both walking distance from school. Joining them later this month will be the brand-new Academy Museum of Motion Pictures, across Wilshire Boulevard from the Peterson and adjacent to the western border of the LACMA campus.
The city has regained its hustle — and soon, there may be a new vaccine passport to make places and events safer.  The City Council has begun a process that some hope will lead to mandatory vaccines for indoor venues. But for now, at every museum, only a mask is required, and social distancing is encouraged.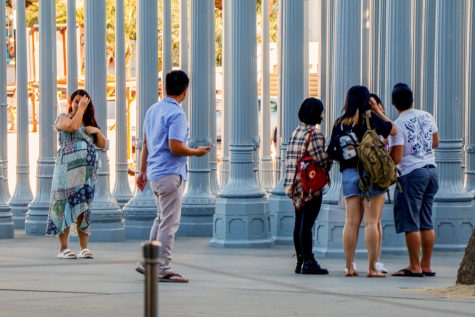 LACMA (the Los Angeles County Museum of Art) reopened on April 1 after being closed for over a year for Covid and reconstruction. The huge new David Geffen Galleries, which will span Wilshire Boulevard and replace most of the old museum, began at the start of 2020 and won't be finished until 2024.
But in the meantime, many exhibits are open in LACMA's buildings that are not being replaced. There are six new exhibits in the Broad Contemporary Art Museum (BCAM) and the Resnick Pavilion, featuring new film and artwork. Advance reservations are necessary, and masks, along with temperature checks, will be required when entering the museum.
Even closer to school, you may have seen the mysterious building-size sphere just north of Wilshire on Fairfax. That's the Academy Museum of Motion Pictures, set to open Sept. 30, which will tell the stories of how movies are brought to life — featuring all the components of creating a movie, like the art, technology, and history of the film.
Just a bit further north and east, Holocaust Museum LA in Pan Pacific Park has recently reopened its galleries, also holding frequent webinars with opportunities like hearing from a survivor or learning about Jewish writing from ghettos and concentration camps. It requires masks in the museum, along with proper social distancing.
At the start of the summer, the Immersive Van Gogh Exhibit arrived in Los Angeles at Lighthouse Los Angeles on Sunset Boulevard in Hollywood. This pop-up exhibit has been shown across the country; it's immersive because visitors can sit on the floor and watch the paintings slowly move around them. It will be in Los Angeles until January 2022 and tickets start at $40 for adults. 
At the Hammer Museum in Westwood, there is a new exhibit called Made in L.A. 2020: a version, which features art made in 2020, including during the pandemic. Entry at the Hammer Museum is free for the time being, according to its website. 
The Getty Villa museum in Malibu has added a Mesopotamia exhibition, which includes a recently acquired painting of Lucretia by Artemisia Gentileschi. 
Its cousin, the much larger Getty Center and Museum in Sepulveda Pass, has many new exhibitions that will stay until various dates in September or October, including art surrounding protest and 14th-century art. The Getty Center requires face coverings and temperature checks, along with timed reservations.
So far, area museums are not requiring proof of vaccination to enter, but other cities have such mandates for their museums.  In New York City, entrance to a museum requires the "Key To NYC" pass, a new Covid vaccine passport announced by Mayor Bill de Blasio. It went into effect on Aug. 17 with full compliance required on Sept. 13, and requires visitors and employees at all covered entertainment establishments to have at least one dose of the vaccine to enter, according to CBS News.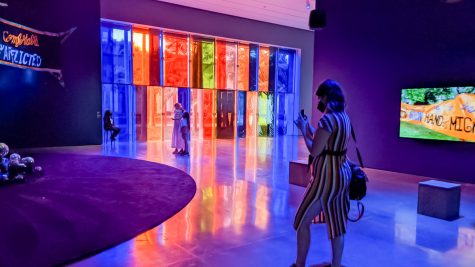 New York's order extends to movie theaters and performing arts theaters, party venues, restaurants, zoos, concert halls, and more. 
San Francisco recently joined the passport trend by requiring proof of vaccination in "high contact indoor sectors," including spaces that serve food or drinks, as well as gyms. 
Los Angeles has just begun the process of implementing this type of program. 
On Aug. 11, the Los Angeles City Council voted 13-0 to take the first steps, directing the City Attorney to draft an ordinance requiring proof of at least one dose of a vaccine to enter any public indoor space. 
That would likely cover not only museums but movie theaters, stores, and any place that food is served. Before making a decision, council members have requested feedback from businesses as to who should be required to comply.
So for now, all you'll need is a plan and a mask. School's out until Oct. 1 — chag sameach!