Shalhevet Drama triumphs over Covid with live scenes set throughout the school
For annual spring One-Acts, small audience pods view backstage scenes from a Hollywood gala
Gitty Rav-Noy and Dallas Corn were arguing on the outdoor stairwell at school. Except it wasn't "school," and it wasn't actually Gitty and Dallas arguing — it was Veronica, a social media influencer, arguing with her husband Todd, an aspiring film director, outside a gala dinner at a fictional Hollywood Producers Guild.
Gitty and Dallas were actors in a scene that Dallas had written for this year's iteration of the annual spring One-Acts.
Starry Night, was a student-written, site-specific comedy, running from April 22 to 29 and using the Shalhevet building as a stage for socially distanced audience pods, with playgoers split up into groups and going from scene to scene.
"
The production was a feat of its own…. one of few live performances, either student or professional, that have had in-person live theater showings during the Covid pandemic without car seating. "
Each scene showed a different interaction at an event made to honor a character named Sean Brooke, played by Joey Blumofe. Each scene in the play was written by a different student, and was viewed by each audience pod separately, until the final combined scene of the Gala, when the entire audience was seated in pre-arranged, socially distant seats on the third-floor turf  for the finale.
The production was a feat of its own — one of few live performances, either student or professional, that have had in-person live theater showings during the Covid pandemic without car seating.  Shalhevet Drama and its director, Ms. Emily Chase, achieved this by creating an almost theme-park-attraction way of moving people around. Each group of viewers saw the various scenes in a separate order but without missing any of the story, and culminating in a scene that everyone sees together at the end. 
In addition to its live audience, something else that the play was able to preserve was the student-written aspect. Normally, Shalhevet's spring plays are comprised of short, separate plays. In Starry Night, writers collaborated so their scenes could tell a single story.
The scene on the stairs, written by Dallas Corn, featured a character named Carla Boyd, a producer with a dreary attitude played by Natalie Harkham whom Todd tried desperately to pitch an ambitious movie script he had written.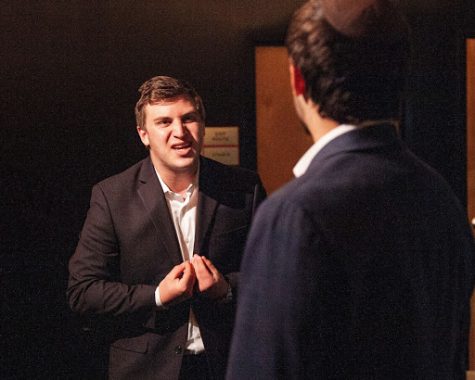 Another scene, written by senior Rebecca Cohen, featured Tiffany Brooke, Sean's Brooklyn-accented mother played by Rachel Blumofe, trying to convince Sean's wife, Andromeda, played with compelling intensity by Talia Davoudian, to invite a TV crew into their life for a reality TV show.
Freshman Mai Sultan wrote a scene set in the school kitchen, where Carly DuPree, played by Talya Kukurudz, frantically tried to prepare food for the final ceremony. Her sibling Charles, played by Gray Segal, walks in with swagger, confessing to having wrecked the car again and asking for the keys to Carly's. The two strike a deal and Charles agrees to help prepare food for the event, and Talya seemed to enjoy herself as Carly yelling at Charles for not following directions.
A major plot point of the play, written by freshman Zion Schlussel and shown in the Wildfire Theater, overhears a backroom conversation between Sean and his son, Reeve, played by freshman Nathan Soussanna, whose character doesn't want to inherit Sean's company. The anger of the characters was convincingly forceful as they shouted at each other. 
Another scene, written by sophomore Zach Rub, shows a conversation between Liza White, a trendy social media influencer played by Leeyah Klyman, and Matt Wilson, an actor expected to speak at the gala but extremely nervous as his ex-boyfriend is expected to be in the audience. As Matt, Zach fidgets, the agitation etched believably on his face. This scene is the first in a Shalhevet play to suggest any form of LGBT romance. Then enters Emma Rhodes, the planner for the event, whom Matt suspects to be dating his ex-girlfriend. 
The play wrapped up with the whole cast and audience coming to the main "Gala" event, which was written by all of the playwrights together and featured, among other things, Joey Blumofe's characterization of anger subsiding completely into tipsiness. The filmed tribute to Sean, written by Noah Masliah and edited by Wolfie Paskowitz, used various actors from the play and instead of the expected fluff piece, it was mostly people saying negative things about him. 
Site-specific isn't new to the Shalhevet drama department. In 2015, while Shalhevet was forced to relocate to the Jewish Community Center (JCC) while the new building was under construction, the drama department staged Bart's Birthday Bash, which took students from room to room of a Beverly Hills home to view each scene. Last year, only two months after the pandemic forced the school online, the drama department converted its student-written plays into a video format that was shown to the entire school. 
Shalhevet's drama department has once again shown it not only rises to the challenges it faces, but takes it in stride, integrating what sets them back into a show that flourishes because of it. Covid presented itself as a threat to theater, but in Starry Nights, the drama department once again showed its ability to rise above adversity and make an unforgettable contribution to the culture of the school.
Leave a Comment
Meet the Writer
Eli Weiss, Senior Editor
Eli joined Boiling Point in his first semester as a freshman. Quickly becoming involved, he became assistant web editor in his second semester, during which he helped redesign the website and get the Boiling Point to become a SNO Distinguished Site for the first time. 

Besides web design, Eli does design and takes photographs for the Boiling Point. Outside of Boiling Point, Eli is a programmer of the Shalhevet robotics team, guitarist with the band and a grade representative to the Agenda committee. When not in school, Eli enjoys playing guitar, harmonica and listening to music.