Strands of Jewish culture wind together at The Braid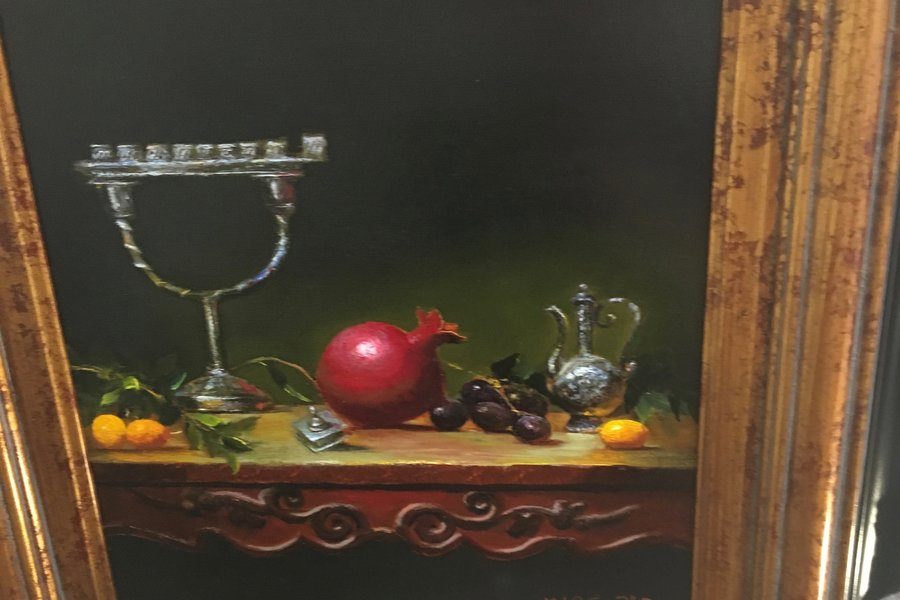 By Tobey Lee, Staff Writer
Located in a small business park in Santa Monica, the Braid is an art gallery that contains just eight works of art on topics of Jewish culture, virtues and life.
As you might expect from its name, the gallery weaves together several strands of Jewish creative energy, also sponsoring a salon theatre series in local synagogues, country clubs and Jewish homes. The theater is currently in its ninth season.
Most of the patrons are Jewish women ages 40 and up, according to its director, Susie Yure.  Perhaps that's because its hours are Tuesdays through Fridays, usually from noon to 3 p.m., when others are at work. But it also draws a younger crowd and some men are fans as well, she said.
From January 21st to March 5th, the gallery displayed the exhbit Nourashing Tradition.
Viewed on a rainy Friday after school, the exhibit was quite extraordinary, The building's small size and the limited display of art did not detract from the strong history that emerged.  At the Braid were historical Jewish paintings and a rich salon theatre series.
Two paintings stood out.
The first intriguing piece was by Marilee Tolwin, titled "Nosh." At first it looks like a door-sized collection of letters in great color, but after a more careful gaze, it is clear that it expresses one of the loves of Jewish people: food.
The letters spell out a string of Jewish foods — matzah ball soup, kugel, challah, grape juice, gefilte fish, hamantaschen, blintzes, cholent and mandelbrodt — painted in alternating vibrant colors such as yellow, pink, red, blue.
The words are jumbled together without spaces and move to the next line in the middle of a word. This is a technique called enjambment, in which one line runs into another with no regard to its meaning.
Also intriguing was "Milk and Honey," by local artist Marleene Rubinstein, but this one actually had nothing to do with food. The installation, composed of two round pillars with handles on top like the two scrolls of a Torah, stands on a serving tray covered with milk powder, An explanatory sign nearby reveals that the pillars – which are painted in an abstract design of red and black – are filled with honey.
When lit from behind – Ms. Yure is happy to switch it on for visitors – the cylinders reveal pictures of Jewish children just before the outbreak of WWII.
The work is supposed to represent the rebirth of these children, long gone, as the Torah scrolls once used in the Ghetto. The piece ultimately represents the Torah being as sweet as milk and honey, which helps the Jewish people survive.
From the months of January to May, three plays are performed around twon for two weeks each.  According to the gallery's publicity materials, The Matzo Ball Diaries (Jan. 22 – Feb. 6) told tales of food and home, and the power that food has to help with growth, healing or inspiration.
Exile: Kisses on Both Cheeks – running now through April 3 –  portrays "the Sephardic legacy of family, community and country, looking for home more than 500 years after the expulsion from Spain," the materials say.
More Courage (May 7 – 22) will, "explore stories of brave acts, small or large, that change lives and inspire us all."
Finding out where the plays take are some effort. But Google "The Braid Santa Monica" and with a click on the Braid's calendar, a list of performances can be found, which take place at Congregation Tikvat Jacob, Sephardic Temple, Wilshire Boulevard Temple-Irmas Campus, Shomrei Torah, and others.
Occupying a mere 1,500 square feet at Colorado Avenue near Yale Street, The Braid can be reached by Uber, Lyft or the Expo line light rail.  Get off at the Bergamot Station and it's an 11-minute walk north to the gallery.
Some people might not love The Braid. Some might consider it boring or uninteresting, as the exhibit space is small and it doesn't show a lot of pieces.
However, The Braid is innovating the future generation of Jewish art, by portraying Jewish themes and virtues through both paintings and plays.
The Braid is a place of art, expression, and culture, which can be a place of inspiration for all Jews.