With lights twinkling, photo club holds first show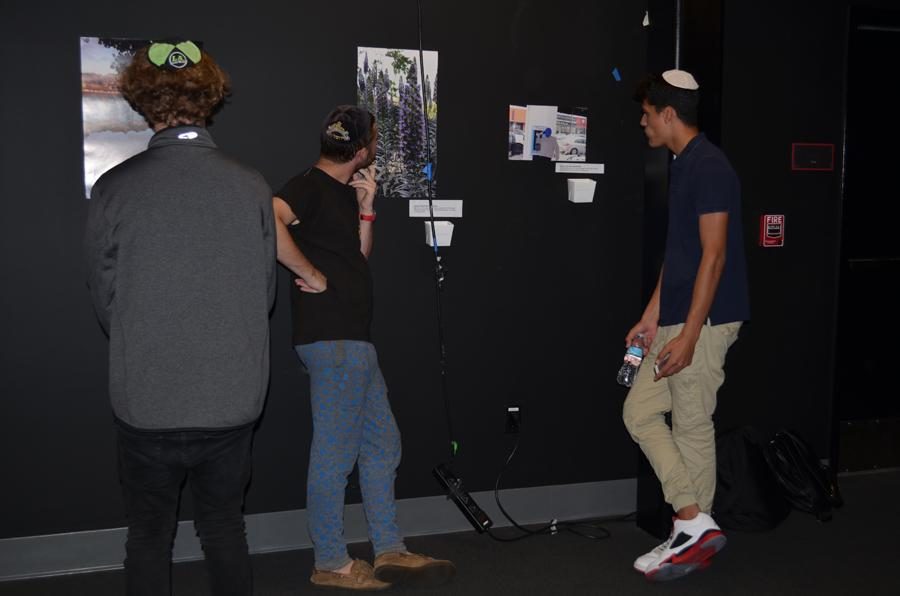 Shalhevet's Photography Club held its first-ever exhibition and auction last month in the Wildfire Theater, displaying members' favorite works in soft lighting against a black backdrop.
An afterschool crowd of about 30 who paid $3 admission wandered among the artworks, which had been printed on poster paper and hung on the theater's north wall. For entertainment, the club played hip-hop, funk and contemporary music from a stereo, and offered popcorn, cookies and juice-boxes for the guests to have as they walked through the gallery.
The black theater walls drew attention to the photos, and made the vibe "chill," according to club founder Maia Zelkha.
"I wanted it to be fun and relaxed, and interesting," Maia said. "I had comic book and plant vendors, there was music playing, there was food, I just wanted it to be chill."
In addition, four vendors sold music, plants, comics and zines – which are self-published, homemade publications, usually made on a home printer or photocopier. Liberty Fuchs, sister of freshman Honor Fuchs, sold high-heeled shoes decoupaged in comic strips. Oakwood High School sophomore Marlena Greenberg, a friend of Maia's, sold portraits of guests she drew on the spot.
But the main event was the photos, which guests could enter a raffle to purchase.
Thirteen 15×18-inch prints on poster paper hung at various heights along the theater's north wall. Contributors were sophomores Tali Schlacht, Jacob Perlman, Hannah Jannol, Maia Zelkha, Bar Aviv, Amberly Hershewe, Tehila Sarir and Daniel Lorell, and junior Gaby Ohana.
The group is self-organized and self-taught.
"The club didn't teach us how to take photos," said Daniel Lorell, "I learned mostly from online forums and just fiddling around."
There was a range of subjects, and most used the cameras on their cellphones.  Maia, who herself bought a camera, said it didn't make a difference.
Maia's photo centered on her younger sister at a slumber party with her friends. The girls played, fought, and slept in a shared room.  Daniel took a close up of the moon in the January waning gibbous phase.
Other photos varied from baked chocolate chip cookies to lollipops, from Christian protesters to lakes.
Photos were auctioned by selling raffle tickets that could be selected to win the photo of one's choice. Each raffle ticket sold for $3, with lower prices the more tickets bought.
Admissions Director Ms. Natalie Weiss won the auction, and chose Tali Schlacht's shot of the Santa Monica Pier, which is now hanging in her office.
Approximately $250 was raised through auctioning photos and items sold by vendors, and the money was donated to ELEM, an Israeli organization that helps homeless or minority teens that have been struggling in abusive homes or in foster care.
ELEM's goal is to help these kids get on their feet, which is why the qualified counselors/mentors go out and find the kids in bars or on the streets and attempt to help them get a fresh start.
"How I see it, these kids are going through the same struggles homeless American kids are, even though they are across the world," said Maia Zelka.
Instead of renting a photo booth, club members put their photography skills to use by taking guests' portraits to be edited and emailed to them. Guests were encouraged to post their portrait on social media and tag the club – @shalhevetphotography club on Instagram – to promote the event.
"I know that Maia spent a lot of time in organizing and preparing this," said sophomore and club member Danielle Mandel, "and I think the gallery really reflected her hard work."
Meet the Writer
Sadie Toczek, Lifestyle Editor
Sadie always wanted to get involved in the boiling point. Freshman year, she started out as a writer. She then later found more of her voice being the lifestyle editor, where she could write the updates she was passionate about. Other than boiling point, Sadie spends her time playing guitar, hanging with her grandma or shoe shopping.