For AP Art student, hours of work devoted to seeing
On a canvas is a girl in a vivid blue shirt holding a glass of water. She looks through the glass, the water magnifying her face. "Baby, I'd Call That Half Full"—the title– is senior Avivah Paskowitz's favorite of her many paintings.
Avivah, who spends at least five hours a day painting and drawing, hopes to be an elementary school teacher with a focus on art in the classroom.
Ms. Roen Salem, Shalhevet's Art teacher, got Avivah interested in teaching art.
"The fact that she was able to go to school for art, and then school for teaching, the fact that she surrounds her entire life around it, I want to be able to do that for some other school," Avivah said in an interview.
And Roen is fond of Avivah as well.
"Something that separates Aviva is her serious attitude towards art in addition to her skill," Roen shared. "Also, she is artistic all around with her awesome sense of style."
Avivah's gap year plans match her uniqueness and sense of culture.  For her first semester, she'll as an au pair, or nanny, to two children in Paris and then in Mallorca, Spain. She plans on taking art classes and working for the second half.
Since she was young Avivah has always loved art and learned some techniques from her mother, who shares her interest. However, Avivah mostly taught herself on a small rooftop patio at home where she feels close to nature.
This year, she's focusing on watercolors and drawing portraits.
"It is the ability to capture someone's characteristics in a single shot," said Avivah. "I enjoy people watching and seeing everyone's special, unique quirks and traits. To be able to capture that, I think, is very cool."
Though she enjoys drawing people, Avivah finds it hard to be still for a very long period of time. Sometimes she resorts to using her cell phone as a camera, but this takes away from her art because having someone physically in front of her is much more personal.
She said art has made her more observant of the tiniest details that people have–from a freckle to a dimple. Her art has pushed her to find the beauty in uniqueness and difference.
One thing you won't find Avivah making is sculptures.
"Sculpting frustrates me so much," Said Aviva, "I can never make something that is up to my standards and I just end up squishing it."
Aviva sometimes does the same thing with her paintings.
"I honestly do tear it up at times when I get frustrated," Avivah said. "But most of the time I just keep on working on it until it turns out the way I like it or even change my mistakes into something better."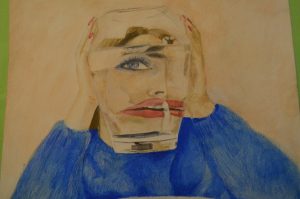 The girl in "Baby, I'd Call That Half Full" is holding a glass of water, and looking through the glass, so the water magnifies her face as she is looking up and away from the glass.
As suggested by its name, the piece alludes to the question of whether a glass is half full or half empty – that is, whether what counts more in life is what's missing or what's there.
In the painting, it is obvious to the viewer that the glass is on the fuller side, but the girl seems to be pondering thoughts behind the glass. This plays with perspective and how we choose to see things on a bigger scale, positively or negatively.
For Avivah though, it's clear that the glass is half full with a life devoted to art. The rest of the glass is just waiting to fill up with art, education, and even more passion.