Drama puts dark twist on today's technology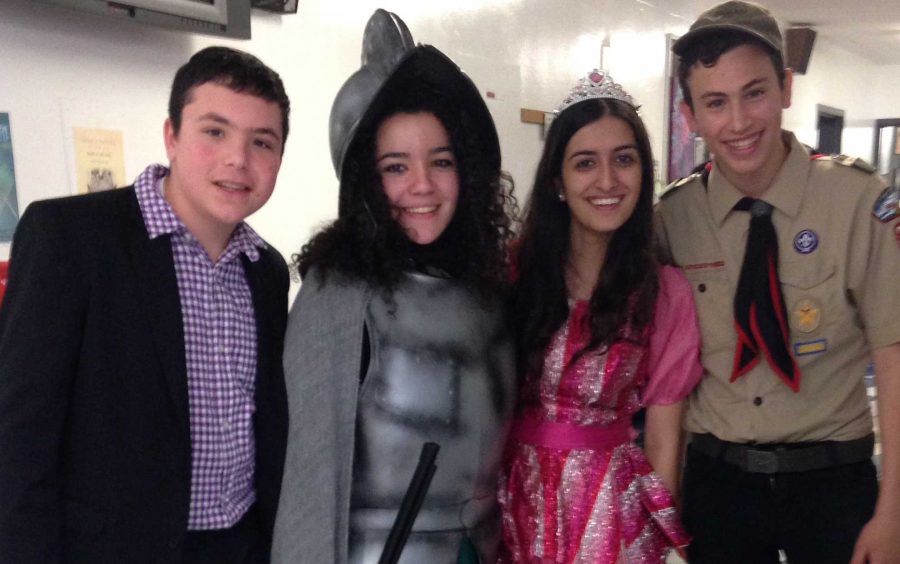 In an era of high-tech television and computers, it can be tough to connect to the real world.
#disCONNECTED is this spring's one-act drama production, written and performed by Shalhevet students. With the help of their playwriting teacher Rachel Feldman—a television director and screenwriter—the cast created three plays focusing on the darker side of technology.
"We began the creative process with very open minds about the effect of technology on our age," said drama director Ms. Emily Chase. "As the plays and songs evolved, the theme of disconnection and fragmentation emerged. They deal with the discrepancy between the true self and the life we lead online."
In "Wayward," written by seniors Benny Balazs and Yan Kligerman and directed by David Lorell, a boy scout marionette feels confined to his strings and dreams of what life would be like if he cut them off and escaped from his puppeteer.
Senior Maya Ben Shushan's "Photoshop Effect," directed by senior Annie Asch, focuses on a peasant who moves to New York in the hopes of becoming a fashion model. She yearns for a life full of riches and illustriousness and must struggle to make a decision: should she leave her sick sister and morals behind as she journeys on a new adventure?
Maya said she wanted to center a play around how demanding fame is after playing Lily Allen's song "Hard Out Here" on repeat. She is still stunned that her work is coming to life.
"The play is nothing like I originally thought," said Maya. "But my director, Annie Asch, is taking it to a whole new level."
Senior Paul Merrit is directing "Backup," written by junior David Lorell. Set in the near future, a computer whiz hacks into a computer chip placed inside a girl's brain and convinces her that he is part of Artificial Intelligence. The twist? The voice inside her head may be more real than she thinks.
"Any show can be difficult to bring from a script to a visual display," said Paul. "I'm thankful to be working with a script crafted brilliantly by David Lorell and the set designers Ms. Chase has hired are wonderfully helpful and vastly knowledgeable."
The productions, scheduled for  May 18, 19, 20 and 21, will be the last in the Wildfire Theatre Lab, which will be demolished for new construction. Akiva Reuveni will dress as a puppet and perform an amusing dance; a music video will play, set to senior Danielle Lowe's "Breathing Love"; and a twisted world of technology will come to life – somehow a fitting way to "disconnect" from Shalhevet Drama's illustrious past.