Five actors, 100 roles, 39 Steps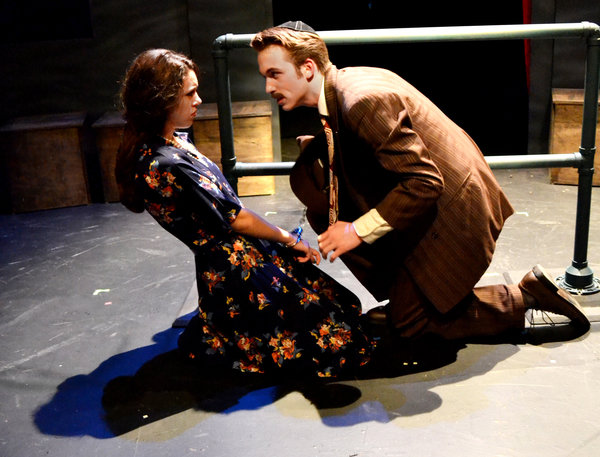 For its main fall production, Shalhevet's drama department performed the 2006 Tony award-winning hit, The 39 Steps. The play, an adaptation of Alfred Hitchcock's 1935 film, is an homage to a time when theater was dynamic independent of the smoke machines, elaborate sound systems and large acting ensembles of theater today.  Using almost nothing at all, Shalhevet's cast and crew managed to tell a complex story in full.
Originally, The 39 Steps was scripted for just four actors. But Shalhevet Drama director Ms. Emily Chase adjusted the original script to accommodate a fifth, who like the others contributed to a performance awash with comedic shenanigans and romantic entanglements.
The story began as main protagonist Richard Hannes, played by David Lorell, laments how dull his life has become. Therefore he attends a West End show in which a chance meeting with a spy plunges him into a journey to elude arrest and halt the movements of a clandestine organization called "the 39 Steps." In his journey, Hannes encounters many obstacles over which he has to hurdle, along with sinister villians and even romantic partners.
In four performances from Dec. 15 to 17, Drama's tech crew displayed the flexibility of lights, sound and objects, which filled roles that otherwise might have been filled by more actors, sets or props.  Sometimes, they used a spotlight shining from behind David Lorell onto a screen, silhouetting his figure as he acted out running from the police. The stage was otherwise dark and it was easy to imagine that the police were lost.
The West End entertainers' performances were accented with electronically engineered applause, creaky sounds accompanied the opening of a hatch, and a gunshot was met with a loud bang right on cue.
Lastly, the minimal props and humble scenery were repurposed to convey various different objects. In conjunction with each other, the stools, cutout walls, chair and desk at the actors' disposal portrayed a West End flat, a dark marsh, a train and an inn, among many other places.
Newcomers to the Wildfire Theater freshman Micha Thau and junior Akiva Reuveni, as well as senior theater veteran Annie Asch, played a myriad of different roles managing to make each distinctive. A major tool at their disposal was a collection of different accents, which they had learned from a coach brought in by Ms. Chase.  This helped distinguish when who was playing whom.
Also making her drama debut, junior Sara Sobolev exhibited great range in playing two drastically different women, Margaret and Pamela, both  romantically intertwined with Hannes. Aside from that commonality, the characters were on opposite ends of the spectrum — Margaret is receptive towards Hannes; Pamela more hardened. This demanded that Sara develop two extremely different personalities, and she played both masterfully.
Lead David Lorell played only one character, but his portrayal of Richard Hannes made the character multifaceted. First, he was humoring and entertaining, his exaggerated motions and wry inflections and face movements evoking much laughter from the audience. Later he became more panicked. Also, despite the cartoon-like nature of his character, his acting always seemed organic. His words sounded genuine and his British accent was indistinguishable from a real one.
Throughout the play the audience watched as the cast and crew exhibited tremendous versatility in scene, sound, lighting and acting. Collectively, they portrayed 100 characters, daring escapes from the police, theatrical performances and even political campaigns.
It was truly impressive. Although they were limited to five actors, a modest stage, and minimal props they were not confined to it.