Town Hall changes back, halfway — will meet three weeks out of four
Compromise plan hopes to balance need for community with time off from Zoom
In an attempt to gather the entire school together as frequently as possible, the Agenda Committee decided Sept. 30 to hold Town Hall three times a month rather than every other week, and implemented the policy when students returned from Sukkot break.
Agenda Chair Kate Orlanski said that after a month-plus of every-other-week gatherings, the three-out-of-four plan was a partial step back from the earlier change.
"We all agreed that we needed to have more frequent Town Halls," Kate said in an interview. "But we also acknowledged that jumping from once every other week to every week is a difficult decision, so we decided that for now, we are going to do three times a month."
Agenda Vice Chair Jack Sanders said the group's decision was influenced by students and the entire committee agreed on the change. He said the committee tried to weigh the need to meet against some students' need to have more time away from Zoom.
"After hearing from certain students and from just looking empirically ourselves, we kind of deduced that it was time and people were ready to have Town Hall more often," said Jack.
"We decided that having Town Hall three times a month would have the balance of alleviating Zoom burnout while also having enough Town Hall to keep the benefits of Town Hall in the school."
"
"Having Town Hall three times a month would have the balance of alleviating Zoom burnout while also having enough Town Hall to keep the benefits of Town Hall in the school.""
— Jack Sanders, Agenda Vice Chair
Agenda Secretary Keira Beller said it was important to have as many school-wide get-togethers as possible due to the circumstances with COVID-19.
"The intention is to bring us together more and unite us as a school because especially at a time like this we are all so far apart and nothing is really normal anymore and by making it more frequent it allows us to have some sense of normalization," said Keira.
When the school year began, Agenda Committee officials initially decided to only hold Town Hall every other week instead of every week. That was a change to policy since Shalhevet was first formed, when Town Hall was established as a weekly event.
Freshman Shira Elyaszadeh said extra free time was worth sacrificing because without Town Hall students are losing a major event that many look forward to. She also said extra flex time didn't solve the problem of too much screen time.
"Even if I get an extra 45-minute break, I'm going to be doing homework which is on a Google doc, which is on a screen, so there's literally no point," said Shira.
Freshman Rami Melmed agrees with Shira and said screen time is a major problem.
"It's very taxing to our brains to just be sitting on the computer all day and we shouldn't have extra things added to our already long day on Zoom," said Rami.
But senior Ronnie Seruya said students need the extra work time.
"It is needed, especially for seniors, to do college work, study for tests, so you don't have to do work late at night and so you don't have to be on the computer as late in the day," said Ronnie.
Sophomore Josh Askari said that students would be more likely to contribute if there were fewer Town Halls, and that having them more often would make people participate less.
"It would do more harm than good," said Josh. "I feel that students would actually get sick of Town Hall and would want to either ditch it or just not pay attention."
But Shira said Town Halls are important for freshmen to get used to the atmosphere of Shalhevet.
"I think that [having Town Hall more often] will make, especially the freshmen, feel more confident and more comfortable if we have it more often instead of just having it every other week," said Shira.
Meanwhile, Agenda officials said the committee is planning on using more of the features on Zoom like polls, breakout rooms and the chat.
"[We are] trying to make it more interactive and fun for the students rather than it just being another lecture or class," said Jack Sanders.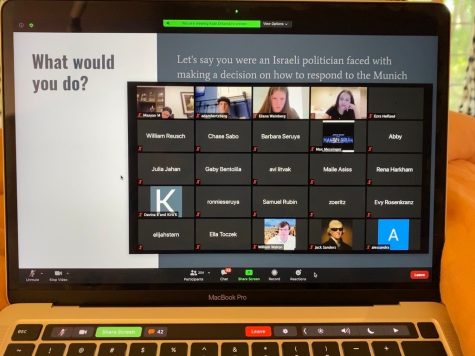 Agenda Chair Kate Orlanski said that during a recent Agenda meeting, there were some concerns regarding if students should be able to type in the chat.
"There is a bit of controversy in the Agenda Committee about if students should be able to type their opinions in the chat," said Kate. "I personally think it's a good thing and it keeps students engaged but that is up for debate right now."
For now, the committee's hope is that the compromise plan will help make Town Hall more engaging, and that having it more often could help students feel more comfortable with the online format.
"We are probably going to keep this three times a month system for a while but we are really just going to see how it goes," said Keira Beller. I do think that in the future we are going to bring it back to four times a month, because that's how it always was and I think it will prove to be effective."
Leave a Comment
Meet the Writer
Noah Elad, Sports Editor
Noah Elad, 11th grade, joined the Boiling Point freshman year as a staff writer and became Sports Editor during the second semester of his sophomore year. Prior to being Sports Editor he mainly covered Just Community issues, including Town Hall. Outside of the Boiling Point, he is on the Shalhevet baseball team and is starting a Shalhevet band. While not in school Noah enjoys following sports, playing guitar, and spending time with friends and family.