SENIOR SNAPSHOT: Danielle Lowe, Troubador
In honor of their graduation, the Boiling Point profiles four members of the class of 2014. Click on links at the bottom of the story for three more.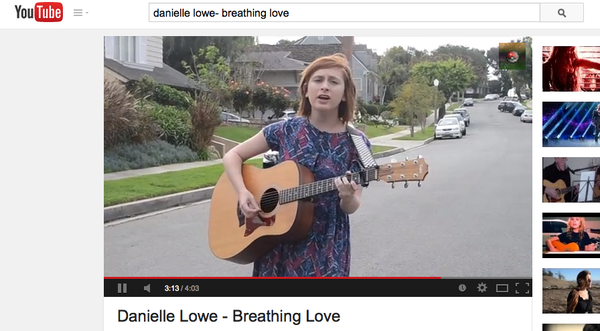 One of the one-acts at last month's Drama production, #disCONNECTED, was an original music video starring senior Danielle Lowe.  Not everyone realized it, but the song, "Breathing Love," was also composed by Danielle, who is seen in the video strumming a guitar while walking down the middle of Bolton Road in Beverlywood, looking plaintively into the camera.
The song speaks of the barriers imposed by technology on interpersonal communication and relationships.
I'm breathing, breathing love,
While you're stealing, stealing us. 
Oh you suffocated me, put me on a screen —
Is that what love means?
It's a theme that mirrors challenges Danielle has faced herself, she says, because of shyness. Technology offers another way not to talk.
"I especially love writing songs because I often can't find the words to express how I feel in the moment, or don't feel like I can say what I want to say directly to someone, so I write it in a song instead," Danielle told The Boiling Point.
"I can put real emotions into my voice and use metaphorical lyrics, volume changes, repetition, different instruments to express how I feel when I don't feel like talking."
But though she was passionate about both singing and playing the guitar, she didn't want to perform publicly – at least not at first.  In March of her sophomore year, Danielle became the first girl to sing a solo at Shalhevet, at the Purim talent show, encouraged by Judaic Studies teacher Reb Tuli Skaist.
"I wasn't planning on performing at all until Tuli came up to me the day before and told me I should," she wrote. "I was confused at first, but he seemed confident he would be able to convince Rabbi Segal to let me perform and he did."
Equally nervous about how she would sound and how her performance would be received — In many Orthodox communities, girls singing individually to a mixed audience of men and women is held to be immodest — Danielle was also excited.
She sang "Skyscraper" by Demi Lovato, and the response was tremendous.
"After she finished, Danielle was met with a standing ovation and booming applause," reported The Boiling Point afterwards.
It remains one of her favorite Shalhevet memories.  Today girls sing solos in Choir, Drama, talent shows and even in the hallways at school.
"Breathing Love" is not Danielle's first composition. Last year, she co-wrote "Strumming and Suffering," and sang a rendition of Carrie Underwood's classic, "Undo it." She also provided guitar accompaniment for Drama's Nashville Nights.
Next, Danielle is heading for the University of Miami, where she plans on studying music therapy.  Her goal is to spread her love of music by writing songs to connect with others.
Related: SENIOR SNAPSHOT: Mira Wolman – Interpreter
Related: SENIOR SNAPSHOT: Kaili Finn – Talmida
Related: SENIOR SNAPSHOT: Paul Merritt – Gamer
Leave a Comment
Meet the Writer
Alec Fields, Co-Editor-in-Chief
Since freshman year, Alec Fields has written numerous stories for the Community, Torah, Features, Outside News, Sports and Arts and Culture sections. In 10th grade, Alec received the post of Torah editor and held that position until being named co-Editor-in-Chief for the 2016-2017 school year. He has received awards for, "SUMMER OF WAR: Hollywood, too, was divided," "Refusing Playoff Suspension, Buckley Resigns," "OUT OF THE SHADOWS: Ancient tradition meets modern sensibility," and for "Rabbi who sauna-ed with students in New York was scholar-in-residence at Beth Jacob on Shavuot." Alec is co-captain of Model Congress, co-president of the Finance Club, a founder of Supplies on Demand, a member of the Mock Trial team, Firehawks for Israel, tennis team and grappling club. Some of his favorite classes are Political Theory of Modern Middle East, Psychology, and Government and Economics. When Alec has time he enjoys playing or watching sports, reading...