Area synagogues tried to stay spiritual while managing pandemic policies for a second High Holiday season
Survey of five synagogues finds similarities and differences, from vaccine mandates to whether to mask the shofar
It's 2021 and with many teens and adults now vaccinated against Covid-19, High Holiday services were different from 2020's — but how different?
Five area synagogues surveyed by The Boiling Point reached five different conclusions, all while dealing with changing Covid health guidelines, vaccination levels and local case counts. 
All of them met in person — unlike last year, when only one did. Two synagogues required vaccines to attend, one did not, and two required vaccines for some services but not all.
Rabbi Kalman Topp, senior rabbi of Congregation Beth Jacob in Beverly Hills, described what it was like for synagogues to plan.    
"These days everything is in pencil," said Rabbi Topp on Sep. 12. "We needed to integrate tradition with flexibility and creativity."
In addition to vaccines, there were  differences in policies concerning children, masking, and whether to mask the shofar. 
Most synagogues held multiple minyanim simultaneously, some indoors in their sanctuaries — none of the five did this last year —  and some outdoors.
Because children younger than 12 could not be vaccinated, they presented a special problem. Rabbi Elazar Muskin of Young Israel of Century City (YICC) on Pico had one indoor service set aside for the unvaccinated.
"We have one minyan that's unvaccinated, so that parents can sit with children," Rabbi Muskin said. "That's the only reason that we have one minyan that allows for non-vaccinated. It's because of the kids."
All synagogues required children under the age of 12 to be masked.  Beth Jacob, YICC and B'nai David allowed children indoors, while Ikar and Beth Am did not.
Nationally and locally, vaccines are the most contentious, and in some ways disappointing, new element of this year's Covid situation.  
This time last year, people were praying for effective vaccines to be developed in the coming year. Their prayers were answered last December, when the first doses of the Pfizer-BioNTech shot were administered to healthcare workers.
"
"I think [Covid has] humbled all of us. It's conveyed the importance of pikuach nefesh — of prioritizing health and safety.
— Rabbi Kalman Topp, Beth Jacob Congregation
But with the arrival of the Delta variant in July, those same vaccines turned decision-making murky again. 
Although the vaccines protect against nearly all deaths and hospitalizations from Covid, almost everyone knew someone immunized who's had a "breakthrough" infection — rarely serious, but still unpleasant and able to be passed to others who may be more vulnerable.
Outdoor minyans — which earlier in the summer seemed like a thing of the past — were once again embraced by all five synagogues surveyed, since Covid spreads less well outdoors. 
Beth Jacob had seven minyans for the High Holidays, four outdoor and three indoor, none of them requiring vaccination, according to Rabbi Topp.  
YICC held five different minyans, Rabbi Muskin said — three outside and two indoors. Vaccinations were required in four out of the five locations.
B'nai David-Judea Congregation had two outdoor and one indoor service, and vaccinations were not required except for walk-ins.  Rabbi Yosef Kanefsky said a mandate wasn't necessary at B'nai David because a survey of congregants eligible for the vaccine showed their vaccination rate to be well over 90%.
At Temple Beth Am, Rabbi Adam Kligfeld said everybody had to show proof of vaccination if they wanted to attend services indoors. 
At Ikar, which held services at Shalhevet for the entirety of the High Holidays, Acting CEO Melissa Balaban said physical proof of vaccination was required for all services, indoors in the gym, outdoors on the third-floor turf and in the parking lot.
"Everybody who is eligible to be vaccinated has to be vaccinated and show proof of vaccination to come in the whole complex," Ms. Balaban said. "The only people who are going to be allowed indoors must be vaccinated — so no kids under 12." 
The Los Angeles County Department of Public Health (LACDPH) has published specific guidelines for religious services on its website, and recommends holding services outdoors when possible. 
It does require vaccinations for religious worship. But it does recommend that unvaccinated people wear masks even at outdoor services, in crowded settings "especially if there is singing or chanting and/or when physical distancing is difficult to maintain."
"
Any wind and brass instrument used by a presenter/performer must have a cover over the output … to lessen the expelled aerosols.
— LADPH Guidance for Communities of Faith
And while the guidelines don't specifically mention shofar, they do discuss musical instruments. Wind or brass instruments — anything where sound is made through blowing, which would include a shofar — should be played at least 12 feet away from all audience, and "must have a cover over the output (such as a fabric bell cover) to lessen the expelled aerosols."
All synagogues except for Beth Jacob had their shofars masked for Rosh Hashanah.
County guidance for performers or presenters, or in this case, choirs and baalei tefillot (prayer leaders), is to wear face masks indoors unless it would not be "feasible."  Unvaccinated performers should receive a negative Covid test within 48 hours of the service, the guidance says, and be 12 feet away from others when unmasked.
For prayer leaders at Beth Jacob and Beth Am, negative Covid tests were required in addition to vaccination. At YICC and B'nai David, leaders only needed a test if they didn't want to wear a mask. At Ikar, masks and negative Covid tests were not required for baalei tefilot, but vaccination was.
Shalhevet did not hold High Holiday services, but school was open during Elul, when the shofar is blown each day in anticipation of Rosh Hashanah.
The Shalhevet shofar was not masked. Judaic Studies Director Rabbi David Stein said the school's Medical Task Force determined it was not necessary.
Asked why his synagogue decided not to require vaccines, Rabbi Kanefsky of B'nai David said they took into account their synagogue's 90%-plus vaccination rate.
"It didn't seem worth whatever controversy there might be over vaccine mandate given that the numbers we'd be talking about were almost insignifect," Rabbi Kanefsky said in an interview after the holidays.
He also said it wouldn't have made sense to have congregants upload their vaccine cards because they couldn't access them on the holiday. 
Rabbi Muskin said YICC, too, trusted what their congregants told them in online forms relating to their vaccination status, and did not have them upload vaccine cards. They had lists of who was going to each minyan and if you weren't on a specific list you just wouldn't enter that minyan.
With so many logistical and communal decisions to be made, the rabbis also worked to balance spirituality with the meaning of the holiday.
"Our goal was to organize services that are uplifting and halachic, that's number one," Rabbi Topp said. "Number two, that prioritize health and safety, and number three, consider the personal interests of our diverse membership." 
Although the High Holiday season requires intense spiritual focus, none of the rabbis interviewed could forget Covid for too long. 
"I think [Covid has] humbled all of us," Rabbi Topp said. "It's conveyed the importance of pikuach nefesh — of prioritizing health and safety."
Ms. Balaban said pikuach nefesh was a reason why Ikar required vaccines. 
"We think that everybody in the community should be getting vaccinated because it's not just for yourself, but it's to protect the community at large."
Rabbi Kanefsky worried that  "placing unnecessary emphasis on the implementation of Covid protocols detracts from the greater communal and spiritual purpose of the High Holidays."
"In this particular year [we have the responsibility of] protecting ourselves and one another from the transmission of disease…," Rabbi Kanefsky said, "not only in principle, but [that this] is in fact playing out in reality.
"
Normal is an illusion. I think that life and religious life is about bringing as much intentionality as possible to basically perpetual non-normalness.
— Rabbi Adam Kligfeld, Temple Beth Am
"And it's equally important for people to be able to not need to focus on Covid protocols when they're doing their spiritual work in synagogue — because if they are, I don't know why we bothered opening the synagogue at all."Whatever their decisions, all of the synagogue leaders found spiritual messages in the continuing force of the pandemic in everyone's lives.
Ms. Balaban said that we have to be able to be flexible and still "find meaning when things aren't exactly how you planned them." 
Rabbi Topp said this time has allowed people the ability to catch their breaths.
"I think the pandemic perhaps has forced us to slow down a little bit and maybe get back to that time where we could try to find joy in the mundane aspects of our lives," Rabbi Topp said.  "It renewed a sense or appreciation for our family, for our friendships, and for our community."
For Rabbi Kligfeld of Beth Am, it's a reminder that there is no such thing as normal.
"Normal is an illusion," Rabbi Kligfeld said. "I think that life and religious life is about bringing as much intentionality as possible to basically perpetual non-normalness, and I hope that next year's non normalness — 'cause there's no way it'll be normal, there's no such thing — will allow us to be closer with each other with fewer restrictions and fewer anxieties."
Rabbi Muskin's message for this season was acknowledging that man is not in control.
"It's very humbling," Rabbi Muskin said. "Hakadosh Barech Hu is in the driver's seat and we shouldn't think that we're in control and we determine everything. Look at how the entire world has been turned upside down by a virus — it's, it's amazing. Humility would be most appropriate. I think that that's the major lesson of all lessons."
Leave a Comment
Meet the Writer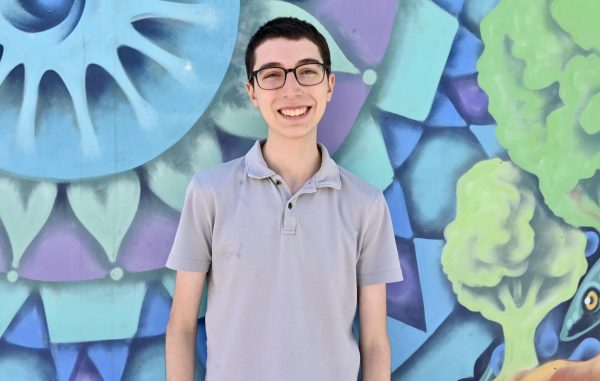 Joshua Gamson, Co-Editor-In-Chief and Sports Editor
Joshua Gamson, 12th grade, joined The Boiling Point in the first semester of his freshman year as a staff writer. He served as the Torah Editor in 10th grade and Community Editor in 11th. He has covered a range of topics from the use of ChatGPT in school to a failed proposal for a hotel on Robertson Boulevard, which won first prize in Ongoing News Coverage from the Jewish Scholastic Press Association. Now serving as Co-Editor-in-Chief, he also is co-president of the Shalhevet Choirhawks and co-captain of the Model UN team. Outside of school, he enjoys baking, music and science.