In a first for Los Angeles, B'nai David adds a clergy intern who is female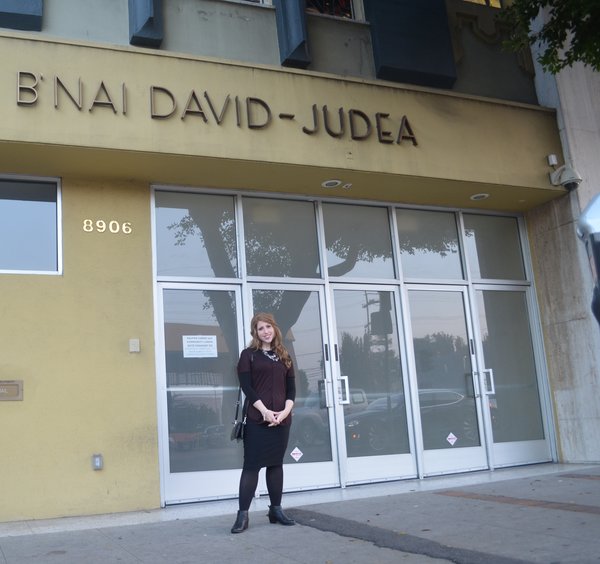 "We believe that women can bring something to the table that men cannot and vice versa," said Rabbi Yosef Kanefsky of B'nai David-Judea Congregation, a shul where many staff and Shalhevet families are members.
"There is a certain redundancy to having two of the same, and a supplementary power of having two different members."
With that in mind, B'nai David has added Ms. Alissa Thomas-Newborn, a fourth-year student at the Yeshivat Maharat yeshiva in New York, to its clergy staff as what the shul is calling a "kehilla intern," kehilla being the Hebrew word for congregation. She is the shul's fourth clergy intern, the other three having been rabbinical students who went on to become rabbis.
The appointment makes B'nai David-Judea the seventh Orthodox shul in the country and the first in Los Angeles to add a woman to its clergy staff. Others include The National Synagogue, Ohev Shalom in Washington D.C. and Congregation Shearith Israel in New York City.
In an interview, Rabbi Kanefsky explained that eight or nine moths ago, B'nai David's board decided to seek a second clergy member, and later decided it should be a woman.
Rabbi Kanefsky said the decision was also partly a matter of timing.
"I think that it is the time in history to take the step toward creating opportunities," Rabbi Kanefsky said. "We see a fundamental fairness in extending professional opportunities regardless of gender, and we understand it as well in the Orthodox clergy."
"There is also the factor of having the ability to provide this kind of role model for our young women and girls," he continued. "It is very enriching that our young women and girls can see the kind of scholarship that women can obtain, and what they can aspire to, and the influence they can aspire to."
Yeshivat Maharat is an all-women's yeshiva in New York that offers a rigorous Orthodox s'micha (ordination) program, which is said to be similar to YU's curriculum.
"Maharat" is a Hebrew anagram which stands for manhiga hilchanit, Toranit, which means spiritual leader, teacher of Torah, expert in halacha.
"I have always felt in my heart that I wanted to serve the Jewish community and God, but specifically in moments of great suffering and joy," said Ms. Thomas-Newborn, who attended Brandeis University. "For me that includes teaching Torah, pastoral care, being with people in life cycle events, and the clergy involves all of those events. I feel God's presence in these moments and am humbled to be part of such holy encounters."
A Jewish man who was so motivated might naturally gravitate toward the rabbinate. But for Orthodox women, the path is not so clear.
The halacha of putting women in positions of leadership has been debated for centuries. It comes from a verse in Deuteronomy, Parshat Shoftim (17:15), that says in part: "You shall appoint a king over you."
Rambam, a 12th-century commentator whose work is considered some of the best in all of Judaism, emphasizes the word "king," melech, which is masculine, and infers that a woman therefore cannot be placed as a king or in any position of leadership. He calls the concept s'rarah, or authority.
The Sefer Hachinuch, an authoritative code that discusses all 613 commandments, disagrees with Rambam, saying that women can't be queens but they can hold any other positions of leadership. And the Tosafot, medieval commentators who were students of Rashi, pointed out that the prophet Devorah was a shofet, judge, and she was in a position of leadership, and people followed and accepted her rulings.
In the 20th century, Rav Moshe Feinstein, the most prolific and widely accepted halachic authority of his time, said that the main issue raised by s'rarah would be whether a woman would be accepted by her community. When he was asked whether a woman could serve as a mashkiach, one who certifies the kashrut of a food seller, Rav Moshe ruled that as long as the real power lies with the rav hamachshir — a supervising rabbi — then it is okay for her to be a mashkiach.
Some might say that a congregational Rabbi is more like a mashkiah, because the shul's board – not the rabbi – is the ultimate power.
However, Rabbi Kanefsky said that s'rarah is not an issue because people can choose what rabbi to follow.
"There is no rabbi these days who does not serve at the pleasure of the community," said Rabbi Kanefsky.
"In addition, it is not even clear that today's rabbinate qualifies as s'rarah," he said. "Rabbis can't force anyone to do anything, so it seems self-evident that a contemporary clergy position is not within the category of s'rarah."
At B'nai-David-Judea, reaction to Ms. Thomas-Newborn's appointment has been overwhelmingly positive, suggesting there is no s'rarah problem there.
Shalhevet parent and B'nai David member David Mankowitz spoke about the positive impact that Ms. Thomas-Newborn has had on the community.
"I like her," said David. "I have listened to her give some talks and lead programs and shiurim, and I like the way she speaks. I think it is nice to have a female voice."
"I saw her give a drasha one shabbos and it was very interesting," said Shalhevet parent and B'nai David member Naomi Selick. "I think it is great that they have a women at B'nai David giving a drasha from the bimah.
"I think B'nai David is a very accepting community," she added. "We had a female president last year and I think she is very accepted there."
But not everyone agrees. Rabbi Avi Shafran, Director of Public Affairs and Spokesman for Agudath Israel of America, spoke out strongly against the concept in a lengthy e-mail exchange with The Boiling Point.
"A 'maharat' or 'maharat in training' is part of a movement to change the time-honored mesorah, tradition, of Klal Yisrael, which includes not 'ordaining' women," wrote Rabbi Shafran. "It isn't an issue of a knowledgeable woman giving a shiur, but of a representative of a movement that misrepresents itself as Orthodox trying to insinuate itself into an Orthodox shul."
"The 'maharat' title is universally and correctly understood as a ruse," wrote Rabbi Shafran.
The more centrist Rabbinical Council of America also does not support giving women smicha of any kind. At its annual meeting in April 2010, the RCA adopted a position which it then published in a press release. YICC Rabbi Elazar Muskin and Rabbi Kalman Topp and Rabbi Kanefsky are all members.
"Due to our … commitment to sacred continuity … , we cannot accept either the ordination of women or the recognition of women as members of the Orthodox rabbinate, regardless of the title," said the statement, which went on to criticize the founders of Yeshivat Maharat.
"The RCA views this event as a violation of our mesorah [tradition] and regrets that the leadership of the school has chosen a path that contradicts the norms of our community."
Rabba Sara Hurwitz, who serves as clergy at the Hebrew Institute of Riverdale in New York, is the dean and co-founder of Yeshivat Maharat. In a phone interview, she explained how the school was started.
"I received my ordination in 2009 from Rabbi Avi Weiss," Rabba Hurwitz said, "and three girls came up to me and asked me how they could join, and we started Yeshivat Maharat."
"We currently have 20 women enrolled and five in the field," she said, including Ms. Thomas-Newborn.
While no two s'micha programs are alike, Yeshivat Maharat follows many of the same requirements as Yeshiva University, including learning kashrut; niddah (laws governing marital intimacy) and Shabbat.
Rabba Hurwitz told the Boiling Point that she chose to be called Rabba. Other graduates may choose to be called whatever they like.
"Yeshivat Maharat's model is a traditional s'micha program and within halacha — they pass all training and they are in school for four years," said Rabba Hurwitz. "The way it works is that we give our students s'micha and focus on being a maharat, not the title."
"The women who I encounter simply want to serve the Jewish people, and that's why they're committed to higher learning," she added.
In Los Angeles, Ms. Thomas-Newborn thinks having both genders in the clergy will be good for Orthodox Judaism.
"I think that this is definitely the next step for the community, to have a woman in leadership, and women have much to offer, in pastoral care, in Torah, in halacha," said Ms Thomas-Newborn. "We have great resources among us — many great women who have already been teaching in our communities for years in various meaningful roles.
"The female clergy is not meant to eradicate male clergy; I think there is a partnership there that is beautiful and necessary to the community."
Rabbi Kanefsky agreed, and expects good things for B'nai David-Judea.
"B'nai David is certainly going to be enhanced in our ability to reach and educate and comfort and counsel our members by having two members of the clergy instead of only one," he said, adding, "Any religious community is enhanced by inspirational and scholarly leaders."
RELATED: Compromise on female clergy saved Shalhevet Institute ' Day of Learning' last fall
Related: Female ordination a 'ruse,' says spokesman for Agudath Israel
Related: Evolution of a title ensnares potential new faculty hire

Related: OPINION: Titles are important, and women deserve them
View Comments(1)
Meet the Writer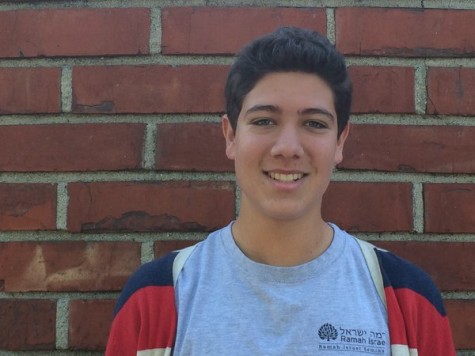 Noah Rothman, Community Editor
Noah Rothman is a junior and has been part of the Boiling Point since freshman year. He started to become really involved at the beginning of his sophomore year, when he covered the controversial topic of women and wearing tefillin. He has been the Torah editor for two semesters. Outside of Boiling Point, Noah is an active member of the Debate team and the Firehawk baseball team.