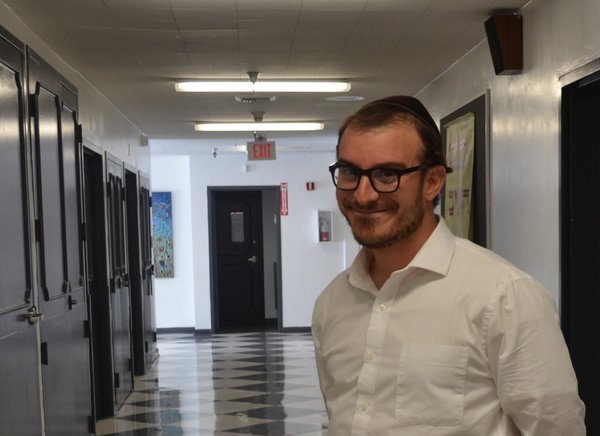 By Mati Hurwitz, Torah EditorWith enthusiasm and a love of music and Torah, new Judaic Studies teacher Reb Derek Gormin wears many hats — even a shtreimel.
In his first-ever classroom teaching position, Reb Derek is teaching a newly designed 12th grade Jewish Philosophy course. He said he'd be using articles, Torah sources and song.
"The goal is to be inspirational and text-based using both inspirational and modern means of understanding our heritage," Reb Derek told The Boiling Point in an interview.
The shtreimel, the thick, furry and flat hat, and the bekeshe, the long black coat, both of which he wears on Shabbat and holidays, are part of his Hassidic identity and not usually seen by students.
But pay attention and you will hear it in his attitudes.
"Davening should be inspirational, not boring," said Reb Derek, who can easily be spotted during davening at local and regional NCSY events, singing passionately, encouraging and inspiring teenagers while clad in his Hassidic uniform.
"Whatever you do, if it's with simcha [joy], it becomes better."
Although this is his first formal teaching job, he previously served as NCSY's Director of Education since 2008.  He has written two curricula used by students at Jewish Student Union (JSU) clubs – one about living a Jewish life, using Torah, Kabballah and Chassidut, and the other on ethics and morality linked to philosophy and halacha.
On the music front, in high school and college Reb Derek played string instruments in a variety of bands. He has performed on string bass, double bass and guitar in rock, reggae and jazz bands, and even performed in weekly punk band shows in high school in Orange County.
His arrival marks the first time Shalhevet has had a teacher from a Hasidic background since Rabbi Naftali Richler left at the end of 2010.  But Principal Reb Noam Weissman said that had nothing to do with why he was hired.
"He is a great Jewish educator who understand teens and is a real inspiration to anyone who gets to know him," Reb Noam said. "We look for the best educators for our students and we're very excited about Reb Derek's ability to inspire and teach."
Reb Derek said he hopes his work at will culminate in a success outside of the classroom as well as within.
"I'm hoping to create connections and relationships with students that can inspire them to grow and inspire others," said Reb Derek.