After six years of teaching, coaching and telling stories, Rabbi Parry says goodbye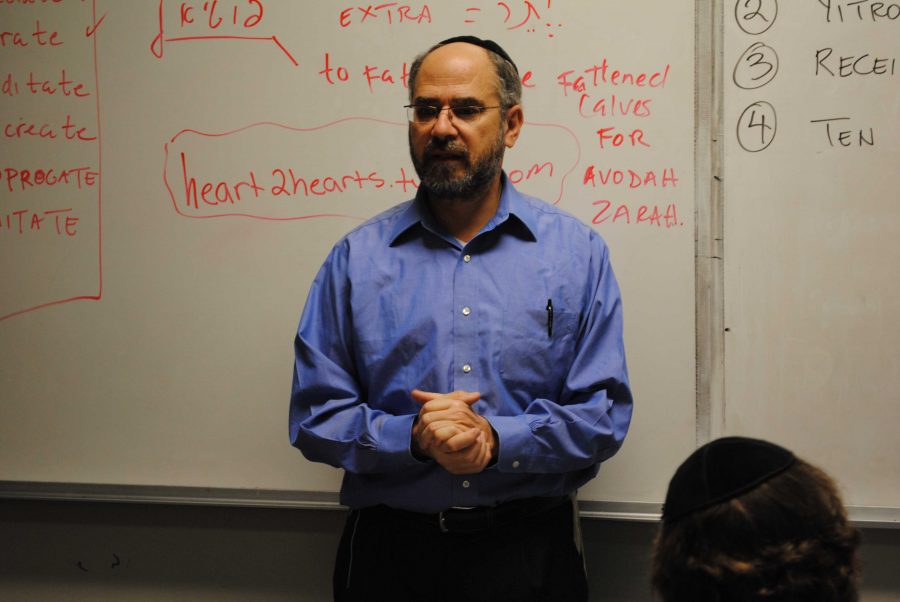 Rebecca Asch, Torah Editor
July 1, 2010
A math teacher is going through airport security to go see her family out of state when she is suddenly stopped and searched.
Why? She was carrying instruments of Math Instruction (cue comic drums).
Any student who has ever been taught by Rabbi Aaron Parry knows this joke as a distinctive "Rabbi Parry joke." And after six years of teaching Judaic studies and intermittently coaching sports while telling similar jokes to his classes, Rabbi Parry is saying goodbye to Shalhevet.
"Rabbi Parry was not only a great influence on me throughout the years, he's also one of the best backgammon players I know," says Jon Dolgin, a junior who was in fact never taught by Rabbi Parry, but was still greatly influenced by him.
Sure enough, Rabbi Parry can be seen playing backgammon with students in the lounge, driving the baseball team to practices, playing basketball on the Sport Court or hunched over a page of Gemara with students.
The author of The Idiot's Guide to Talmud and The Idiot's Guide to Jewish Thought, he has also been known for his story-telling, whether in class, Advisory or Town Hall.  Rabbi Parry frequently answered a question with a tale that managed to perfectly illustrate his point.
"On our Poland-Israel trip, we were having a problem about shomer negiah," recalled alumna Molly Keene, '06.  "Instead of yelling at us, he told us some story. I wish I could remember now what it was about."
Sophomore Rachel Lester had Rabbi Parry in Advisory this year and recalled a story he told in ninth grade AGT about how people are influenced by others.
"Two robbers came down a chimney and one of them has soot all over his face," Rachel recalled. "Which one washes his face? There are like 50 answers and all of them teach a different lesson.
"One answer is the one with the clean face, because he sees his friend and assumes his face is dirty too," she continued, "and the lesson is not to do something based on the people around you."
This year Rabbi Parry taught ninth grade Advanced Gemara Track, 10th grade Tanach and 12th grade Gemara along with coaching, motivating and transporting the Shalhevet baseball team.
"Rabbi Parry was a very inspirational leader for the team," says sophomore Josh Meisel who plays on the team. "He taught me to keep my head up whenever bad things occur."
Rabbi Parry cites playing three-point basketball with Coach Flava and Mr. Danovitch as among the highlights of his time at Shalhevet.
"Flava won almost every time," he laughs. "But sometimes I won."
But of all of the things Rabbi Parry will miss about Shalhevet, he says he will miss the students themselves and Hebrew teacher Mrs. Ziva Glieberman's ever-present smile the most.
"I'll miss their openness and their wildness," he smiles. "But I'll especially miss their gullibility. I tell them stories or jokes and they don't know if I'm being serious. Its pretty funny."
As for Ziva's smile, Rabbi Parry says that her jovial attitude in the morning brightens the day.
"He's such a sweet guy," says Meirav Cafri, a senior in Rabbi Parry's Gemara class. "He always greets you with a smile and is always available to help you out, like with the Dvar Torah I had to do for my senior project"
Sophomore Yonah Nimmer, who was in Parry's tanach class, agrees with Meirav.
"He managed to make class fun," he says.  "He was always entertaining us with jokes."
Rabbi Parry is still unsure what he will be doing next year, but he jokes that he will be working as a cop while simultaneously running a marijuana dispensary.
"One job can cover up the other," he winks.
To the students he has taught and influenced over the past six years Rabbi Parry leaves a parting message.
"Many people think seeing is believing," Rabbi Parry said. "I want students to know that believing is seeing. The more you work on your emuna, the wider ability you posess to see God's hand in everything."