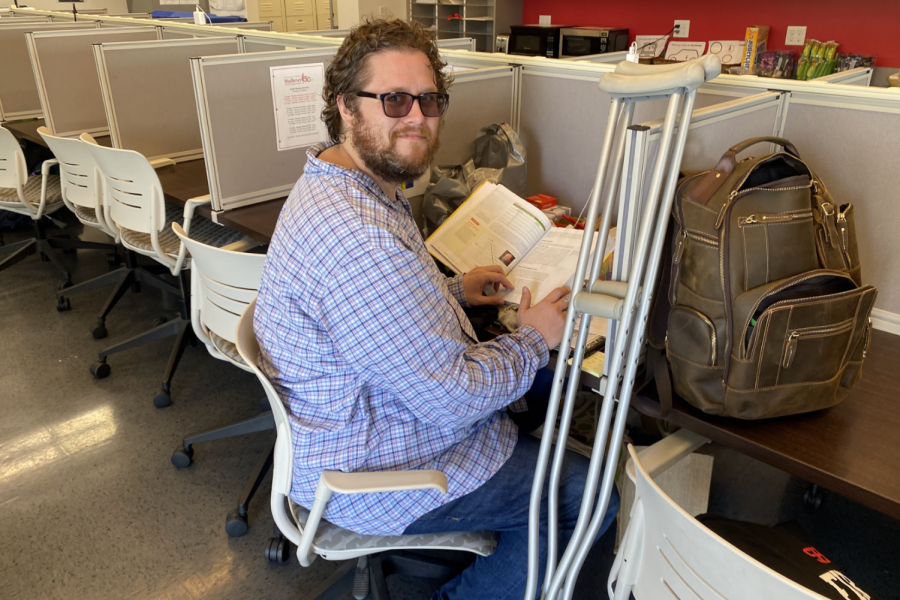 New math and Econ teacher wants to get beyond the 'rote, mechanical aspects'
Mr. Nick Simmons, who is now teaching three math courses and Economics at Shalhevet, said he came into teaching by accident.
As part of his graduate program at the University of Tennessee, he taught a class in economics and loved it. Once he returned to Los Angeles, where he was born and raised, an opportunity arose for him to teach full-time.
"There was a friend at another school, there were like three math teachers through a year, and somebody had to go on maternity leave, and they had a sub, and then another sub, and they had another sub or something like that, and they were like, 'We need somebody,' Mr, Simmons said.
"And I said, well, I know math, and I have teaching experience – ya okay, I can do that. I signed up for a year, and they liked me enough that they wanted to hire me full-time."
Mr. Simmons taught at the Waverly School, a K-12 school in Pasadena, for seven years before coming to Shalhevet.
Although he has a background in Economics, having studied it at the University of Chicago undergraduate before U. of Tennessee, he is teaching three math classes at Shalhevet this year: Algebra I, Algebra 2 and Statistics, in addition to SAS Economics.
Mr. Simmons said his main goal for this school year is to change the way his students think about math.
"My goal is to get more students that at this point either hate math, or think they hate math, and to make them not hate math," he said.
"Part of it's through the culture and atmosphere I can create in the classroom, part of it is through trying to emphasize the creative aspects and the discovery aspects of it rather than any of the rote mechanical aspects," he continued. "I understand why if the only thing you're introduced to is the rote mechanical aspects of math then it would seem like a really boring thing."
In his free time, Mr. Simmons enjoys watching old horror movies. He is also a part of a Mountain Dew tasting club called "Dewinon," where he and his friends sample different flavors of Mountain Dew. He said they have tried more than 50 flavors.