Surf's up and cowabunga, quarantine saw many more students and faculty catching the waves
Covid-safety, late school start caused many to take up the sport — and also, 'You cannot surf wearing a mask'
During the pandemic, new and established Shalhevet surfers found themselves zooming through frigid California waves at the crack of dawn, before returning to their computers to Zoom into class. 
With the late starts that came with the Covid last year, many Shalhevet students went surfing, some even riding waves for a few hours before first period.
"I would probably have started surfing, but maybe later in life," said Adina. "Covid gave me the opportunity to start surfing earlier."
Surfing within the Shalhevet community has picked up much popularity as new people pick up the sport and veterans surf more often. United under the expanding Surf Club, Shalhevet students had the opportunity to schmooze and enjoy the thrill of surfing together during quarantine.
The sport's natural social distancing and the scheduling flexibility of Zooming from home made surfing a perfect sport for quarantine.
"
I doubt I would have started surfing if it hadn't been for Covid. It's something I've always wanted to do, but I wouldn't have the motivation to start."
— Ariana Myers, 11th grade
"I doubt I would have started surfing if it hadn't been for Covid," said junior Ariana Myers. "It's something I've always wanted to do, but I wouldn't have the motivation to start."
Taking a glass-half-full approach to quarantine, some used last year's Zoom flexibility to surf before school. This allowed both students and some faculty to surf more during quarantine than they had in the past.
Senior Eitan Jalali said that the ability to do school from home made surfing in the morning easier to navigate. 
"I surfed way more during quarantine," said Eitan. "With school starting a lot later and the ability to do school from my house, it made it a lot easier to figure out my morning."
Shalhevet alumnus Lippe Popack '21 used the late Tuesday starts to catch waves before school. 
"I ended up going much more often during the pandemic," said Lippe."It was definitely a personal highlight of Covid."
Others who had surfed before said the pandemic made the experience even more enjoyable, or meaningful.  Dr. Keiter has been surfing for more than two decades.
"Schedule-wise, Covid, remote learning, or on-campus learning — it's all the same to me," Dr. Keiter said in an email, but  "I appreciated surfing a lot more during Covid. Surfing was one of the few activities that felt completely normal. 
"You cannot surf wearing a mask. You won't be able to breathe once it gets wet. And surfing naturally requires social distancing or else people are going to bump boards, a serious surfing faux pas.  So I could drive to the beach, get in the water, surf, and head home in exactly the same way I had always done. That felt freeing."
Alumnus Akiva Rubin '21, who was co-captain of the school's surf club, would have been surfing anyway — but Covid made it more valuable than ever.
"For a while during the pandemic, surfing was my only real in-person socializing," he said.  "Even though I am able to hang out with friends outside of surfing, I still love schmoozing and catching waves with friends, and occasionally helping a newcomer out," Akiva said.
Akiva got to do just that as the group grew in number over quarantine. Surf Club was started by Akiva with SAS Bio teacher Mr. Pavel Lieb, Lippe, and Senior Adam Hertzberg, at the beginning of fall 2020.
He said it was trickier to surf once Shalhevet began transitioning to in-person school.  
"But that just means waking up a little earlier and making a ready-to-go breakfast the night before," Akiva said.
Mr. Lieb learned to surf about 10 years ago.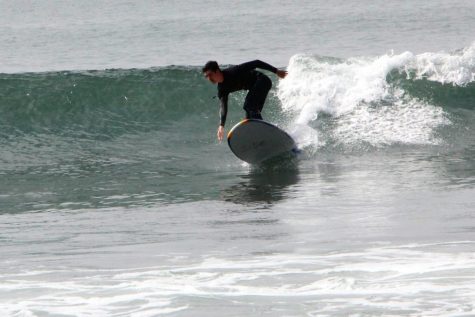 "One day I just came out to Manhattan Beach with a friend," Mr. Lieb said. "Rented a board and a wetsuit.  It was a horrible day, I got tossed around by the waves, lost my contacts — but I was hooked forever."
Dr. Keiter was inspired to surf by one of her professors, who once devoted an entire lecture to the history of surfing in California. She began surfing in the summer of 1994. 
"When I started," Dr. Keiter wrote, "there were very few women in the water. It was very male-dominated. That changed within a few short years as more and more women paddled out. Today, no one thinks twice when girls take their place in the line-up."
Twenty-six years later, she is still surfing. 
"When you surf, you're one with nature," she wrote in her email. "You are channeling the energy of the ocean. You are immersed in nature's domain.
"For me, it's rather spiritual. I become keenly aware of how small I am in the face of the immensity of God's creation. At the same time, I am filled with gratitude to witness the vastness of the ocean and sky, the smell of the water, the beauty of a passing pod of dolphins or pelicans skimming the water's surface. And nothing matches the stoke of dropping into a clean wave with loads of room to work the face as you shoot all the way down the line."
One notable opportunity for students to get together, surf, and socialize was the school-sponsored surf session last Dec. 27. About 20 people went to Santa Monica and the school rented surfboards for them.
Junior Eliana Kerendian recalled being grateful that the school rented boards and wetsuits. 
"It was a good time," Eliana said. "I created relationships with other people in the school, it's really nice."
Eliana had previously learned to surf in the summer of 2020. She described surfing as a "safe sport, Covid-wise."
"I don't think I would have started surfing" if not for Covid, she said. "I had other summer plans and I wouldn't have had the time to do it."
While socializing is a draw to both new and experienced surfers, often it is the thrill that gets surfers out of bed and into the cold water.
"The feeling of catching a wave isn't comparable to anything else and is super thrilling once you start," said Lippe Popak. "I enjoy surfing because it's a time for me to seperate my mind from everything else that's going on. When you're out in the water, all you can think about is catching the next wave."
Said Eliana Kerendian, "You just feel so connected to earth, and really happy. When I'm in the ocean I feel like all of my problems go away."
Surfers all seem to feel a euphoric rush, yet each one has his or her own unique feeling while harnessing the ocean.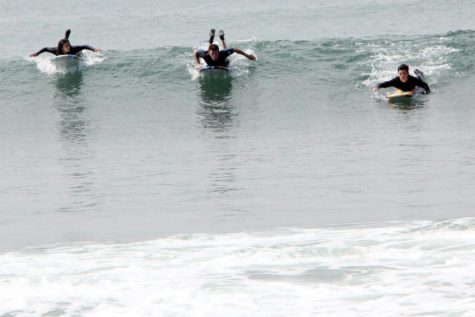 "Now, actually catching a wave — there's a certain unexplainable rush you get," said Adam Hertzberg in an interview. "Like when you hit a new p.r. [personal record] in the gym, when you conquer the weights or when you go rock climbing and conquer that wall. The same is true when you catch a wave. You get this feeling that you conquer the ocean. Just doesn't feel too great when the ocean conquers you."
Akiva Rubin put it this way:  "One of my favorite parts is watching the sunrise from out on the water. And frequently getting a glimpse of sea life. Seeing a wave forming again gives me a rush of adrenaline as I lie down on my board and start paddling towards the shore, occasionally looking back to see where the wave is. Nothing beats the feeling I get when I feel the wave picking me and my board up and pushing us forward. I stand up and all I can do is focus on riding, smile, and let the wave take me. It is truly a beautiful and life-changing experience."
"It's a very freeing and meditative thing," said Mr. Lieb. "You are literally floating, never really putting your feet on the solid ground. The feeling when the wave picks up your board and you start gliding down the face, is absolutely amazing."
By last spring, the Surf Club had exploded from a few people wanting to surf to a big club with a logo and a group chat with over 60 people.
When it was started at the beginning of 2020-21 school year, it quickly became a place for people passionate and interested about surfing to hangout and surf together. 
"Lippe and I talked about it forever," said Mr. Lieb.  The first summer of Covid, they surfed together a couple of times. "And then a few other folks joined in."
"
There's a certain unexplainable rush you get, like when you… conquer the weights or when you go rock climbing and conquer that wall. The same is true when you catch a wave. You get this feeling that you conquer the ocean."
— Adam Hertzberg, 12th grade
As the school year went by, more people participated in the surf sessions, waking early in the morning to paddle out and catch waves. 
"We started to have sessions once a week, then twice a week," said Adam. With the school-sponsored session in December, he said, "it kinda just escalated from a joke to reality."
"I started surfing wanting to surf and hang out," said Akiva in an email. "But now, I find myself a part of an open and laid-back culture that appreciates nature and encourages growth as well as having a fun time. If anyone has ever considered trying surfing I highly recommend it and the surf club is always open to anyone no matter your skill level."
Mr. Lieb hopes for the growth to continue, even though Zoom is mostly a memory and school is back in session, some 12 miles away from the beach.
"Looking forward to growing the club," said Mr. Lieb. "Running some fundraisers, so that we could bring more surf- and beach-related programs to the school." 
Leave a Comment
Meet the Writer
Elliot Serure, Cartoon Editor
Elliot Serure, 12th grade, joined the Boiling Point his sophomore year writing articles for the Arts and Culture section. Since then he has started drawing art for the paper and created a cartoon caption contest, and this year was given his own column called "The Culture Corner." Outside of Boiling Point, Elliot enjoys drawing, playing guitar and piano, and watching movies.