Princeton Model Congress debaters take 6 awards, including first in novice committee
Maya Tochner and Rachel Metzger won gavels and a freshman won an honorable mention as Shalhevet's 20-delegate Model Congress team took home six awards from this weekend's annual Princeton Model Congress competition in Washington, D.C.
The team missed a quarter of the four committee sessions and a third of the three "full house" combined sessions due to Shabbat, yet still won two gavels and four honorable mentions.
Maya and Rachel, both seniors, won Best Delegate awards for presenting and defending original bills in their committees, and for overall participation in debate on other students' bills.
For the first time in the conference's history, students could participate in "novice" committees, for first-time debaters. Two Shalhevet students, Keira Beller and Benjamin Gamson, participated.
Benjamin won Honorable Mention in the novice Environment and Public Works committee.
"The students who were on it felt really prepared and really able to take on the competition," said Rachel, who is the team's co-captain.
Other Honorable Mention winners were senior Jacob Lefkowitz Brooks and juniors Molly Litvak and Kate Orlanski.
The conference was held in the Washington Hilton Hotel, where the teams stayed, from Thursday through Sunday morning.
Instead of continuing to compete, the Firehawks observed Shabbat at The Shul of the Nations's Capital.
Debate team faculty advisor Mr. William Reusch, Dean of Academic Affairs Ms. Aviva Walls and Dean of Students Rabbi Ari Schwarzberg chaperoned the trip for Shalhevet.
Here are Shalhevet's winners:
Committee Awards:
Maya Tochner: Best Delegate (Gavel), Banking , Housing & Urban Affairs
Rachel Metzger: Best Delegate (Gavel), Health, Education, Labor & Pensions
Jacob Lefkowitz Brooks: Honorable Mention, Foreign Relations
Molly Litvak: Honorable Mention, Judiciary
Kate Orlanski: Honorable Mention, Homeland Security
Benjamin Gamson: Honorable Mention, Environment & Public Works (novice committee)
Leave a Comment
Meet the Writer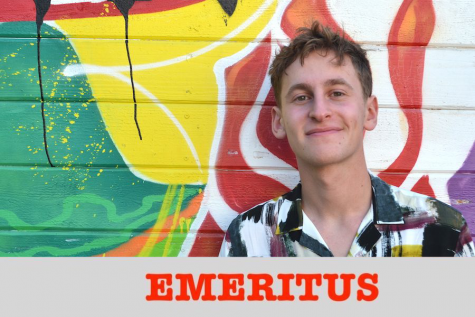 Jacob Joseph Lefkowitz Brooks, Editor-In-Chief Emeritus
Jacob Joseph Lefkowitz Brooks was editor-in-chief during the 2019-20 school year and is now a student at the University of Toronto.