From top national journalism organizations, a banner awards season for the Boiling Point
The Boiling Point ended 2018 with top honors in national journalism competitions, including third place and two honorable mentions in the National Scholastic Press Association (NSPA)'s Story of the Year competition, three CSPA print Gold Circle awards and two Simon Rockower awards from the American Jewish Press Association.
Coming on the heels of its first-ever NSPA Online Pacemaker and five Quill and Scroll awards last spring, the summer and fall prizes made 2018 one of most honored years ever for Shalhevet's news media. There were 17 national awards last spring, followed by the Rockowers over the summer and NSPA and CSPA announced in October.
From NSPA, last year's Color War coverage won national Third Place in Multimedia Sports Reporting. Comprised of four stories as well as photos and several videos, COLOR WAR 2018: Intense competition, shortcuts and penalties, a hard-boiled egg genius and a senior three-peat make it memorable was a collaborative effort of writing, by Tobey Lee, Hannah Jannol, Molly Litvak and Lucy Fried; photography, by Zoey Botnick, Neima Fax, Molly Litvak, Ashley Botnick and Hannah Jannol; and video by Molly Litvak, Talia Abel and Jordana Glouberman. Most of the work was started as part of the annual Color War "coverage" competition.
BP staff also won Honorable Mention in that same category, Multimedia Sports, for Tobey's story on the Firehawk basketball team's championship victory at Sarachek, with photos and video by Noa Segal and Hila Machmali. The game was a highlight of the year for Shalhevet sports, with the Firehawks pulling off a last-minute victory against Valley Torah in front of a capacity crowd at Yeshiva University in New York, only the second time the Firehawks had won the national all-Jewish tournament.
The third national Story of the Year award was for Editorial Writing. Then-senior Aidel Townsley won one of two Honorable Mentions for her unsigned editorial titled Modesty isn't the issue when poor women need assistance, about a drive to collect period supplies for the poor that was not allowed to be held at school.
"Guys saying, 'Is it that time of the month?' or people ignoring the issue of homeless women getting their periods on the streets needs to be spoken about so it can stop," Aidel wrote. "We would never tell someone to not raise awareness for an illness. So why would we silence someone who wants to bring attention to something that is normal and healthy?"
From the Columbia Scholastic Press Association (CSPA), The Boiling Point received three Gold Circle awards, also for individual stories, and was nominated for its seventh consecutive CSPA Hybrid Crown award for last year's paper and website combined — one of 34 schools nationwide to be nominated. Winners will be announced at the annual CSPA convention in New York in March.
The individual Gold Circle awards — also national prizes — included First Place in the Briefs category for Tyler Ekaireb '18; second place for general columns won by Shana Lunzer '18; and third place for Tobey Lee for one of the Color War stories.
According to CSPA there were 6,514 print entries for Gold Circles.
Tyler, who was last year's Outside News editor, was awarded first place in the Briefs category for his new section "Meanwhile…," informing readers about current events that the paper didn't write full stories about. For example, in one edition it mentioned the hacking of 87 million Facebook accounts, FBI raids of the home and hotel of President Trump's lawyer, and updates on destruction caused by the conflict between Israel and Gaza — all displayed in timeline format.
Then-senior Shana Lunzer won in the General or Humor Commentary category for her Page 3 column about Town Hall sexual harassment discussions, where she observed a split between the male and female students.
"Part of the conversation is ridding ourselves of the victim-perpetrator paradigm, and educating our male students," Shana wrote.
Tobey was recognized for his piece about then-senior Ben Mashiach's ability to identify whether an egg is hard-boiled or not, titled "Mysterious Egg Genius Strikes Again."
Finally, two Boiling Point writers won Simon J. Rockower awards, which are given by the American Jewish Press Association for excellence in Jewish journalism throughout the English-speaking world. The Boiling Point is the only student member of AJPA and competes against professional Jewish publications.
Then-juniors including Lucy Fried, who is this year's co-editor-in-chief, and Katia Surpin, Jordana Glouberman and Talia Abel won the Award for Excellence in a Multi-Media Story for their coverage of the juniors' Houston chesed trip. It described the work Shalhevet students did dismantling homes destroyed by Hurricane Harvey, a Category 4 storm that wreaked havoc across the state of Texas.
The accompanying video showed the 11th-graders clearing damaged drywall, ceilings and floors while people who'd lost their homes narrated their stories in the background.
And Hannah Jannol '18, last year's editor-in-chief, won the Award for Excellence in Writing About Health Care for an article informing readers about private schools' not doing as much as public schools to be sure all students are immunized, and how this might have contributed to a small outbreak of measles in Orthodox Jewish schools in Los Angeles.
Boiling Point faculty adviser Mrs. Joelle Keene said she was particularly proud of Shalhevet's progress in use of technology.
"Even though print will survive too, the future is in multimedia and cell phones and apps — the combination of video, text and photos," Mrs. Keene said.
"The fact that we got two awards for multi-media coverage shows that we really are at the forefront of high school multimedia news production."
She also said it was unusual for one student to win as many awards as Tobey did, with three just this fall.
"When you read Tobey's sports stories, whether it's about smashing hard-boiled eggs or winning a big championship or losing a big game, you just feel like you're in the room," Mrs. Keene said. "He captures all the emotion."
Ms. Keene also was proud that the staff won some awards for good news.
"They say that bad news makes good journalism, and it's true … we wrote a lot of sad stories," Mrs. Keene said, referring to the Houston floods, high school shooting in Florida and the year's #MeToo revelations.
"But we actually won awards for the ones that are harder to win awards, for which is good news," she said.
---
"No matter who wins an award, or how many awards we get, anything we receive shows the quality of the Boiling Point and everyone who's on it.

— Hannah Jannol, Editor-in-Chief Emeritus

---
When asked about what her favorite award was from this year, she said it was the Crown.
"Because that's for the body of work, and I think that's what makes the Boiling Point the Boiling Point — the consistent depth and breadth and expertise and accessibility of all of our coverage," Mrs. Keene said.
Former Editor-in-Chief Hannah Jannol, currently studying at the New School in New York, praised the efforts of all members of the Boiling Staff, including those who didn't win.
"No matter who wins an award, or how many awards we get, anything we receive shows the quality of the Boiling Point and everyone who's on it," said Hannah in a phone interview. "It's not just the people who win.
"We're able to have all this visibility because of all the work behind the scenes, because of the managing editors and all the people that do small things so that other people can write a really great article." said Hannah.
---
Get the latest from The Boiling Point. Sign up for our news feed.
---
Leave a Comment
Meet the Writer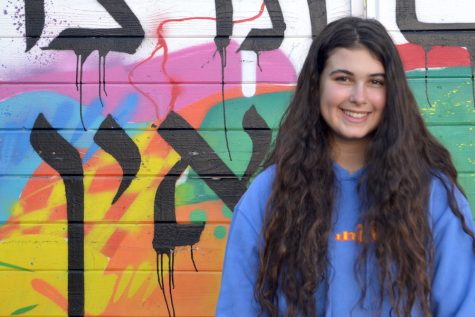 Jolie Wineburgh, Arts & Culture Editor
Jolie Wineburgh joined the Boiling Point as a staff writer in her freshman year and is now serving as Arts and Culture editor. In a world chock full of fake news and misleading stories, Jolie has learned to appreciate the opportunity to spread reliable information to her community. Outside of Boiling Point, she enjoys volunteering at Jimi's Angels, debating with her friends, and marching for what she believes in. In her free time she enjoys the beach, playing Word Hunt, and taking pictures of everything.