Alumnus arrested in theft of high-end items from celebrities
Police say Benjamin Ackerman '04 cased homes while posing as a real estate agent
A Shalhevet alumnus from the class of 2004 has been arrested in a string of burglaries of celebrities, according to the Los Angeles Police Department.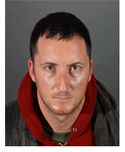 Police allege that Benjamin Eitan Ackerman, 32, known as "Benja" in the 2004 Shalhevet yearbook, posed as a real estate agent to gain access to homes and later broke in, stealing nearly 2,000 items, including artwork, clothing, purses, jewelry and wine, worth millions of dollars.
Media reports named the singers Usher, Adam Lambert and Jason Derulo and members of The Real Housewives of Beverly Hills cast as victims. According to a Wednesday news release from the LAPD, items found in Mr. Ackerman's possession were recognized by multiple burglary victims.
"Benjamin Eitan Ackerman was in possession of stolen property that has been confirmed and identified by 13 different victims," the news release said. "Detectives believe Benjamin Eitan Ackerman has been engaged in criminal activity for the past several years. The suspect mainly targets high value homes and celebrity homes, however, one of the victims turned out to be a family friend."
Many items are yet to be identified, however, and the LAPD established a Smugmug page so people can look at pictures of stolen items and determine if anything belongs to them. Detectives are also interested in speaking with anyone who has purchased items from Mr. Ackerman recently or done business with him recently.
The LAPD press release said Mr. Ackerman was served a search warrant on Sept. 20 which led to his arrest and recovery of the stolen items.
Police Detective Jared Timmons told KCBS-TV that Mr. Ackerman was released on $1 million bail. But it was not clear from police or media reports whether he is custody now or has been charged and released again. The Boiling Point was not able to reach Mr. Ackerman or his family.
[edsanimate_start entry_animation_type= "shake" entry_delay= "0" entry_duration= "1" entry_timing= "linear" exit_animation_type= "" exit_delay= "" exit_duration= "" exit_timing= "" animation_repeat= "1" keep= "yes" animate_on= "scroll" scroll_offset= "50" custom_css_class= ""]
---
"Human beings have freedom of choice, given that they're always in a situation of making a decision.
— Rabbi Abraham Lieberman, Judaic Studies

---
[edsanimate_end]
Shalhevet students learned of the arrest Thursday after it appeared in nationwide news reports and were surprised by the news. It was apparently the first time a student associated with the school had been charged with a crime.
Judaic Studies teacher Rabbi Abraham Lieberman said it was understandable for people to be surprised when someone with a religious background is accused of a crime.
"It's kind of upsetting sometimes when you have religious people committing crimes, because there's an expectation that if you have a religious upbringing, you will not steal from people or hurt people — yet we see it all the time," Rabbi Lieberman said in an interview.
But he said that since humans have free will, they can decide to do bad things.
"Human beings have freedom of choice, given that they're always in a situation of making a decision," Rabbi Lieberman said. "Their education usually can help them make a good decision, but what does end up happening many times is that inner drive, desire, excitement, something that's forbidden sometimes becomes 'Okay, I don't care, I'll get more fun out of it.' That's the human being, Jewish or not Jewish."
"You'll have people who don't have such a great education [and] were raised in a way where their morals were stressed more and they don't end up committing crimes."
Mr. Ackerman seemed to be camera-shy at Shalhevet. He was named "most pictured" on the class humorous awards page, which was apparently intended to be ironic since his portrait was not in the 2003 yearbook, nor did he have his own yearbook page in the senior section in 2004.
None of his classmates reached by the Boiling Point was willing to speak about him on the record, but they described him generally as being well-known and social, very interested in cellphones, and always wearing his hood up.
He has one older and one younger sibling but is not related to current Shalhevet students with the same last name. His father, Dr. David Ackerman, is director of the Mandel Center for Jewish Education of the JCC Association of North America and was the first educational director of Pressman Academy at Temple Beth Am. His mother, Dr. Jody Myers, is a professor of Religious Studies at Cal State Northridge.
The last crime associated with someone from Shalhevet was in 2010, when then-Hebrew teacher Ms. Nili Shamrat was charged with possessing clocks that had been stolen from museums by her late husband. One piece was a pocket watch that had been designed for Marie Antoinette.
Ms. Shamrat said she didn't know the items had been stolen until the last year of her husband's life. She was convicted of receiving stolen property and sentenced to probation and community service.
Rabbi Lieberman said the reason for crime has always been mysterious.
"Psychologists have tried to figure out what the source of it is," he said. "I've gone to school with people who ended up not in good places, committing some types of crimes. They got the same education as everybody else."
---
Get the latest from The Boiling Point. Sign up for our news feed.
---
Leave a Comment