Students and faculty walk outside to honor shooting victims, but leave politics indoors
Students and faculty sitting in a large circle mourned the lives lost in the Parkland, Fla., shooting last Wednesday, joining students across the U.S. in a classroom walkout one month to the day after 17 were gunned down at Marjory Stoneman Douglas High School.
On March 14 at 10 a.m., roughly 90 students and teachers gathered in the parking lot to mourn the victims. Students and faculty sang songs and tehillim (psalms), staying inside the campus as they remembered people they'd never known.
Those who attended found it moving and meaningful.
"It was cloudy as everyone walked down the stairs to gather in the parking lot," said senior Maia Zelkha in an interview later. "But I noticed the clouds began to part and the sun begin to shine on everyone, right as we began to sing and honor their lives."
The 90 present represented about half the school that was on campus that day. Members of the varsity basketball team were in New York for Sarachek, editors of the Boiling Point were in New York for CSPA, and most of the robotics team was in Pomona for competition.
Freshman Noa Silberstein was the first to suggest a Shalhevet walkout, posting a message on Schoology March 12 at 7:40 p.m.
"Hi everyone. for those who don't know, a walkout will be taking place in schools all over America this Wednesday at 10 am," she posted. "This act is to stand up for school safety and commemorate those who were lost in the Florida shooting. everyone is encouraged to join!!!!"
She was not sure how people would react.
"I was nervous that people would disagree with the stance I took on Schoology," said Noa in an interview later. "But then I talked with people and I was encouraged to spread this message at Shalhevet."
Her post received 33 likes. But it also started some heated discussion about whether Shalhevet should take a stance or not. Some students found it unnecessary.
"I read the post how do you protest school safety, but what does that even do," wrote sophomore Noah Hertzberg on Schoology.
After nine comments on Noa's post, Rabbi David Block, director of Judaic Studies, stepped in and posted at 8:04 p.m. and announced that there would be singing in the parking lot at the walkout time, organized by the school.
"While the walkout is meant to honor the victims, it is also a call to congress to pass stricter gun control laws," Rabbi Block wrote. "We deeply want to honor the victims and we never want to sit idly by, but our policy, as an institution, is not to take any particular political side or to officially advocate for any political stance."
Teachers were told not to punish students who left class to participate. No one marched outside on Fairfax Avenue. Rabbi Block said he would participate himself, to mourn the lives lost.
"As an institution, we don't take sides in political things," Rabbi Block said later in an interview. "We are an educational institution, and we try to educate, we don't try to become a political entity. As such we thought it would be inappropriate to officially participate in the walkout, because that's way too politically charged."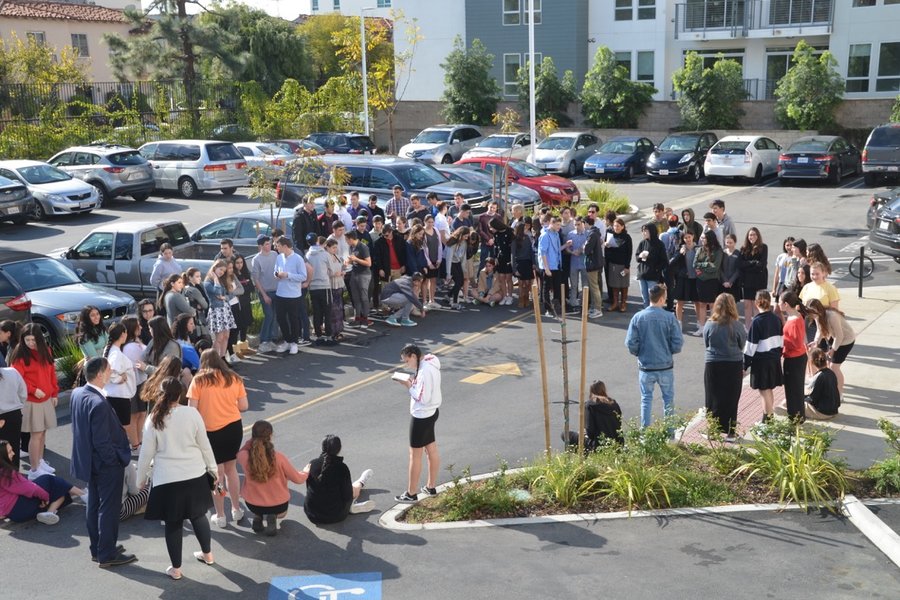 Students and teachers gathered outside in a circle, first singing slow songs, then listening to students and teachers who wanted to speak, then saying tehillim (psalms) led by Rabbi David Stein. They sang again while walking back inside.
Speakers included Jewish History and SAS Psychology teacher Ms. Tove Sunshine.
"This wasn't just for the lives that were lost tragically," Ms. Sunshine said. "It is also a call for the end of this. We cannot wait for another shooting to say no more. We need to put an end now."
Junior Jackie Faerstain felt it was inspirational and important to make a stance.
"Right when it turned 10 A.M. everyone walked downstairs and we gathered in the parking lot," said Jackie. "Everyone was sitting in silence, then we sang some slow shira. It was beautiful and inspiring."
Students and teachers who did not take part in the walkout said they felt the focus had moved from mourning the victims to a protesting in favor of gun control.
They stayed in class and, if the teacher was still there, continued learning. Noah Hertzberg was in Mr. Eric Smith's English class.
"I think the walkout is used to push an agenda, not mourn the lives, but I think Shalhevet did a good job keeping the balance." said Noah. "We just stayed in class and carried on."
Leave a Comment
Meet the Writer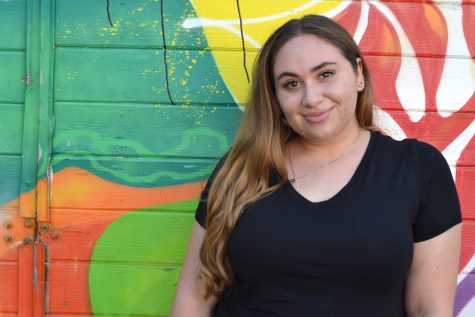 Shayna Becker, Director of Reader Engagement
Shayna Becker started working for the Boiling Point during her first semester at Shalhevet and has gradually become more involved in reader engagement, through brainstorming out-of-the-box ways to best target BP's viewers and readers through social media, advertising and more. Shayna is dedicated to add more creativity and interactive content to the paper, and is eager to get the job done! If she's not in the news office, you can find her in the halls talking up a storm with just about anyone.