Former Apple Store 'genius' is new director of technology
It's back to high school for new tech director Nick Parsons
Newly staffing Shalhevet's "genius bar" — the tech station on the second floor where students can charge their devices and get help with Schoology — is a former genius at an actual Apple Store, Mr. Nick Parsons, new Director of Technology.
Most recently, Mr. Parsons worked for seven years at YULA boys and girls high schools as Director of Technology, and then at Hillel Hebrew Academy for six months with the same title.
But before he moved to Los Angeles, he worked at an Apple store in Cincinnati for two years.
"I started as a creative, which is really a personal trainer," said Mr. Parsons.  "You would spend hour sessions teaching people how to use anything Apple-related.
"My last six months at Apple I was a genius at the genius bar, doing repairs on mobile devices as well as repairing laptops and desktop computers," he said. "I definitely knew I didn't want to do that because working retail is difficult, because customers are difficult sometimes.
"But, it was good.  It got me into the whole training, education kind of mindset since I am not a traditional teacher."
Mr. Parsons grew up in a small farm town in Ohio called McConnelsville.
"It has a population of 1,500 people," said Mr. Parsons.  "Like you think of the show Mayberry, the black-and-white farm towns from the '50s or earlier — that's where I grew up."
He graduated from Ohio University with a degree in video production, and worked for the PBS station on his campus and an NBC station in West Virginia while he was in college.  But he decided to not pursue video engineering.
"I started to realize that towards the end of graduation that I did not want to go into video production," Mr. Parsons said.  "I've always had an interest in technology.  So, it kind of just made its way into that."
Mr. Parsons eventually moved out to Los Angeles when he got an offer from a friend from college in 2010.
"[He] was working at YULA boys and YULA girls, splitting his time between the two schools, which was kind of crazy," Mr. Parsons said.  "So he suggested I meet with the heads of school.  So I called in sick from Apple and I skyped and they offered me the job, and I moved out a couple weeks later."
Mr. Parsons is glad to be back in secondary education after six months at Harkham Hillel Hebrew Academy.
"I like high school, so I missed that when I was at Hillel for the past six months," said Mr. Parsons. "That and I wasn't really involved with the students whatsoever and I missed that from my seven years at YULA.  I'm excited to be back at a high school. I'm excited to be at a smaller school again."
Outside of school, he said, he likes to travel and explore new restaurants.
"I used to have a little side job where I would do even production for corporate meetings and events, but it was all over the world, all over Europe, Hawaii, and different places in the US," said Mr. Parsons.
Mr. Parsons said that he might be use his video production skills at Shalhevet.
"I'm looking forward to maybe doing some video production type stuff at the school, for the school, and maybe teaching students some video production type stuff.
"At YULA I started a Holocaust documentary program and we traveled to Poland and Germany different years.  I know Shalhevet has a program in place, so I'd love to see where I can get involved with those kinds of things."
Leave a Comment
Meet the Writer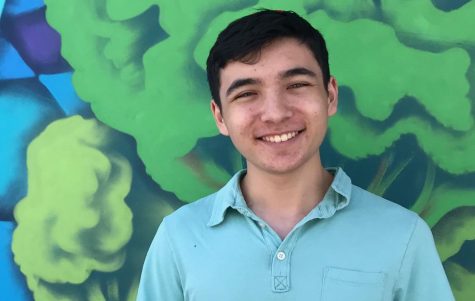 Jacob Feitelberg, Deputy Editor-in-Chief
Jacob Feitelberg has been a part of Boiling Point since his sophomore year. He originally started by reporting on Color War as a staff writer and then wrote for other sections, including as Outside News and Torah, eventually becoming Outside News Editor for the 2016-17 school year, and now Deputy Editor-in-Chief. Jacob enjoys listening to classical music and rock music, reading, playing violin, skiing and coding.