'Senior Soiree,' school's first-ever non-prom, takes seniors north for fine food, cruise and overnight
Chaperoned, school-sponsored event replaces tradition of student-run prom and after-prom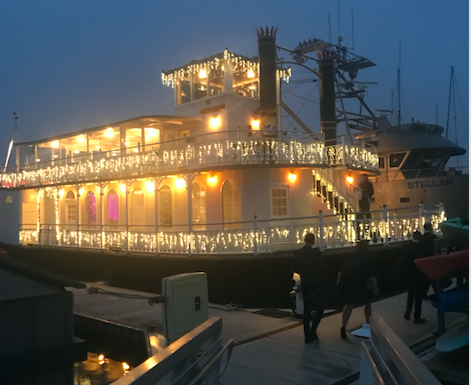 Shalhevet's first-ever 'Senior Soiree,' an alternative to prom, started this afternoon, taking the newly minted Class of 2017 on a 20-hour excursion including dinner at the Herzog winery, a two-hour yacht cruise off the coast of Ventura and a chaperoned overnight stay at a resort on the beach in Oxnard.
The graduates gathered in Beverlywood at 2 p.m. for photos to start the event, meant to replace the student-run prom and after-prom, which had been run in the past against school wishes and which administration said did not reflect Shalhevet values.
It's a milestone moment for the class, which returned from its Poland-Israel trip May 25 and graduated yesterday afternoon in the gym.   
It's also a milestone for the school's administration. After years of trying, officials finally succeeded in convincing this year's graduates to give up prom, offering in exchange a $10,000 subsidy along with planning and logistical support for a night with two party buses, a yacht and dinner at one of the most expensive kosher restaurants on the West Coast.
Senior class co-president Becca Sentchuk said it would be a better cap to four years in Shalhevet than prom would have been, and a way to celebrate with proper middot, or character.
"I believe that the senior soirée will be a better culmination of our past four years, and really end off our high school experience as a grade representing Shalhevet with the modesty and middot they have instilled within each and every one of us throughout our high school experience, " said Becca in an email interview last month.
Drinking and mixed dancing — popular if controversial features of past proms — will not be allowed.  Planned chaperones are Principal Dr. Noam Weissman, General Studies Principal Mr. Daniel Weslow, Judaic Studies staff Rabbi Block, Rabbi Tsaidi and Ms. Wilner, and Student Activities Director Ms. Raizie Weissman.
Head of School Rabbi Ari Segal said officials had planned for the expense even before students voted to approve it.
"We had it in last year's budget also," Rabbi Segal said at a meeting with Boiling Point reporters last month. "I just think it's a value, and I'm a big believer in putting your money where your mouth is. How you spend your money is what you value, and for us, giving a healthy, meaningful way of sending off the seniors in their senior was something that was worth investing in."
"We had always been talking about this idea and I think we thought maybe this year will be the year," he added.
The event began with photos and snacks at the home of class member Alex Reich, followed by a bus ride to Oxnard — about 60 miles north of Los Angeles —  for dinner at the Tierra Sur restaurant, which is located at the Herzog Winery, the largest kosher winery in the U.S.
After dinner students are to be driven to a yacht called "Scarlett Belle" for a two-hour ocean trip including a photo booth. The entire class and administration has reservations at the Hilton Mandalay Beach Resort for the night and expects to return home to Los Angeles Tuesday morning.
"It is going to be fun to hang out with my boys, dance on the yacht with our rabbis, and eating good food at the Tierra Sur restaurant in Oxnard," said class co-president Nathan Benyowitz.
Most seniors were happy about the plan, but there were some who said the vote last fall had not accurately reflected student opinion.
At a senior meeting in November during Advisory, 48 out of the 54 students in the grade voted in favor of the change. But the vote was taken by a show of hands with principals in the room, which students said kept it from being an accurate reflection of their views.
"We were pressured into having it because they asked us in front of teachers," wrote a senior in the anonymous poll. "It also sounded so much better and we were not allowed to discuss with our grade on what they were going to decide."
Later, doubts piled on as they saw their friends from other schools start prom planning this spring.  in a Boiling Point poll taken in early May, 39 seniors, which is 59 percent of the class, said they favored prom.
"Looking back at when I voted for the Soiree three weeks into school," wrote another student in the poll, "I feel trapped because once I started to realize how much prom meant to me with my grade, it was too late to reverse it."
Soiree supporters blamed such regret on the timing of the poll.
"I think that once every other school started getting ready for prom, it was hard for us to accept that we weren't having one, because it is something that you always picture having senior year," wrote Becca.  
Administrators were relieved that prom was gone.
"We have seen what happens at proms," said Dr. Weissman. "I have gotten text messages and phone calls at 3 in the morning saying, 'X student is not doing well, help us out.'"
"Until when, what will it take for the community to recognize that prom is not a good way to end the four years of Shalhevet?" Dr. Noam Weissman said. "A Modern Orthodox school can never sanction doing something that is thoroughly against Jewish Orthodox values."
Students have paid $75 each to attend the event, adding about $4,000 to the budget. They will be allowed to take pictures — an important feature of past proms — and to bring dates as long as they are members of the class. That's a significant change from prom.
"Our prom [would have been] primarily people from other schools and other grades," said senior Michelle Greenberg, "and I don't think that's the best way to end our four years together as a grade, which is one of the advantages of the soiree."
The two party buses were expected to be co-ed, but in the end the students themselves decided to separate by gender for the first leg. According to Dr. Weissman, after dinner boys and girls will be separated for dancing but otherwise may interact on the boat during games and activities.  
Dr. Noam Weissman said students would not be prevented from attending other Jewish schools' proms.
He said the idea for a school-sponsored soiree in lieu of prom was first raised by administration five years ago, and slowly sparked more and more interest until this year's seniors approved it.
During the 2016 after-prom party — when younger students and more non-Shalhevet teens are invited — two drinking incidents resulted in 911 calls.  One student who doesn't attend Shalhevet severely hurt his hand, and another drank until passing out.
Dr. Noam Weissman was called that night and asked for advice.
"We said to our students five years ago, 'We get why you want to do it, but is prom the best way to end your senior year of high school?'" said Dr. Noam Weissman said.
The next year, some parents who heard about the previous year's alternative prom idea came to the administration, but the plan for a different kind of celebration still did not succeed due to lack of interest from students.
Then last year, the administration gave a formal presentation to the senior class of '16, describing an alternative event that the school would organize. According to alumnus Eric Bazak, there was no formal vote after that meeting, but the senior class discussed amongst themselves and a majority wanted to stay with prom.  
But administrators persisted — especially, because of what has what occurred at after-prom, with so many underclassmen in attendance.
"We work so hard throughout the entire Shalhevet educating values, and it sort of ends at prom and that is not the value of our school," said Ms. Raizie Weissman, Student Activities Director, who planned and arranged the trip along with a small student committee.
"So we thought of a fun idea to replace prom," Ms. Weissman said. "We believe that the point of prom is to feel special and have an awesome celebration and we wanted to do that for the students."
Students who favored prom this year said it was because it would be student-run in addition to following a tradition.
"It would be so that we could have the same kind of experience as past classes and other neighboring schools, in terms of prom," said a senior who voted against Soiree in November. 
At least one student objected to the cost of the soiree.
"I think that the Senior Soiree should be free because they are making us take away prom and change the normal high school traditions," said Ben Harel.
But after returning from the Poland-Israel trip, the school's assistance and the details of the event itself seemed to have won over most of the class.
"During the Poland and Israel experience, our grade bonded so much and now, to cap off our years at Shalhevet with a party that the school is generously sponsoring for us, is truly amazing," said Nathan Benyowitz.
Michelle Greenberg agreed.
"What is really great about the senior soiree is the fact that the school is organizing a party for just our grade," said Michelle Greenberg. "At the end of the day, the party that the students would have organized would not have be as fun or as well organized as the Senior Soiree."
Correction: An earlier version of this story stated that the two party buses "were separated by gender at least for the first leg," implying that this was an administration decision.  It was actually the decision of the students as they prepared to board for the ride to Oxnard.
View Comments (1)
Meet the Writer
Benjamin Zaghi, Senior Editor
Benjamin Zaghi has been on the Boiling Point all four years of high school. He was a staff writer for the first two, then was the editor of multiple sections, and now is Senior Editor. Benny leads the Sephardic Minyan and plays on the Boys Varsity Basketball team. If he isn't writing stories, you would probably see him shooting in the gym.