Jewish and Muslim teens practice 'Sport for Peace'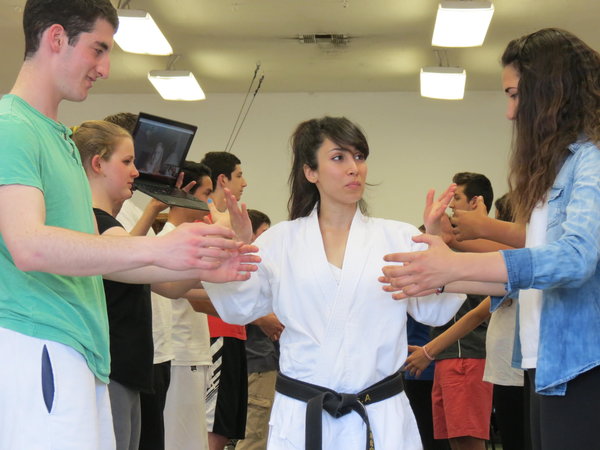 An open mind, spirit, bare feet and some optimism were the essentials needed May 4 when a group of Muslim and Jewish teens — including several Shalhevet students — joined together for a conflict-resolution workshop at the Traditional Karate Studio on Pico Boulevard.
Mrs. Ruth Rokah, mother of junior Adam Rokah, planned the event with Soolmaz Abooali, a frequent karate opponent of hers who has become a friend. Ms. Abooali is a graduate student in the School for Conflict Analysis and Resolution at George Mason University, and the event was meant to celebrate United Nations International Day for Sport for Development and Peace.
Also in attendance were a representative from the U.N.'s office on Sports and Development for Peace; the dean of the George Mason School for Conflict Analysis; and actor Joaquin Phoenix, a karate student himself — as well as Adam Rokah and his father, Avi Rokah, an international karate champion who runs the studio.
Ms. Abooali, an Iranian-American Muslim, encouraged Muslims as well as Jews to participate in the workshop to promote a "soulful well-being" achieved by the mental focus of karate, and a peace between people whose groups are often at odds.
"We believe in the power of karate to unify people, dispel stereotypes, and create lasting relationship despite cultural or political influences, and I wanted make others aware of the benefits," Ms. Abboali said.
After quick introductions and some icebreakers, participants split into groups of three. In these groups, they formulated a definition of what self-reflection meant to them, referencing a picture that looked like an hourglass to represent input people receive, and what output to make out of it.
Then to kick off the karate portion, Ms. Abboali demonstrated the proper stance and hand movements for a punch. After allowing the teens a bit of practice, she moved on and taught the positions required to make smooth karate kicks.
The majority of the participants were either novices or beginners in karate, so it took a little bit of practice to get their kicks just right.
"I've dabbled a little bit in karate before and occasionally attend classes–I'm a white belt, so I wouldn't say I'm too good," said junior Daniel Steinberg.
The next component of the program was a trust exercise where blindfolded participants did a series of karate moves according to the verbal direction of their partner. They also practiced focusing by doing moves while the group around them attempted to distract them.
Students engaged in the exercises with laughs and enthusiasm, but also understood the significance of doing them together.
"At first, I think everybody felt a little bit awkward and drifted into separate groups, but those barriers melted once we began karate activities," Daniel said. "By the time the event was over, I felt a real sense of unity between the Muslims and the Jews."
Mona Ghannoum, a senior at Arcadia High School and one of the Muslim participants, agreed with Daniel that the multicultural approach was effective.
"It's not often that you see a workshop that is not only conflict-resolution through sport, but interfaith as well," Mona said. "It kind of gave the event the full package, and gave us something tangible to apply the topic to."
Ms. Abooali emphasized the importance of events such as this one — even though a small group of Muslims and Jews learning karate and some of it's values together might seem to have no impact on the world,.
"If we genuinely look to ourselves first, find a genuine intention, connect with others and mobilize in the process, we can surpass any obstacle," Ms. Abooali said in an interview after the session. "Individuals make this world the way it is, so we must look to ourselves first."