Alumni game unites old rivals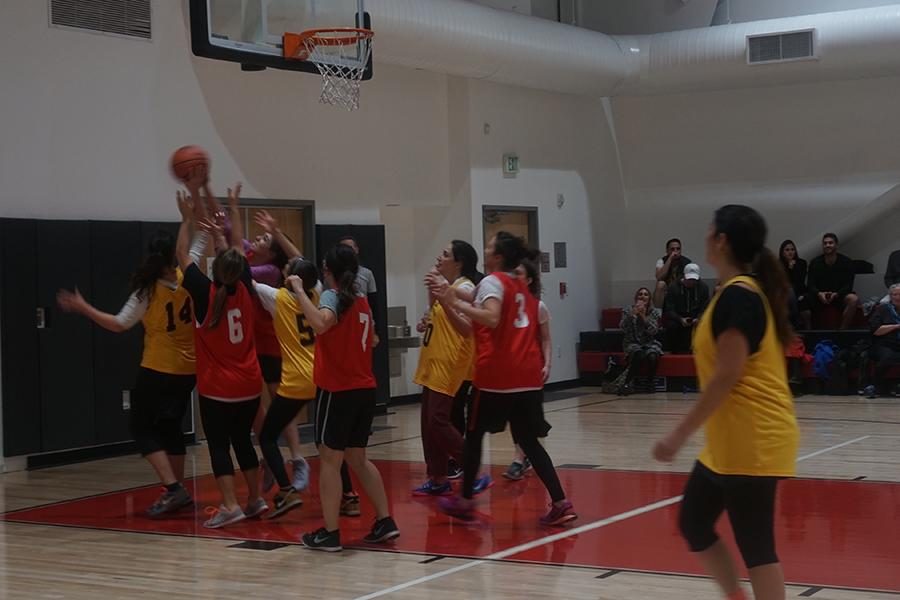 Crosstown rivals Shalhevet and YULA met in a different kind of basketball competition on Saturday night, Nov. 26, when their alumni faced off in separate men's and women's games in the Shalhevet gym to raise money for community organizations.
With about 300 fans in attendance, the game raised around $3,000.
Shalhevet beat YULA in both the women's games. In the first game, for alumnae 30 years and older, the former Firehawks won 16-8 behind leading scorer Adina Rohatiner, class of 2002. Among girls 29 and younger, former Shalhevet stars Sigal Spitzer '15 and Nicole Newman '16 led the Firehawks to win of 23-14, with Sigal scoring 10 points to lead the team.
In the men's game, YULA beat Shalhevet 74-55. Former Panther Daniel Muller also won the three-point competition and received a $100 Bloomingdales gift card as a prize.
Shalhevet alumnus Alex Fleshner '09, who organized the event, said the money would be divided among four organizations: the Glouberman Tournament, the #Hope4Adam cause, and the Shalhevet and YULA Israel advocacy clubs.
Meet the Writer
Nicholas Fields, Managing Editor
Nicholas Fields has been a member of the Boiling Point since freshman year. Starting off with a story about freshman orientation, he quickly fell in love with journalism. After serving as a staff writer for over a year, Nicholas became the Arts and Culture editor in his second semester as a sophomore and served as Torah editor as a junior. He is currently the Managing Editor of the Boiling Point, helping both the web and print teams. Outside of Boiling Point, Nicholas is a co-founder of the Astronomy Club, and a member of the Etta youth board and Shalhevet Model Congress team.