BUCKLEY TO COACH CHAMPIONSHIP FOOTBALL GAME AGAINST CROSSROADS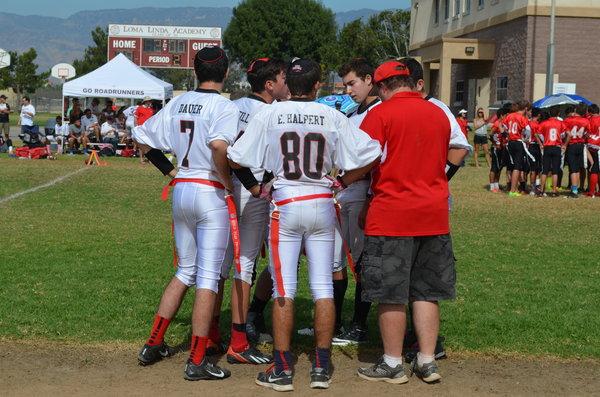 The following e-mail was sent from Head of School Rabbi Ari Segal to the Shalhevet community at 4:39 p.m. Erev Shabbat. 
Dear Shalhevet Community,
This week has been quite painful. There is no other way to describe it – but that's to be expected when there is a sudden and painful separation. The healthiest way for any separation to occur is when both parties work together on behalf of the students. In that vein, I am grateful that we had a meeting today between Mr. Buckley and members of the school administration (thank to Mark Rothman for helping to arrange it). In that meeting it became clear that while a separation was the right thing at this time, that there is a tremendous amount of mutual respect and admiration.
Together, the school and Mr. Buckley are taking steps to lessen the impact on our students. Mr. Buckley has already spent significant time advising the faculty members who will be taking over his classes and his co-curricular responsibilities. He will continue to do so to whatever extent is necessary.  I thank him for his generosity of action and spirit in working with these educators — to whom I am also deeply grateful — for the benefit of our students.
Also, I have made the decision to reinstate Mr. Buckley as coach of the Boys football team for the last game of the season. Mr. Buckley has led the team through an amazing season, and we are really pleased that he will be at the helm  for the championship game. We thank Charlie Wiesel for serving as interim coach on Thursday and hope that he will continue on as an assistant in the championship game.
I hope everyone will come out to support the Firehawks on Tuesday at 6 PM as we take on 3-time defending champion Crossroads. In preparation for this epic match-up, I strongly encourage you to download and read our Nitzotzei Torah – with an article by immovable offensive lineman Jonah Gill and edited by star Firehawk flex-back Micah Gill along with other great pieces – http://bit.ly/1G3kZHi (ok, not sure how well it will prepare you for the game but I figured it was the best possible segue)
Finally, I am attaching a letter from Mr. Buckley below. While it is technically his "goodbye letter," I am very hopeful that he will come back for a more formal goodbye.
Wishing you and the entire Shalhevet community a Shabbat Shalom,
RAS
Related story: Farewell letter from Mr. Buckley
Related story: Buckley resigns: Longtime teacher and flag football coach quits day before team's first playoff appearrance