Led by freshmen, Firehawk Boys' Tennis ends season 5 – 5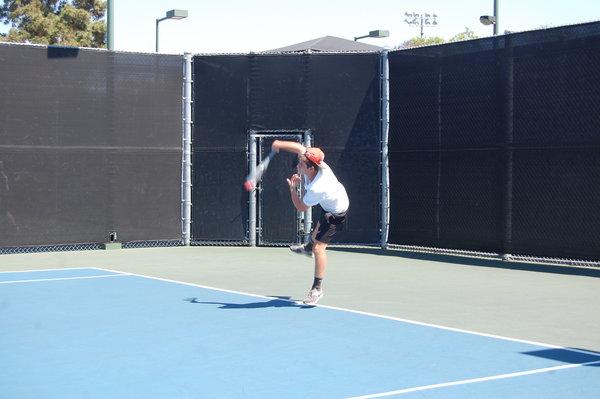 By Mati Hurwitz, Sports Editor
The Shalhevet tennis program finished the season with five wins and five losses, led by senior leadership and youthful performance.
"Our freshmen made huge contributions and always came with 100 percent effort throughout the season," said senior and team captain Matthew Denitz, emphasizing freshman Nathan Benyowitz's perfect season.
Three games highlighted the Firehawks season, under first-year coach Ryan Shelven.
Feb. 25: Shalhevet battled the Milken Community High School Wildcats at Cheviot Hills Recreation Center – otherwise known as Rancho Park – which is the Firehawks' home court. Milken beat Shalhevet 11 matches to seven.
Singles player Nathan Benyowitz swept his three matches, a common trend in this season. Other singles players, Matthew and sophomore Daniel Soroudi, each bested the Wildcats in two of three matches. But Milken's doubles squads proved too strong for the Firehawks, winning three matches and only giving up two games to Shalhevet's three doubles teams.
May 1: The Firehawks faced the New Community Jewish High School Jaguars, also at Cheviot, serving up a storm against the Jaguars in the teams' first meeting.
In a full-team performance, Shalhevet improved its record to 2-0 versus New Jew en route to a 15-3 triumph. Nathan Benyowitz won all three of his matches without dropping a game. Matthew Denitz played singles and doubles, losing one match in each as the Firehawks flew together and soared to victory. MAY 2: Shalhevet marched into Beverly Hills Tennis Center and faced the crosstown rival YULA Panthers for the second time this season. YULA took home the win with a combined 9-6 score.
Nathan again emerged victorious in his three matches, finishing his season 27-0 as an individual, an unprecedented feat for Shalhevet Tennis.
The senior duo of Matthew Denitz and Josh Einalhori competed in its last match and lost two out of three.
Firehawk youth was more successful. In addition to Nathan, the freshman doubles team of Noah Suissa and Micah Hiller won all of its matches, ending 3-0.