Boys and Girls basketball teams both win leagues, head for CIF playoffs
Boys primed for Valley Torah, Girls face road trip to first-round game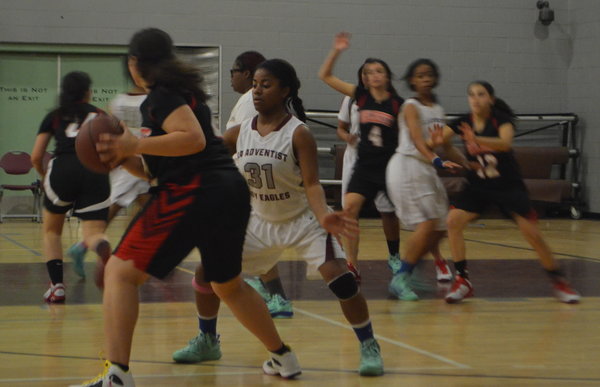 For the second year in a row, both the Shalhevet Boys' and Girls' basketball teams will open up the CIF Southern Section playoffs as sole league champions and seeded teams. Both teams went undefeated in the Mulholland League and now advance to the postseason.
The playoff brackets were released at 2:40 PM on Sunday afternoon on cifss.org.
The Girls' team opens up as the 9th seed in Division 6 but due to a lost coin flip, they must travel Thursday and play unseeded Coast Union.
"Hopefully this year we will be able to use our strengths, passion and unity as the Girls Varsity Team brings home to Shalhevet glory," said Sigal in a phone interview.
But Sigal is worried about the long drive to Cambria, which is more than three hours north up the Pacific coastline near Hearst Castle. That means the girls team would most likely arrive back in Los Angeles at midnight on a school night.
"I think that to have us drive three-and-a-half hours away when there are so many closer teams to play or closer places to play, is just absurd," Sigal said.
Also, somehow the Lady Firehawks were awarded the 9th seed, two lower than their league rival LA Adventist Academy, seeded seventh, whom they crushed twice this season. They also captured convincing victories against such Division 6 opponents as 10th--seeded Price High School and went 3-1 in a December tournament in South LA, with big wins over Blair High School and Buena Park High School.
"Why would CIF rank LA Adventist over us if we beat them twice by 30 points each time?!" asked Sigal.
She added that since she started her Shalhevet career, the Lady Firehawks defeated the LA Adventist Eagles six times in six match ups.
Freshman point guard Liora Rabizadeh was unhappy too.
"We are better than them," said Liora.
But with a large pool of teams of which more than 30 are chosen, the CIF Selection Committee can't always factor in every possible head-to-head match up to seed teams. For example, the 7th seed could've beaten the 12th seed, who beat the 16th, who beat the 7th.
Factors such as strength of schedule, strength of victory, and overall record are also part of the formula, so having won a head-to-head battle does not necessarily mean you will get the higher seed come playoff time.  As it happens, even though Shalhevet beat up LA Adventist twice, LA Adventist had plenty of other games and their performance attracted CIF enough to elevate them to a 7th seed.
For most of the team, this month's playoffs will be a first. The Lady Firehawks did not participate in the CIF playoffs last year because they were busy winning a third-place crown in the Galbut Girls Basketball Tournament in Miami. This will therefore be the first taste of playoffs for many of the members of the team.
Meanwhile the boys finished 11th in Division 5A and gets a Wednesday date against Grace Brethren. The Boys' team is lined up to have a rematch against Valley Torah in the 2nd round, scheduled for Friday night Feburary 21st,  but due to Shabbat it will definitely be rescheduled if this indeed is the matchup.
Last year, during the Firehawks' historic playoff run to the CIF championship game, the Firehawks were seeded second and defeated the 7th-seeded VTHS Wolfpack in a 70-63 overtime quarterfinal. The game included a shutout of Valley Torah in overtime and a 34-point performance by then-team captain and current Cornell basketball player JoJo Fallas.
Star Firehawk guard and team co-captain Simcha Halpert believes that if this match up happens, it will say a lot about Jewish basketball.
"It shows that Jews can play outside of the Jewish world — it shows that we can compete," said Simcha.
Earlier this season, the Wolfpack edged the Firehawks 46-43 while Simcha was nursing an ankle injury.
"It's the first time I get to play against my boys," said Simcha. "It should be a great game, a big crowd."
The '14 Wolfpack feature 6'10" center Adam Liberman and 6'4", 260-pound all-purpose forward Shmuel Duvid Stock, along with an experienced back court. But for now, the Firehawks' focus is on the first-round match up.
"We got to take it one game at a time," said Simcha, "play our best and use it as a practice game to get ready for Valley Torah."
If both Shalhevet and Valley Torah emerge victorious in their games on Wednesday, it could be another epic playoff match up between the two Orthodox squads.
Earlier this season, the Firehawk boys lost four games in what many dubbed a rebuilding season after the graduation of Jojo and star teammates Ari Wachtenheim and Eitan Rothman. The losses were, coincidentally, to Valley Torah, New Community Jewish High School ("New Jew"), and YULA twice. The Boys' team had signature wins over Holy Martyrs and LA Adventist twice, once on a buzzer-beating three-pointer by junior forward Jeremy Glouberman.
Both teams are favored in their first round match ups. Stay tuned for constant playoff updates.