Split decision as Lady Firehawks beat YULA while boys fall short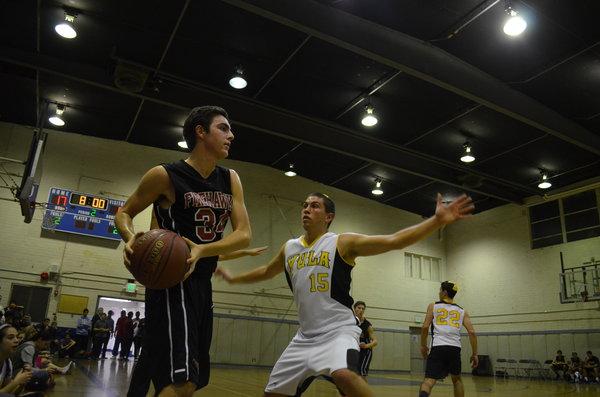 When Shalhevet's basketball teams faced off against the crosstown rival YULA Panthers last month, the Firehawk boys — who had finished last season ranked number one among all Jewish schools in the country — lost, 62-36.
The girls, who also beat YULA last year, won decisively 59-40.
As usual for a Shalhevet-YULA game, the gym at the JCC on Dec. 17 was filled with fans from both schools. The girls played first at 5 p.m., to a smaller crowd, and junior Sigal Spitzer scored 18 points to lead the team.
"We definitely improved a lot from our first game," said senior Joelle Edry, co-captain, who recorded three blocks. "We began to look more like a team and communicated more and didn't give up."
Leading at the end of every quarter, the Lady Firehawks finished the game with a commanding lead.
"Overall, Mr. Momentum was on our side," said Sigal. "After halftime we came out playing with our heads high. We are a much better team skills-wise than YULA, but sometimes the pressure gets to us, especially the freshmen."
Once again, the girls' team this year is being coached by Ronnie "Flava" Winbush, known for working one-on-one with his players after school for as late as they'll stay. Coach Flava used to coach the Varsity boys' team but Coach Colin Jamerson came to Shalhevet and replaced Flava with the boys in 2010.
"Flava really knows how to coach and we all know how to work together and communicate well," said Joelle. "The results are a proof of this."
Playing at 8 p.m., the boys were trying to prevail against the Panthers after a 4-3 start  this year. It was their second try against YULA, following a 47 – 34 loss to the Panthers in the Milken Tournament  Dec. 3.
This time, they were playing without their star three-point shooter, junior Simcha Halpert, who had sprained his ankle at Milken.
This time last year the Firehawks were ranked No. 2 overall among Jewish high schools. According to the latest power ranking from Jewishhoopsamerica.com, Shalhevet boys are ranked 25th.
Most of last year's top players are gone now, including Jojo Fallas — now playing for Cornell University — Ari Wachtenheim, and Eitan Rothman.
With Simcha injured, juniors Adam Kaufler, Zev Marcus, Jeremy Glouberman and sophomores Jacob Dauer and Elon Glouberman were left to start the game at the JCC.  High scorers were freshman Eitan Halpert, Simcha's younger brother, who stepped up with 11 points; sophomore Joe Schnitzer with nine; and junior Jeremy Glouberman, also with nine points.
"I took advantage of what the defense gave me and I just gave it my all," said Eitan. "I don't feel pressure to step up. I'm a freshman and I know my role on the team."