Soccer teams hope to recover from early season woes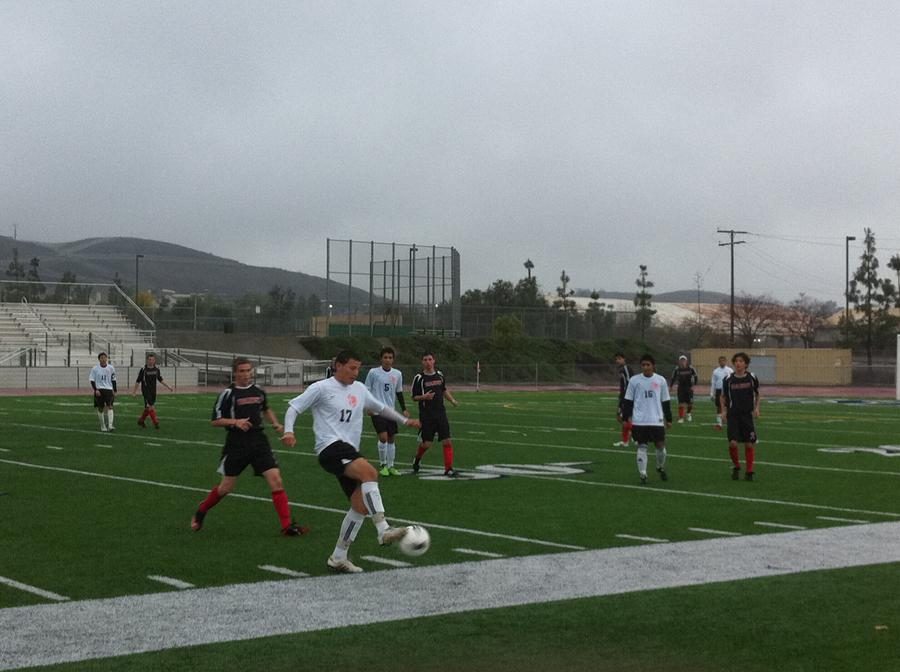 With the boys having yet to win a match and the girls winning just two games so far, Shalhevet's soccer teams have had a rough beginning this season.
Yet despite the early losses, the teams are vigorously working to improve on certain areas of their performance, and the girls team has responded with an impressive win Dec. 22 over their rivals, the YULA Panthers. In addition, the boys team is still hoping to win its league.
"We have not started the season off the way we wanted to," said senior Emilio Lari, co-captain of the boys team. "But I know that if our team pulls it together and fights harder than ever, we still have a chance to win league."
The boys' team played its first season game Nov. 29 against Lennox and lost, 5-1. Players saw it as a wake-up call, making it clear that there was a lot of room for improvement.
"Our main problem was communication in passing, and we've worked on that during our past two or three practices," said Emilio. "During our last practice, our team was doing it perfectly, and hopefully we will bring that into the game and come out strong."
Next, they played Central City Value High School on Dec. 8 and lost again, 2-0; they also played a close game against Westview on Dec. 10 and lost, 3-2.
Especially in light of their exceptional performance last year — where they rose to first place in their league and obtained a record of 10-0 — the team really feels that they need to step up their game.
"We are going to be working a lot harder to try and fill in those gaps," said junior Josh Meisel, a second-year midfield player.
"I am optimistic that we will come out a lot stronger. We'll give it a bigger push, and no matter who we play, we have to give that 110 percent effort."
The boys' team had a three-day league tournament this week in Chino Hills, along with games in against Pacific Lutheran Jan.6; L.A. Adventist, Jan. 12; and rival YULA on Saturday night, Jan. 15, in the middle of finals.
The girls' soccer team stands in a similar situation.
To date, the Lady Firehawks have had five games.  First, they tied, 2-2, against St. Bernard on Dec. 1. In their second and third matches, both against Environmental Charter High School on Dec. 3 and Dec. 8, respectively, they lost, 2-0, and tied, 2-2.
But then, in perhaps the biggest game of the season, they impressively took down YULA, 2-0, with goals from senior Keren Meir and freshman Sophie Ouaknine.
After testing out this year's team, which includes 11 new players, they found holes in their strategies and playing.
"Although we are getting better at it, the players need to start listening to the coach and each other," said junior Ariella Joffe, a third-year defense player. "We can't play solo."
They played their fourth game against St. Mary's Dec. 13 and won it  11-3. So their record now stands at two wins, three losses.
"I am really happy that the effort we have put it in practice has really paid off," said junior Shir Alkoby after that game. "Even though we lost in the first few games, we got a lot better now, and we definitely see improve as a whole team."
With an intense game ahead against their league rival, Animo, Jan. 5, the team awaits a season filled with excitement.
"The teams that we are playing are not easy; they challenge us," said Ariella. "We are rising to that challenge and will hopefully beat them."
The girls will play Hawthorne Math and Science Jan. 5 and Central City Value High School Jan. 6.
Meet the Writer
Adam Ashkenazi, Web Editor
Working on the Boiling Point since sophomore year, Adam Ashkenazi, commonly know as "Ash", has worked a multitude of positions on the paper --  staff writer, Chief Copy Editor, video staffer on the web and now his current position of Web Editor. On top of Boiling Point, Adam has been on Mock Trial and is part of the Diller Teen Cohort.