Student journalists from Parkland high school tell CSPA how they covered shooting that killed 17
When the story isn't normal, journalism isn't either, say newspaper and yearbook staffs from Marjory Stoneman Douglas High School.
In the wake of the shooting that killed 17 students at Marjory Stoneman Douglas High School in Parkland, Fla., last month, the school's student journalists found themselves breaching the norms of journalism to cover the event.
Ten of them spoke at the annual conference of the Columbia Scholastic Press Association (CSPA) March 16, before an overflow audience in Columbia University's Alfred Lerner Hall. 
From a distance, they all seemed like regular student journalists. At the beginning they introduced themselves and spoke about an in-depth piece they'd published on vaping, which they joked about hearing complaints about — a common plight among high school reporters.
But as they spoke about covering the gunning down of 14 students and three teachers on Feb. 14, it became clear that they were both wholly unlike other student journalists, and at the same time in many ways very similar to the other teenagers in the room.
Typically, journalists are discouraged from interviewing people who are too close to them. But in this case, students are profiling victims whose friends and family, or the victims themselves, they knew well.
"We let kids with the most connections tell these stories," said their faculty adviser, Mrs. Melissa Falkowski. "When people are in a raw, emotional state, they trust the people they know."
Six of the staff members on stage were working on victim profiles.
"I'm trying to balance being a survivor and being a journalist," one editor said. "I want to do justice, but I don't want to mess it up."
The paper's advertising editor, Mady Kravitz, said she was honored to be profiling former Athletic Director Chris Hixon, whose widow she has not spoken with yet because Mady does not feel ready.
"You have to stay strong for someone who went through more than you," she said.
Faced with a catastrophic event, the teenagers who staff The Eagle Eye newspaper and website and Aerie yearbook said they did not follow many conventions in news coverage.
The Eagle Eye's opinion section usually offers two opposing op-eds on the same topic. But for their fourth-quarter issue, which is set to focus on the political aftermath of the shooting, there will be no "con" presented on the issue of gun control.
The yearbook and newspaper have begun sharing their work, even though that is unusual and the two platforms are very different. The adviser said it is too difficult for two different reporters to "have to re-live this."  
CSPA's executive director, Edmund Sullivan, said it was "fascinating" that the two publications have collaborated.
"It may say something about future of student journalism, it's really two different faces of journalism," Mr. Sullivan said.
The students also added new sections to their website, under the umbrella of "MSD Strong." One subcategory is "Extraordinary Acts," and covers heroic things people did during the shooting or after. The other two are "Healing" and "Our Story,"  which is devoted to news and followup about the shooting itself.
Speaking to more than 1,200 students and advisers, the students offered advice on covering tragedies with journalistic integrity.
"When you're in the emotion of it, it's hard to make a decision," faculty adviser to the newspaper Melissa Falkowski said. She recommended setting a fair and journalistic policy in advance.
Her voice began to crack when she spoke about their coverage of the vigil the day after the attack. Though the students were emotional, she told them it was their responsibility to not only participate in the event, but to tell the story.
Kyra Parrow, editor of the Aerie, took photos of the vigil. She said when she showed up at the park, "there was so much media." She said there were cameras in everyone's faces, and she needed to take a different approach.
"I know I didn't want that to be me," Kyra said, referring to the outside news media. "I wanted to capture the beauty of the vigil."
She added that photographing the story helped her cope.
She said that before Feb. 14, this year's yearbook was expected to be 428 pages. Her adviser said they had planned to print on March 9. That of course changed, and they now have a yearbook which is set to be 449 pages. They added individual pages for each of the 17 victims, as well as coverage of the memorials and other aftermath.
But another plan for the yearbook did not change. Aerie yearbook starts planning the next year's issue at the end of each school year. At the end of the 2016-17 school year, they unknowingly picked the theme "As One" for 2017-18. Their faculty adviser said when she revealed the theme to the faculty in a meeting after the shooting, there was an audible gasp from nearly everyone in the room.
Several of the students said their advisers had helped them cope with the shooting, and served as sources of strength and hope when the reporting became tough. The feeling was mutual.
"We are in awe of their strength and talents," Mrs. Falkowski said of her students. "We were high school journalists, but we never had to do anything like this."
After they spoke, the 10 students and two faculty members took audience questions. There were three editors-in-chief, two of the newspaper and one of the yearbook. There were one more editor, five sophomore staff writers and one junior advertising editor.  
The first question came from a student named Jackson from Marcus High School in Texas. He asked about how the students maintained composure in the face of right-wing and alt-right criticism of their coverage, as well as their support for gun control. After the shooting, many conspiracy theories surfaced, claiming some students were paid crisis actors.
Eagle Eye editor Carly Carnove responded by saying it was hard to notice sometimes because there is so much support. She is able to tell herself the conspiracy theorists and deniers are wrong.
"The fact is that people died, and we were there, and we have something to say about it," she said.
Mr. Sullivan awarded the students with a hybrid Gold Crown award, the highest prize a student publication can receive from CSPA.  It's the same award the Boiling Point received — for news sources in print and online — and Mr. Sullivan said the Florida students and their advisers had planned on attending the convention before the shooting took place.
The yearbook adviser, Ms. Sarah Lerner, said that before the event the school's population had been growing, and was expected to exceed 3,500 students in the 2018-2019 school year.
In an interview with The Boiling Point, Mr. Sullivan said The Eagle Eye had "scooped all other journalists in the world."
"Other media flew in, took a few looks," he said. "But the students doggedly covered everything and had more information than anyone else.
"That is what online publishing does," he added. "It knocks down the walls of a high school, because student journalists aren't held to monthly printing schedules anymore, so they can publish on demand just as real journalists do, which shows student journalists are real journalists."
Mr. Sullivan added that he found it extremely impressive how the students had risen to the occasion and reported the entire thing.
"I think their story needs to be told by them," he said. "Truly I think they are the face of high school journalism right at this moment."
Leave a Comment
Meet the Writer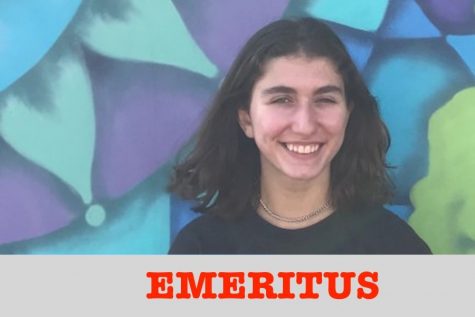 Hannah Jannol, Editor-in-Chief Emeritus
Hannah Jannol was Editor-in-Chief of the Boiling Point during the 2017-2018 school year. Since then, she has attended The New School and written for their HerCampus chapter; edited obituaries for The Trace; written poetry for Eleven and a Half literary magazine, and run Instagram and Twitter for Uptown Stories.  Her favorite parts of being on Boiling Point were production night and writing long-form features stories, many of which won awards from CSPA, Quill & Scroll and the American Jewish Press Association.