Florida shooting prompts schoolwide security assembly
Officials detail safety of building; first-ever lockdown drill is scheduled
Shalhevet responded to last month's Florida high school shooting by remembering the victims and holding an hour-long assembly to reassure the community about campus safety.
"I'm not gonna kid you and say you're safe from anything possible," said Mr. Ivan Wolkind, Shalhevet parent, LAPD officer and head of the Community Security Initiative at the Los Angeles Jewish Federation. "There is no guarantee of safety. The world is a dangerous place."
But he and the school's two heads of security said the building's heavy, driveway-to-ceiling gate, operated from the security booth, is unusual for a high school, and is staffed by gun-carrying ex-military and law enforcement personnel whose training exceeds industry standards.
"This is one of the safest schools in California," said Mr. Randy Rangel, CEO of Strategic Emergency Response Concepts and a 27-year veteran of the Los Angeles Police Department.
Mr. Rangel said his company had been chosen for Shalhevet by Mr. Wolkind, whose children are in the ninth and 12th grades here.
"Ivan picked us for a reason," Mr. Rangel said.
Mr. Charles Law of Law Security, which employs Shalhevet's guards, said advanced training had started long before the Parkland massacre.
"I can see that everything that could possibly be done to make this site secure is being done," said Mr. Law.
Mr. Wolkind said school officials have never refused a request for security upgrades.
"We [at the Federation] have an advanced system of communication, site visits, and we push schools to take security seriously," said Mr. Wolkind. "Shalhevet takes security very seriously."
The assembly, held during an extended Mincha period on Ta'anit Esther Feb. 28, was mostly devoted to a discussion regarding security procedures in the wake of the Feb. 14 attack that killed 17 at Marjory Stoneman Douglas High School in Parkland, Fla.
Officials also took questions from students, who asked about metal detectors, lockdown drills, and whether teachers should carry guns.  
Mr. Wolkind said officials have decided that for now, metal detectors are not necessary at the school's entrance, outside of high-risk events. Metal detectors were present for the Maccabeat concert, which garnered a large audience beyond the Shalhevet community.
"We put them up if a situation warrants it," he said. "I guarantee you we think about these things."
"We could turn this place into Fort Knox [but] we don't think that's warranted," he added. "Where I work, at the Jewish Federation, we consider ourselves a higher profile target. No one enters without a metal detector."
He also opposed teachers carrying guns, a possibility proposed earlier that week by President Donald J. Trump.
"When Randy [Rangel] teaches Chumash," Mr. Wolkind said, "the rabbis can carry guns."
While there has been at least one fire drill per year at Shalhevet, there has never been a lockdown or active-shooter drill.
Mr.  Rangel said plans had been made for a schoolwide lockdown drill, but they were never executed.
"We should have done it at the beginning of the year, but because of scheduling – Everybody wants active shooter drills. It's non-sustainable," said Mr. Law.
He added that students had a role to play in school safety.
"Don't leave doors propped open," said Mr. Rangel. "We need to police ourselves. Let's keep our facility clear and secure. Be proactive."
Mr. Wolkind agreed, and said students should notice unfamiliar faces and report anything suspicious.
"It's not about the cameras, the physical hardware, it's about the policies and procedures – it comes down to you guys," said Mr. Wolkind.
That was not reassuring to students interviewed after the assembly.
"I think all schools should have lockdown drills with the rising threat of school shootings being a problem now," said freshman Max Wintner. "People should know what to do and be prepared,"
Fellow freshman Yakov Berg agreed.
"I honestly don't know what I would do in that situation," said Yakov.  "I have not received any training or drills from Shalhevet, but I have from my previous school."
Executive Director Sarah Emerson later said that Mr. Rangel had conducted a review of school security when he was contracted last fall, and that the previously scheduled lockdown drill would take place before Pesach break.
Every Jewish school surveyed by the Boiling Point has had a lockdown or active shooter drill within the last year. Schools whose students were contacted were Frisch Academy, N.J.; Salanter-Akiva-Riverdale (SAR), N.Y.; Katz Yeshiva High School, Fla.; Berman Hebrew Academy, Md.; Frankel Jewish Academy, Mich.; Gindi Maimonides Academy, Calif.; Fuchs Mizrachi School, Ohio; and Pressman Academy, Calif.
"There's been conversation among faculty for the last several years about having a lockdown drill," said Aviva Walls, Dean of Academic Affairs.
"I think it's really important that we trust our security to the security professionals and let educators be educators."
A recent email sent to Shalhevet faculty reaffirmed plans for a lockdown drill and provided an overview of security protocols.
"[Mr. Rangel] works with school districts and private school systems around the Southern California area reviewing their security plans and implementing best practices based on his experience with LAPD," said Ms. Emerson in an interview.
"Randy came in and did a full analysis of our security plan, emergency preparedness and our security through Charles [Law], and various security protocols and policies that we had in place."
The threat of gun violence has become a growing reality of education, and Shalhevet administration maintains that the school is prepared.
"We do have an emergency plan in place that provides for various scenarios that was prepared in conjunction with our security team," said Ms. Emerson.
"We continue to work with them regularly to update it. Randy, Charles and Ivan […] have been here to review our entire security stance."
Ms. Emerson said Shalhevet faculty and security are trained to deal with an active shooter.
All five teachers who were interviewed by Boiling Point reported receiving instructions on emergency scenarios, though none had had the opportunity to practice them.
"We had courses," said history teacher Mr. William Reusch. "A guy came in and talked about the shooter last year."
A recent Boiling Point poll found that 17 percent of Shalhevet households own firearms, and the vast majority of students know where they are kept. The family with whom the Florida killer lived kept his guns locked in a safe, yet he still managed to gain access to them, according to the Miami Sun-Sentinel.
With a semi-automatic AR-15 rifle, Nikolas Cruz killed 14 students and three teachers at Stoneman Douglas, his alma mater. He eventually abandoned the weapon and joined the thousand-strong procession of student evacuees with their hands above their heads.
He was arrested just over an hour later while walking several miles away from the school. He is currently being held at Broward County jail under suicide watch.
Many are wondering just how the 19-year-old perpetrator gained access to both the weapon and the high school from which he had been expelled, and were outraged that years of warning signs had gone unheeded — ultimately culminating with one of the worst mass shootings in U.S. history.
The Broward County Sheriff's Office received approximately 20 calls concerning Cruz over the past few years, though none resulted in an arrest.
In 2016, a mental health agency investigated Cruz after he posted graphic videos of self-harm and communicated his intentions of purchasing a gun.
And after finding hate symbols and racial slurs scrawled on his book bag, with claims by his mother that his ADHD, depression, and autism were under control, he was not hospitalized.
"This kid exhibited every single known red flag, from killing animals to having a cache of weapons to disruptive behavior to saying he wanted to be a school shooter," Howard Finkelstein, the Broward County public defender, told the New York Times.
Shalhevet guidance counselor Esther R'bibo aims to gauge the welfare of students long before something could reach such a point.
"We seek out students to check in on their general well-being," Ms. R'bibo said. "We might get a referral from a parent or other to check in with a student."
Leave a Comment
Meet the Writer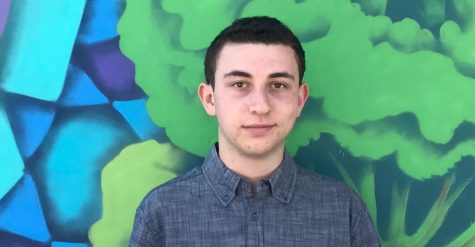 Tyler Ekaireb, Outside News Editor
Tyler has been working for the Boiling Point for two years, and is currently the Editor of Outside News. When he isn't writing a story or editing a Table Talk, you can probably find him in the robotics lab.