With planned move of US Embassy to West Jerusalem, world rages but city mostly calm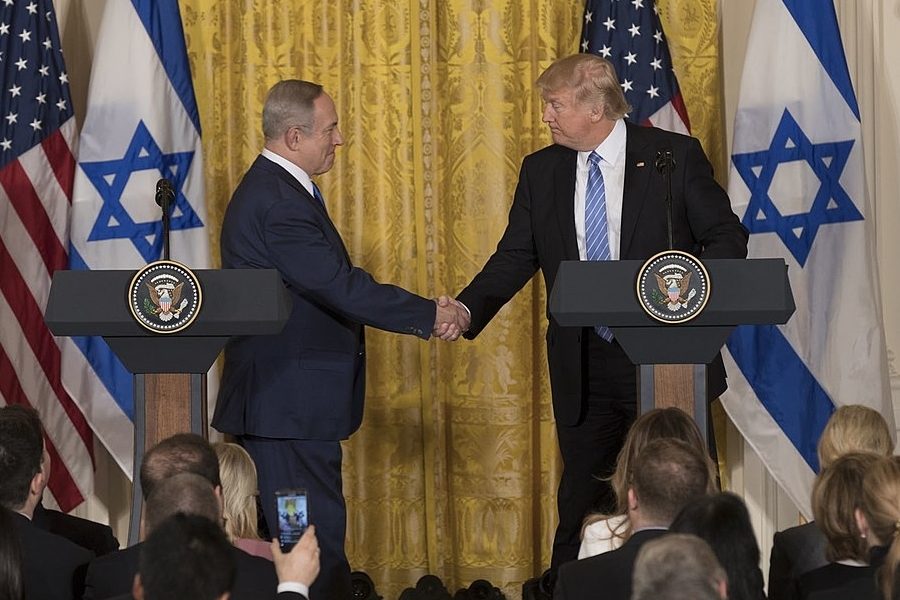 By Nicholas Fields, Staff Writer
Thousands of Palestinians protested and governments around the world complained, but Shalhevet alumni in Jerusalem said the city itself was calm after President Donald Trump announced that he would be moving the U.S. embassy there from Tel Aviv Dec. 6.
Palestinians,held a violent two-day protest in Beirut against the move according to haaretz.com, on Dec. 8 throwing stones at Israeli soldiers trying to suppress the violence.
But for alumni in Israel, the greatest effect seemed to be yeshiva and seminaries being on lockdown.  Media reports, they said, made the situation look more frightening than it was.
"The media portrayed very much so as a crazy situation with tons of violence," said alumnus Jonah Kaye '17, who is studying at Yeshiva Orayta in Jerusalem's Old City this year. "But if you were in Jerusalem, you would not have known the difference, if not for the media."
Sarit Ashkenazi '17, who is on the Jerusalem-based Nativ program, agreed.
"Even though the media portrays things in a certain way and it looks like there are all these crazy things happening in Israel after an announcement like this, really when you're actually living here, most of it doesn't affect you at all," said Sarit in an email.
"The effect wasn't as drastic as we thought it would be," she said. "Around where I live, nothing really changed at all."
President Trump officially announced at the White House in Washington D.C. that the United States would recognize Jerusalem as Israel's capital, saying "It's something that has to be done."
Hamas leader Ismail Haniyeh responded by calling for three days of rage, which included both protests on the ground and missiles being launched from Gaza into Israel by Hamas. Israel responded with airstrikes in Gaza, killing at least eight people according to The New York Times, which quoted Israeli media as saying the IDF had targeted two weapons manufacturing sites.
Loading ...
Additionally, a United Nations General Assembly meeting was called to vote on a resolution to condemn the president's decision to make Jerusalem the capital. It was approved 128-9 with 35 abstentions. China, France and Afghanistan were among countries that voted in favor, according to npr.org.
Countries voting against the resolution were Israel, Honduras, Guatemala, Nauru, Micronesia, Marshall Island, Palau and Togo in addition to the U.S. Since the vote, Guatemala's President Jimmy Morales has said his country's embassy will move to Jerusalem as well.
In a phone interview, Jonah Kaye said some people in Jerusalem were afraid when the protests began, while others felt as if it was a normal day.
"The yeshiva put us on lockdown and didn't let us leave the Jewish quarter, but it became pretty clear that nothing was happening," said Jonah.
Shalhevet alumnus and Israel immigrant Max Rabin '04 lives in Jerusalem and said demonstrations like last month's has little effect on those who call the city their home.
"It doesn't have any practical impact on anybody's everyday life," said Max, who has lived in Israel for 13 years and is a software engineer. "People still get up for work the next morning and nothing's changed."
Four days after President Trump made his announcement, a security guard was stabbed at the city's Grand Central Bus Station.  But Max thought it was still very safe.
"The safest place in the city right, after the stabbing attack, was strangely the Central Bus Station," he said. "The day after the stabbing, and the day after that, and the day after that, it was very well guarded."
It did not increase his fear of being in Jerusalem.
""I'm far more likely to be hurt in many other ways than I am from a terrorist attack," said Max. "Just because one happens, it doesn't mean that you're in any more danger than you were previously."
Alumna Maya Golan '17 is spending her gap year in Jerusalem at Midreshet HaRova, which is located in the Jewish quarter of the Old City and was on lockdown for one week.
"Sometimes when you're removed from the situation it looks scarier than it actually is," said Maya. "But when you're actually in it, it really just felt like a normal day and nothing really happened,"
But she was afraid after the stabbing.
"It was just kind of scary, and it made me think that it could've been any of us," Maya said.
Politically, Shalhevet's alumni supported President Trump's decision, and they said this was the reaction from Israelis as well.
"There was this giant projection on one of the buildings with a picture of an American flag and an Israeli flag," said Jonah, "and it said 'We love you Donald.'"In addition, Israeli Transportation Minister Israel Katz announced that a new railway station being built in the Old City will now be named after President Donald Trump, according to news reports.