Alan Gross returns home as part of Cuba deal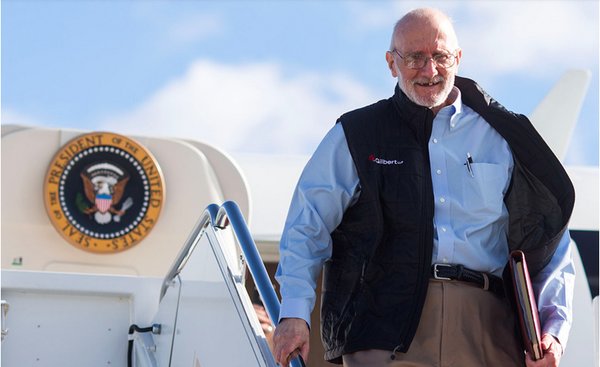 When Alan Gross was released after five years in a Cuban prison on Dec. 17, alumni parent and former Shalhevet board member David Nimmer happened to be at the White House, attending President Barak Obama's annual Chanukah party.
President Obama, he said, announced Mr. Gross's release, and in a brief speech used the Hebrew term for redeeming the captive.
"The president came in front of all the hundreds of assembled guests and first wished them a happy Chanukah," Mr. Nimmer told The Boiling Point in an interview later, "and then said in the spirit of Chanukah, the festival of freedom, and also in the spirit of pidyon sh'vulim, I'm pleased to announce that we have secured release of Alan Gross, a Jewish hostage in Cuba. And that was actually of the essence of the restoration of diplomatic relations between the United States and Cuba, which have been ruptured since 1969."
He said the president mispronounced the term, however.
"He did get it wrong, and then he made a joke about himself and he said something like,  'Well, I almost go t it right,'" Mr. Nimmer said.
Mr. Gross, who is a distant cousin of Shalhevet alumna Bracha Stettin '10, was working as a government contractor for the U.S. Agency for International Development (USAID) when he was arrested in 2009 and convicted for "acts against the independence or the territorial integrity of the state."
The Cuban government accused him of espionage and attempting to subvert their society because he brought satellite phones and computer equipment to the Jewish communities of Cuba without a proper permit.
Now 65, Mr. Gross returned home to his family in Florida just in time for Chanukah, which had started the night before.
Mr. Nimmer described his elation as he heard the announcement in one of White House's formal reception rooms.
"The fact that one Jewish life stood at the fulcrum of those international negotiations is something remarkable, and the president fully acknowledged it, and it was a great source of pride to me," Mr. Nimmer said.
The Chanukah party also included the lighting of candles by two children, one Jewish and one Arab, he said, and mentioned the firebombing of a school in Jerusalem that is half Jewish and half Arab.
"The president said that we're going to struggle through the hard times," Mr. Nimmer said, "because light is stronger than darkness and love is stronger than hate, and then he invited the two first graders to come up to kindle the lights." Guests at the Chanukah party also heard a lengthy briefing from presidential advisers about Israel, ISIS, Iran, anti-semitism and other topics, and Mr. Nimmer said he was very impressed with them.
"If my job had been to scour the country for the people who were the most savvy, the most worldly, the most concerned, the most hard-working, and embodying Jewish values, I could not think of anyone better for those positions than the people we actually heard," Mr. Nimmer said.
"[They] presented everything in such a compelling way, it did wonders to invigorate my faith that the administration is working very hard to promote American values and also to promote Jewish values."
Bracha told The Boiling Point that her family has not seen the Grosses since a year or two before he was arrested, and she had no information about his homecoming or reaction to the events.
But news reports said Mr. Gross had lost more than 100 pounds and multiple teeth during his time in prison, and also had developed degenerative arthritis in his leg.
According to the Gross family's website, bringalanhome.com, Mr. Gross knew the U.S. and Cuba had strained relations.  But it said he did not think he was in danger.
"As a U.S. citizen working on a project publicly sponsored and funded by the U.S. government, Alan never thought that he was at risk of imprisonment in Cuba," says the website, which now boasts a large headline saying "Welcome Home."
President Obama announced a large policy shift towards normalizing relations with Cuba as Mr. Gross was released.  But some politicians, including Florida's Republican Sen. Marco Rubio, vehemently oppose it, citing the country's consistent violation of human rights and international laws.
"I believe that we can do more to support the Cuban people and promote our values through engagement," said President Barak Obama in a statement directly following Gross's release from prison, "After all, these 50 years have shown that isolation has not worked. It's time or a new approach."