Little worry as colleges reject Israel 'boycott'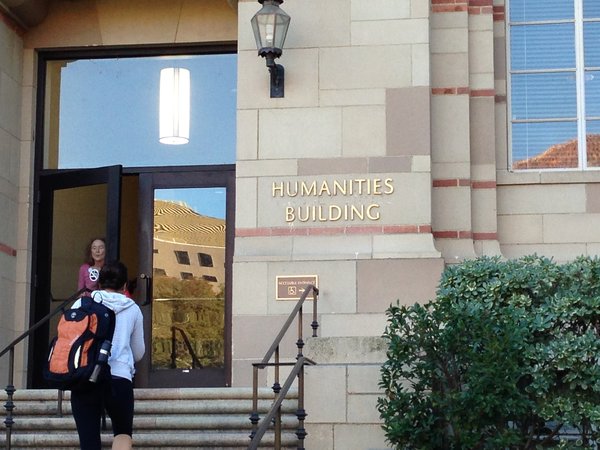 The UC system, USC and 157 other U.S. colleges and universities have spoken out against the American Studies Association's academic boycott of Israel, though most of them have not withdrawn their membership from the organization.
UC President Janet Napolitano, like others in similar positions around the country, condemned the boycott in a statement.
"The University of California prides itself on a rich tradition of free speech and diversity of thought," President Napolitano's statement said. "An academic boycott goes against the spirit of the University of California, which has long championed open dialogue and collaboration with international scholars."
It's not clear exactly what effect the boycott will have, but preambles to the resolution — which passed with 66 percent of 1,252 votes cast — contain lengthy criticisms of Israel.  The tally was announced Dec. 4.
According to the ASA's website, the boycott is "a refusal on the part of the ASA in its official capacities to enter into formal collaborations with Israeli academic institutions, or with scholars who are expressly serving as representatives or ambassadors of those institutions (such as deans, rectors, presidents and others), or on behalf of the Israeli government, until Israel ceases to violate human rights and international law."
It goes on to say that individual professors may handle their own relationships with Israeli universities and scholars as they see fit.
"We are expressly not endorsing a boycott of Israeli scholars engaged in individual-level contacts and ordinary forms of academic exchange, including presentations at conferences, public lectures tures at campuses, and collaboration on research and publication," the website states.
"U.S. scholars are not discouraged under the terms of the boycott from traveling to Israel for academic purposes, provided they are not engaged in a formal partnership with or sponsorship by Israeli academic institutions."
According to Dana Erlich, Consul for Public Diplomacy at the Israeli Consulate in Los Angeles, the Israeli government has not given an official response.
"We have spoken out in different outlets, but we didn't publish a statement officially from Israel," Consul Erlich told The Boiling Point. "What we're trying to do is work through other contacts, and it's been successful. Many universities in the U.S. have spoken out against it."
She doubted the boycott would be honored, in any case.
"You cannot just boycott Israel, because Israel is already in every part of academic life," Consul Erlich said. "Most of the innovations in the world are a work of collaborations between researchers internationally working together. So, when you're boycotting Israel, you're boycotting your own research."
Shalhevet's Modern Middle East teacher, Mr. Jason Feld, contrasted this boycott with economic boycotts of Israel, which ban a wide range of business interactions with Israeli firms or those that trade with the country.
"The impact of the ASA boycott is a political impact, rather than an economic one," Mr. Feld said. "The more that Israel is singled out for boycotts and sanctions, the more difficult it is for Israel and the Palestinians to compromise."
Two other American academic organizations have taken similar action, the Association for Asian American Studies and the Native American and Indigenous Studies Association, both smaller than the ASA.
"Ironically, the academic boycott of Israeli institutions interestingly enough harms Palestinans, who are receiving a lot of help from Israeli institutions," Mr. Feld added.
So far, six institutions in the United States — Brandeis University, Penn State University, Kenyon College, Bard College, Indiana University and the University of Texas at Austin — have withdrawn their membership from the ASA.
Additionally, three of the country's most prominent university organizations — the American Association of University Professors, the American Council on Education and the Association of American Universities — have denounced the ASA's boycott.
Among the schools that have rejected the Israeli boycott are Harvard, Stanford, MIT, Penn, Columbia and Washington University in St. Louis. Wash. U.'s Chancellor Mark Wrighton was one of the first in America to speak out against the boycott, according to Rabbi Hershey Novak, rabbi of Chabad on Campus there.
"They spoke out against the ASA because it violated academic freedoms," Rabbi Novack said. "Washington University also has deep and ongoing partnerships with so many Israeli institutions.
"However, I don't think they're going to withdraw their membership," he continued.
"Only a tiny fraction of the total membership of the ASA even voted."
The organization has 5,000 members, of whom 826 voted yes. Most did not participate in the ballot, and 375 voted no. Another 37 abstained.
The ASA's president, Curtis Marez, is a professor at the University of California, San Diego. In a statement Dec.31, he said that Palestinian groups asked for a boycott to protest Israeli treatment of Palestinians. The organization had never endorsed an academic boycott before.
"We are targeting Israeli universities because they work closely with the government and military in developing weapons and other technology that are used to enforce the occupation and colonization of Palestinian land," said Prof. Marez.
He said that unlike countries such as Iran, Cuba and North Korea that might have more severe inequalities, Israel benefits from U.S. financial and military support.
"The university presidents denouncing our move have largely been silent regarding Israel's abuses of Palestinian academics and Palestinian human rights in general," Prof. Marez' statement said.
According to Zev Hurwitz '11, a junior at UCSD who is vice president of the school's Union of Jewish Students and former board member of Tritons for Israel there, responses to the campus on boycott have been "relatively quiet," despite the group's president teaching at the school.
"When we first heard about the boycott it was right around finals time, so everyone was busy with finals, and then it was break," Zev told The Boiling Point. "By the time we got back from break, it was such a cold topic that people weren't really talking about it and we decided not to bother with it."
He said Palestinian groups on campus had not gotten involved in the topic either.
"The boycott doesn't change our day-to-day lives," Zev said. "It doesn't really matter that the guy who's the president of the ASA teaches here, because we have teachers who are so far on the right."
That seems to be the attitude of most at Shalhevet as well, though a few think students should at least look differently at schools that have supported with the ASA's decision.
"I wouldn't change my mind about going to a college that is part of the ASA," said señor Annie Asch, "because it would give me an opportunity to voice my opinion and open up people's minds to a differing opinion that's not so anti-semitic."
Mr. Feld thinks it depends on the student.
"I've thought a lot about this," Mr. Feld said, asked whether Shalhevet grads should choose to enroll elsewhere.
"Not necessarily. In fact there are a lot of Shalhevet students who are perfectly suited to be voices on those campuses. But I wouldn't say it's for everyone."
While university presidents have generally opposed the ASA action because it would undermine academic freedom, Shalhevet opposition seems to have more to do with the target — Israel.  Academic boycotts might be needed in other cases, they said.
"There are regimes that are so heinous and the institutions that they represent are collaborators in that," said Mr. Feld. "The distinctions I would make would be that I would be more inclined to boycott institutions with truly repressive regimes, as opposed to countries with policies that I don't agree with."
General Studies Principal Mr. Roy Danovitch agreed.
"I support academic boycotts in countries where intellectuals and scholars are being muted and silenced and their free speech is being constrained," he said.  "I think it should be in cases where it's a sign of solidarity, and we're standing up to a country's policies. With Israel, obviously, I'm against the boycott."