Israeli consul laments tourists' negative view of Holy Land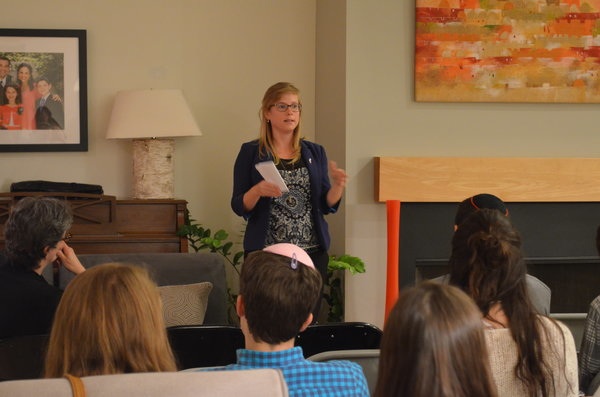 Where would you rather go, Israel or Costa Rica?
And what makes a country desirable to tourists – low crime, beautiful scenery or just not showing up negatively in the news?
According to Dana Erlich, Israel's Consul for Public Diplomacy in Los Angeles, Israel suffers from an undeservedly negative reputation. On Thursday evening, Oct. 24, she asked about 25 student journalists from four Jewish high schools to help solve the problem.
"We need to learn," Ms. Erlich asked, "how do you send that positive image?"
Ms. Erlich spoke at the home of sophomore twins Micah and Jonah Gill, as a keynote speaker for the Jewish Scholastic Press Association conference, attended by schools from Los Angeles, San Francisco and New York.

For Consul Erlich, the core of Israel's problem is public perception. Israel seems violent and bleak to the average American, evoking images of soldiers, concrete, strife and sand.
In contrast, Costa Rica — where she was stationed for her first diplomatic posting, as Deputy Chief of Mission and Consul there from 2010 to 2012 – is seen as peaceful and verdant, though crime there is much higher and the country is much poorer.
"I remember when I first arrived in Costa Rica — I was staying in a hotel, and they wouldn't let me go out at night to get coffee," Ms. Erlich said. "They told me it's too dangerous because the crime rates are so high."
Costa Rica is in fact less developed and has higher rates of theft, murder and assault. On its website, the U.S. Department of State advises U.S. citizens visiting Costa Rica to avoid going out by themselves, especially at night, and to be wary of pickpockets and car thieves.
Costa Rica's murder rate is 10 per 100,000 per year, according to a 2012 study by the United Nations Office of Drugs and Crime.
Additionally, Costa Rica is not a wealthy country.
And though perceived as brimming with conflict both internally and with its neighbors, Israel's rate of murder is only two civilians each year per every 100,000, compared to 4.7 per 100,000 in the U.S.
On the other hand, Israel does suffer from occasional terror attacks and frequent spates of rocket fire toward its borders. This has led Israel into war three times in recent years — twice against Hamas in Gaza and once against Hezbollah to the north.
It also borders roiling countries like Syria, where a civil war has killed scores of thousands and even involved chemical weapons. Additionally, some see Israel's treatment of Palestinians in the West Bank and Gaza as unethical.
Ms. Erlich says that these aspects are focused on disproportionately, and that the more
important, above-par aspects of Israel are not fully appreciated.
"Israel is known for its controversial parts, more negative things," Ms. Erlich told the JSPA in her address, which lasted about 45 minutes. "That's the message people are getting instead of any of the positive things Israel has to offer."
Like defenders of Israel, defenders of Costa Rica argue that these problems aren't as bad as they seem, and that they are being worked on.
According to Sylvia Ugalde, the Consul General of Costa Rica in Los Angeles, poverty and crime are both problems Costa Rica is trying to solve. And ironically, poverty is sometimes itself a draw for tourists, the consul added.
"Many Americans, and other nationalities as well, want to go there to help out our less fortunate," said Ms. Ugalde.
Elizabeth Burgos, an agent at the Willett Travel Agency in Studio City and a Costa Rican herself, reminded potential travellers in any case, Costa Rica is beautiful.
"Young people love the adventure and adrenaline of Costa Rica, like whitewater rafting, rappelling waterfalls, hiking, surfing," she said. "If you can cover the tropical rain forest, cloud forest, dry forest, beaches and volcano, you would discover what Costa Rica has to offer."
And in fact, that apparently is how Costa Rica is seen — perhaps because it so rarely appears in the news in any way.
And though she was at the Gills' to share her own expertise, she ended on a note that asked the audience for help and cooperation. Senior Liat Menna, who lived in Israel until she was three and still considers herself Israeli, said the task should not be difficult.
"It's not a third-world country, but it's still a Middle East country so you can see what a desert is like," said Liat, who was not at the journalism conference. "There's hiking and river rafting and parasailing. You can go see how things were in the past."
But the best reason to go, she added, has nothing to do with low crime, Mediterranean beaches or advanced infrastructure.
"Israel is so great is because you get purpose and meaning out of it when you go there," said Liat. "There's something in the air that gives you an instant connection.  I think it's a sense of belonging, because of the history and rich culture and the complexity of the country, and that it's the talk of the world and you can take part in it."