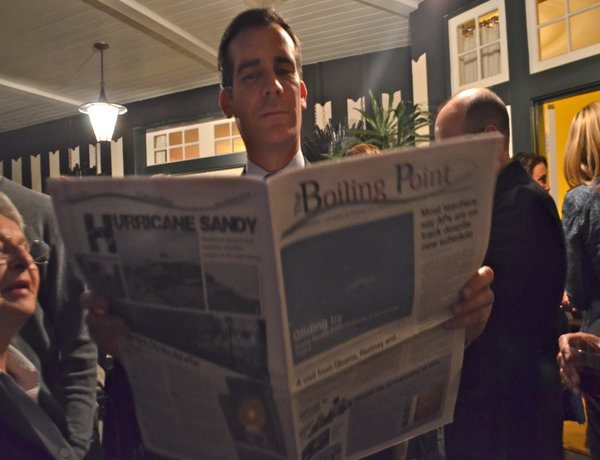 Taking the pulse of next Tuesday's runoff from Bill Clinton to Will Ferrell — with a stop at Steven Spielberg's mom's restaurant on Pico
"Of course I know Shalhevet," said mayoral candidate Eric Garcetti, nodding slightly at two Boiling Point reporters at a fundraiser April 10 in Hancock Park. "The one by Olympic and Fairfax? That's a good school."
Councilman Garcetti and City Controller Wendy Greuel are the two final candidates in the race to determine who will be the next mayor of Los Angeles.
Despite their extremely busy schedules, both candidates set aside time to answer questions from the Boiling Point, and both revealed a personal connection to the Jewish religion.
Ms. Greuel, while not Jewish herself, is a member of Temple Israel of Hollywood.
"Not only is my husband Jewish," Ms. Greuel said, "we are raising our son Jewish, so this connection is deeply personal for me."
Councilman Garcetti, son of the Italian-Hispanic former L.A. District Attorney Gil Garcetti, is Jewish himself, on his mother's side.
"I would actually be the first Jewish mayor of Los Angeles if I'm elected," Mr. Garcetti said. "I don't think most Jews will be voting for me on that basis, though."
At the Hancock Park event, the Boiling Point was able to speak briefly to Mr. Garcetti, who then followed up via e-mail to questions submitted in writing. Ms. Greuel's campaign did not schedule a meeting but responded via e-mail to similar questions.
Not only are the two candidates tied to Judaism, but both said they are inspired by it.
Mr. Garcetti's ancestors were Jewish immigrants who fled pogroms in Czarist Russia at the turn of the last century, settling in the then-Jewish enclave of Boyle Heights in East Los Angeles.
"Their sacrifices and experiences have informed me as a public servant," the councilman wrote in his e-mail, "as has the principle of tikkun olam [repairing the world]."
Mr. Garcetti affiliates with the alternative movement Ikar, which is led by Conservative Rabbi Sharon Brous and meets at the Westside Jewish Community Center around the corner from Shalhevet.
Ms. Greuel, whose position as City Controller has placed her in charge of the city budget, said both the Jewish community and the state of Israel have inspired her.
"I have traveled to Israel, and feel a special closeness," Ms. Greuel said.
Meeting Israelis affected her, she wrote, "seeing how tenuous life can be, yet continuing to lead their daily lives – sending their kids to school, celebrating Shabbat, and knowing that they are part of a much larger community of shared beliefs and shared values."
Both candidates claimed to be best qualified to serve the Jewish community.  Ms. Greuel emphasized her support for Israel.
"Los Angeles must not just come to Israel's defense in a crisis, but we must also be an outspoken friend to Israel during times of relative calm," she wrote, adding, "Israel has so much to offer culturally and economically."
Mr. Garcetti believes his background gives him an advantage in serving the Jewish community.
"I personally understand the unique history and the personal aspects … and would be able to deliver city services and assistance specifically tailored for the community," he wrote.
Both candidates also said they could serve the Jewish population of Los Angeles by pursuing the same objectives they believe would improve the city as a whole.
"As mayor, my top priority will be creating jobs and solving problems for L.A. residents in all communities," wrote Garcetti, whose campaign rests on three main goals: creating jobs, reducing government bureaucracy and improving education.
"I will use every tool at my disposal to make sure L.A.'s students are being fully funded," said the candidate, who argues that Prop. 98, which promises to fund schools $8,000 per student, has not been upheld. "I will fight for our fair share of funding in our schools."
Another focus for candidate Garcetti is literacy, and not just in English or Spanish.
"I will make sure our kids are being taught the languages they need to succeed," he promised, "both foreign languages and computer-programming languages."
Ms. Greuel, too, believes that "the Jewish community wants what all Angelenos want." By focusing on the economy, transportation, and education, she would address the needs of the Jewish community.
"As mayor I will balance my budget by cutting spending," she states on her campaign website. She believes she can cut $160 million, or about 2 percent of the city budget, for next year.
Those saved funds could either help pay off the city's accumulated deficit, estimates of which range from $150 million to $216 million, or go towards "the city's biggest priorities," like job growth and education.
Ms. Greuel's campaign has largely received the support of major unions, including the SEIC and those representing the Department of Water and Power, LAPD and firefighters. Her other supporters include former President Bill Clinton, as well as her former employers at Dreamworks SKG, including Jeffrey Katzenberg, David Geffen and Steven Spielberg.
Mr. Garcetti has been endorsed by the Los Angeles Times as well as by the three candidates who were eliminated in the mayoral primary election on March 5. This includes the other Jewish candidate, Jan Perry, who served on the city council with both him and Ms. Greuel. These supporters praise him for his pursuit of improved education and job growth.
Other Garcetti supporters include comedian Will Ferrell.
"If you vote for him," Ferrell promises in a humorous video on the campaign's Youtube channel, "there will be free waffles every Tuesday morning for the whole city of Los Angeles!"  This apparently is not true.
Searching for a Greuel supporter to interview, the Boiling Point visited the Milky Way, a kosher restaurant on Pico Boulevard owned by Steven Spielberg's mother, Leah Adler.
Mrs. Adler said she was unaware of her son's endorsement.
"Steven and I don't talk about politics," she said, smiling. "We talk about important things, like what's for dinner."
Many in the Jewish community believe that either candidate would serve the city well. Among those is Sam Yebri, chairman of the Jewish Federation's New Leaders Project and co-founder of the Iranian Jewish organization 30 Years After.
"Both candidates have been longstanding and reliable friends to our community," Mr. Yebri wrote in an e-mail to the Boiling Point. "Both have large rosters of supporters in the Jewish community."
In the primary election on March 5, Garcetti received 33.1 percent of the vote, emerging along with Greuel's 29.0 percent as one of the two final candidates. In a more recent poll, on May 9 by the Patt Brown Institute of Public Affairs showed Ms. Greuel leading with 46 percent to Mr. Garcetti's 45.
Meanwhile, in New York City, for the first time in 20 years there is no Jewish candidate on the mayoral ballot at all.  So while New York will lose its longtime Jewish mayor, Michael Bloomberg, Nov. 5, Los Angeles will have one if Councilman Garcetti is elected.
And if it's Controller Greuel, it will still be pretty close.
Related: At Election Night party in Hollywood, loud music and diversity as L.A. elects its first Jewish mayor