RCC says policies have changed in response to Doheny Meats scandal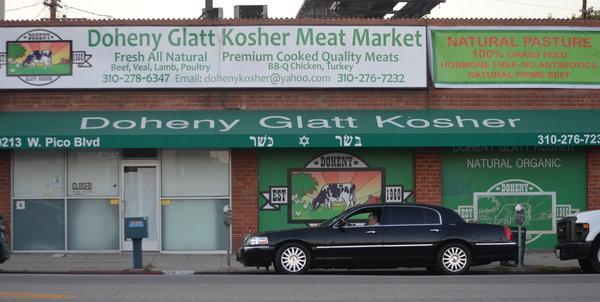 By Mati Hurwitz, Torah Editor
In the wake of the closure of Doheny Glatt Kosher Meats in March, the Rabbinical Council of California, or RCC, has made changes in its kashrut supervision.
"New safeguards have been instituted," said Rabbi Avrohom Union, the group's Rabbinic Administrator, without elaborating.
But in a pair of e-mails, Rabbi Union also said the RCC isn't responsible for businesses that circumvent its regulation, or hashgacha.
"Unfortunately," he wrote in response to questions from The Boiling Point, "hashgacha agencies around the country sometimes encounter a business that wants to cheat. Our job is to make it so difficult that it is not worth their while."
Others have suggested that the RCC bears part of the blame for the scandal, which unfolded just before Passover when video surfaced showing Doheny's owner bringing meat into the store after the RCC's mashgiach, or kosher supervisor, had left.
"The RCC was not doing their job," said Eric Agaki, the Los Angeles private investigator who — acting on his own initiative, he said — recorded and circulated the footage.
The video shows the RCC's mashgiach for Doheny Glatt Kosher unlocking the store early in the morning, then bidding the store's owner, Michael Engleman, goodbye and leaving. Mr. Engelman then opens the back of a van and, with the help of his workers, brings boxes inside.
In a mass e-mail to members of their communities, three local rabbis — Rabbi Elazar Muskin, Rabbi Yosef Kanefsky, and Rabbi Kalman Topp — said the mashgiach had left to daven Shacharit, or morning prayers.
That raised the question of whether the mashgiach had broken RCC rules, or whether it was okay for him to have left. But because he has not been identified, his version of events could not be obtained by the Boiling Point.
But Rabbi Union called his leaving a "mistake." According to Rabbi Union, he was not punished by the RCC but "has suffered tremendously from guilt and embarrassment over the mistake."
Part of mashgiach's job is to ensure that at all times he or she is allowing for only kosher food that has been pre-certified by its manufacturer to enter the store. This involves inspecting everything that comes in to be sure it is labeled with the proper certification, and if so, he can let the store sell it.
Still, Rabbi Union added, "All mashgichim in all kinds of establishments are people who take a brief break. Halacha does not require their presence for every second, as long as they can return momentarily."
Regarding prayer, Rabbi Union said, "The instructions are to pray before starting work, or on site."
Doheny Glatt Kosher is located the heart of the Pico-Robertson and Beverlywood neighborhood, where about half of Shalhevet families live.
When confronted with the video, Mr. Engelman said it wasn't non-kosher meat – just "non-glatt" meat, meaning it adhered to a less stringent but still valid form of kashrut – that he was bringing into the store.
Since the meat was falsely labeled when discovered, however, no one knows for certain what it was. It might have been non-glatt kosher or perhaps non-kosher.
Mrs. Shari Fishman, mother of sophomore Alexa Fishman, was one of the customers who was affected.
"I had actually ordered rotisserie chickens for Erev Pesach which I could not pick up," Mrs. Fishman added. "I woke up the morning before the Seder and had to go out and buy food. It was very inconvenient. But all my other meat and chicken had come from Western Kosher so I had no problems. "
In terms of the new meat she bought, Mrs. Fishman said that the "chicken is all the same but the Doheny beef was really great."
"I do still have some Doheny meat in my freezer from before Doheny lost its certification," she added. "Maybe I will sell it on eBay?"