Haiti: Disaster struck, and Shalhevet struck back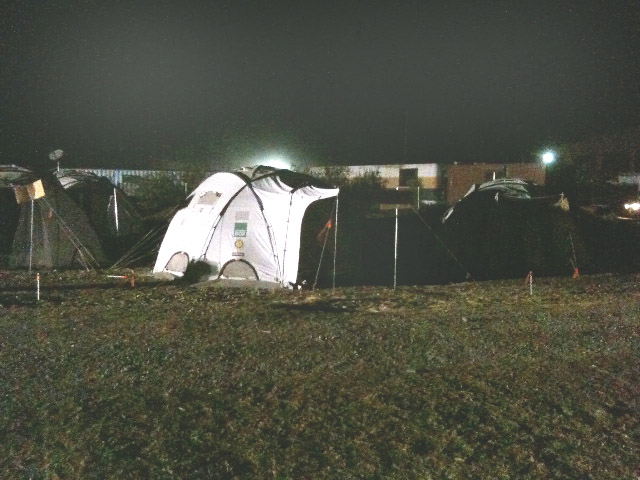 When disaster struck Haiti on January 12 in the form of a 7.0 magnitude earthquake, the response from within Shalhevet was swift and strong. 
The next morning, freshman Erin Sharfman was walking around the school with a collection box, gathering money. Her solo efforts raised over $100 for Haiti that first day alone, an amount that soon tripled and then swelled to $1,000 when matched by two outside groups. 
The money was used to by a "Shelter Box," which  contains a tent and other crucial staples.  The money not used for the Shelter Box was sent to St. Damians Hospital in Port Au Prince. 
"I was in Jewish History class, and we were talking about how Jews have an obligation to help other people in trouble," Erin Sharfman explained. "People were coming up with ideas for how to help out, and I said at one point that even if these ideas are great, they're still ideas. Great ideas aren't anything if they can't practically work. And Mr. Feld challenged me to do something about it, and he gave me my first dollar for Haiti."
Between the efforts of Erin and school sustainability director Dave Chameides, Shalhevet raised over $300 the first day after the earthquake. After that donation was matched twice, the total was over $1,000. Mrs. Sheryl Katchen (the mother of freshman Sarah Katchen)  also matched the donations Erin collected that first day.
Meanwhile, as Dave Chameides was arranging to get all the supplies from Shalhevet (and others who had contacted him) sent to Haiti, he received an invitation from a representative from Partners in Health, which is an organization that works to bring medical care to countries in need, to help film a documentary on Dr. Paul Farmer, the group's co-founder. Partners in Health was already operating out of a state of the art hospital in Haiti, and a documentary would be a way to raise much more money, they told him.
On his way to Miami to join the Partners in Health group, Dave spoke with a Virgin Airlines flight attendant about what he was doing and she offered to see if the airline would be willing to help ship things. Dave then called senior Emma Lipner and asked if she'd take over is work collecting supplies.
Emma quickly agreed and took charge of packing boxes with items she obtained from students, parents of students, and outside donors including  everything from baby formula and Purell to medical supplies like scrubs, needles, anesthetic, gloves
"I saw what had happened in Haiti on the news, and it was so devastating," Emma said in an interview. "…You see these images of doctors having to amputate limbs without being able to put the patient out, and it's tragic." 
She then drove everything – 11 50-pound boxes in all – to the airport where it was shipped by Virgin into Haiti.
"Everyone was so willing to help, and we got a lot of donations," Emms said.
Preparing to leave for Haiti, Dave Chamiedes – affectionately known on campus as Sustainable Dave — was told to brace himself for what he would see there. His director warned him to bring scented oil to put under his nose so that the smell of dead bodies wouldn't overwhelm him. 
"I don't even know how to prepare for that," Dave said, after explaining this. "It's going to be tough and exhausting, one of the hardest things I've ever done on a lot of levels. I'm going to be involved in things I will probably never get out of my mind. But I'm going to go do good work, and tell their story and hopefully it will raise funds to help rebuild Haiti."
When he returned, he gave a talk accompanied by photos to the whole school at Town Hall Feb. 22th.  The Haiti many people know from watching major news channels isn't really what it's like over there.
"I made the mistake of watching CNN at the airport," Dave said. "I almost turned around right there, because they were showing all these videos of riots. But somehow, I decided I was in it, and that was that. 
"But when we got there, we didn't see any civil unrest at all; we didn't even meet anyone who had seen or heard of any civil unrest either. The people were so unbelievably calm, it was amazing. There were a couple of minor food and water riots, but when you show them five times an hour on the news, it turns into all of Haiti erupting into chaos. You just can't trust mainstream media."
On the contrary, Dave explained, the effort to help Haiti had united the world in an effort to save the people there.
"My favorite picture shows a Magen David Adom volunteer and a Red Crescent volunteer working together to unload supplies for the hospital," said Dave in an interview with The Boiling Point.  "It was beautiful to see everyone working together."
The Israelis, Dave added, were openly lauded in Haiti, for their efficiency and expediency. 
"I would come across people who literally could not come up with enough good to say about The Israelis, and how fast and efficient they were," he said.
Coming back from Haiti, though, was extremely difficult.
"It's been hard for me, because I want to be there, not here," said Dave. "I would have stayed there if I could. I'm frustrated, coming back to Los Angeles, seeing what people get upset about and what people take for granted.
"One of the friends I made in Haiti, who was our translator, his business had been destroyed, and his kids, who were grown up and at school, had had their schools destroyed by the earthquake. His family is literally sleeping on the ground outside, because the house might collapse."
Dave explained that he had asked his friend what he could do to help him. The friend replied that though there was nothing he directly needed, if Dave could arrange to send tents over to Haiti after he left, he would make sure they got distributed. 
"I was standing in the terminal, thinking about how many people could fit in this huge place, with running water, electricity, and a stable roof, and how crazy it was that a place like this literally existed for people to spend maybe two hours in."
Dave also said that he intends to return to Haiti, to do whatever he can to help. 
"I would do it again, in a second, without question," he told The Boiling Point. "You sort of get this Schindler's List mentality, of 'what if I could have done more?' It's hard to sit down at the TV and watch a sitcom, when you could be figuring out a way to get one extra tent over to Haiti.
"Altruism is the most addictive drug there is," Dave explained. "And everyone has it in them to do good, if they can push away all the other garbage. If you get the opportunity to do good, you need to take it, even if it's difficult."
Meet the Writer
Jenny Newman, Outside News Columnist
Jenny Newman has been writing for the Boiling Point since her freshman year, her stories contributing to every section from Torah to Opinion. She has been editor of Outside News for a year, and has written many detailed stories for her section on topics like the Goldstone Report and the actions of the Israeli army. Jenny is also involved in a plethora of after-school activities, including Mock Trial, Model Congress, Model United Nations, Playwriting, and Choir.