CLARA'S CALLS: Happy Endings, and may the Raptors win
Acharon acharon haviv. The last one is the most precious.
This Rashi perfectly embodies how I feel as I write this last, most precious column. How is my run with the Boiling Point, with the sports section, over?
Instead of dwelling on the sad, let's focus on the exciting. The exciting that is the NBA finals this year, which may — just may — have a different kind of ending.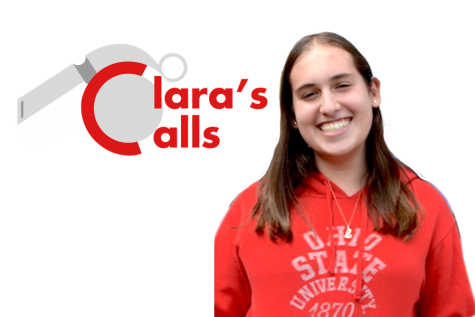 Obviously the Golden State Warriors are in the mix. I really never thought there would be a scenario where I would root for Canada over the USA, but the entire United States, minus Northern California, is rooting for Canada. North American love!
Basketball is getting boring. This routine of the Warriors always making the playoffs makes every other team look like they're bad. And they're not!
Why is it that the Clippers gave the Warriors the biggest run for their money, even though the Clippers were the eighth seed, and the Warriors the first? The Rockets and Trail Blazers did not even come close. Maybe things are happening that we hadn't noticed and basketball is on its way to becoming exciting.
Then Game One of the finals happened, and the Warriors lost. Is this game a foreshadow for what the rest of the series is going to look like? Will the Warriors lose to a team that is not the Cavaliers for the first time in what feels like forever? Although the Warriors prevailed in Game Two, I believe there is still hope.
Put simply, the Raptors need to win. They need to win so that the Warriors superteam crumbles. So that Kevin Durant leaves the Warriors. So that Northern Californians lose the obnoxious smugness with which they carry themselves. It has come to the point that I would prefer any team to the Warriors, because I just want basketball to be rich and fulfilling again.
Currently, as the same team wins over and over, basketball is boring and more of the same. Basketball needs competition, not the same team winning all the time.
And so the finals this year are exciting. The possibility of a Warriors failure, even if it is far more likely that they will succeed again, is tremendously riveting.
So how do I spend my last column? Kvetching about the Warriors and putting all my faith in the only Canadian team in the NBA.
But before I go, I want to thank the Sports Section for being such a significant part of my high school experience. I'd like to thank my dad for teaching me sports, my grandmother for teaching him sports and my friends for chatting with me about sports. Without regard to my gender.
Acharon, acharon haviv.
---
Click here to read all of "Clara's Calls"
---