What We're Wearing: For Timeless Fashion, Follow The Don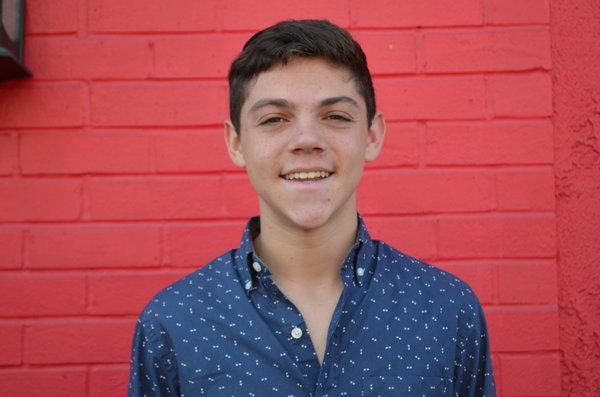 One day last month, as I entered Advanced Gemara Shiur, the brilliant and fashion-forward Rabbi Ari Schwarzberg turned to me and asked a question.
"Micah, you wear tight pants," Rabbi Schwarzberg said. "Have your pants ever ripped after bending over or squatting? Because I just ripped my second pair of dress pants this week."
After relaying this hilariously funny comment to the class and partaking in its hysteria, I gazed at my Gemara that morning and — after finishing the assigned material, of course — wondered how the phenomenon of male skinny clothing came to be, and what about it is so appealing.
I didn't find an answer. But though the "skinny" movement is only contemporary, men have always worn clothing to fit. Recently, waistlines have gone south and jeans have become skinnier, but men who are style-conscious have always worn their clothes to fit them – that is, pants that never hit the ground and jackets that are never a size too big.
Take Donald Draper, the fictional fashion icon and main character of the hit TV show Mad Men. Although his fashion is mid-20th century, how he wears his suits of the '60s is equally instructive as to how we should wear our clothing today.
Don is not a man who would, at first blush, be pegged as "fashionable," and in fact he comes across as someone who does not have time to worry about what he's wearing. Yet this stoic, stern and effective businessman wears a suit in nearly every scene he appears in, and wears each suit the same way: his suit lapels are never smaller than his ties, his shoes match his belts, and most importantly, his jackets and his pants fit him.
Granted, Draper is not wearing suits akin to those of 2015. But the men of the '50s and '60s were serious about their business, and they knew how to present themselves.
As for skinniness, the current trend of wearing trousers below the waist that outline every detail of a man's leg can probably be attributed to European influence of the late '60s. The rise – the distance from the inseam of the crotch to the waistband of the pants – continues to descend as part of modern culture. I have no doubt that will change with time.
What won't change, however, is men wearing pants that fit them. "Needing to wear a belt" should not be part of a man's vocabulary and the heels of one's shoes should not ruin a nice pair of trousers.
Were Rabbi Schwarzberg's ultra-skinny Topman pants a bit too tight? It's more than likely. He might need to buy ultra-slim next time – one size up.
However, what he and men everywhere will never do, is wear pants that are loose and too long. Just look at Don Draper.
What We're Wearing: A note on girls' fashion
With the permission of my dear and precious readers, I'd like to focus on something I haven't discussed in my brief tenure as fashion columnist. I'd like to speak about female style.
​To clarify, I'm not going to tell you whether to go to Brandy Melville or Karen Michelle (because what Jewish girl doesn't shop there?). Rather, I'm going to offer my insights on female fashion at a Modern Orthodox, Jewish high school.
​Frequently, people tell me that "male fashion is boring" or "a girl's wardrobe is so much more intricate than a boy's." Although this is a narrow view and in my opinion inaccurate, it does have some validity.
Unlike boys, who use (primarily) sports or academics as outlets for competition, girls use fashion. They may use it to raise their self-esteem, put down a friend, or simply gain attention or popularity, but in any case, a girl's wardrobe has much more to it than what matches or what style is in. From my point of view, girls wear what they wear (and how they wear it— let's not forget the skirting phenomenon) simply because that is what is expected. They dress to impress.
​Now, keeping this as tzniut, or modest, as possible, I'll begin with how girls wear their skirts.
​Although I'm sure there are many styles of the skirt –which by the way was invented way back in 3900 BCE, so it's had lots of time to evolve – the two skirts I frequently notice at school are the "pencil" — tight and narrow — and the "flowy"— loose and wide.
​In my eyes, each has its advantages and pitfalls. One is a bit fancier while the other is more casual; one is a bit preppier while the other is on the chic side of the spectrum. Be that as it may, if you were to ask me what style of skirt I prefer on any random Tuesday, I'd tell you flowy nine times out of 10.
​Let me explain. Pencil skirts are sexy. Yes, some say they're comfortable and some claim that they're cost-effective, but above all pencil skirts draw attention to the more intimate regions of the female body. And I'll be the first to tell you, from the perspective of a run-of-the-mill high school boy,these skirts can convey a message that you're trying too hard. They are rarely worn below the knee (which, if they were,would drastically change my opinion) and seem like they make it hard for girls to walk from History to Gemarah. This is not sexy.
​Moving on, what a girl (at least at Shalhevet) wears on her torso is almost entirely up to her. Now, in this area, I happen to be quite open-minded. In my opinion, a graphic tee with a high neckline from Urban Outfitters always exudes "I'm cool" without even trying, while a nice cardigan puts the prep in "I go to a Modern Orthodox Jewish day school."
​And if you really want to show off a little bit more skin than the average Joe (or in this case, Josephine), I don't see any problem with a nice v-neck sweater. They're in, they can match just about anything, and you can always tug on the back as you walk a dress-code enforcer (just kidding–invest in a high v-neck).
​I'll end this segment on a high note. Girls: lose the competitive edge once in a while. Most boys aren't attracted to girls who seize every opportunity to show off some skin. Every now and then, roll up to school in an American Apparel skirt, some moccasins and a hoodie (but do it more than once a week and we won't be friends; no one likes a shlump).
​Because really — and this applies to boys too — fashion isn't something for competition, it's something in which you should take pride. Is wearing a pencil skirt a sin? Absolutely not. But maybe once every three days, switch it up. Find the outfit that looks best on you, and only you. And hey, if that happens to be the unconventional style, in the words of Robert Frost, "take the road less travelled by."
​Wear what you want to wear because you want to wear it. It may brighten your day in more ways than you can imagine.
What We're Wearing: Spend a little, have it all
Just last week, an old friend whom I was meeting for dinner said to me, "Micah, I need a new suit, but they're all too expensive." This is a common complaint among men. However, I'm here to turn your world upside-down and change the way you look at this problem.
It's more important to wear a suit that fits correctly than one that is made of a high-end material.
"What!? Micah, that's the most ridiculous thing I've ever heard!" Let it out. And after the mini-tantrum, let me try to explain.
It is commonly said that "clothing makes the man." Whether you're meeting someone for lunch, walking into an interview, or going on a date, people respond to how you present yourself; this starts with what you wear.
Now, it's always an option, if you're willing to mortgage your parents' house to spend money on a Gucci or Tom Ford suit and slap on a Louis Vuitton belt, a Zenith watch and some Magnanni loafers. People certainly respond to someone who spends money on what he wears.
But for those of us who'd like to keep roofs over our heads, I suggest saving a couple of bucks on your suit but don't hold back on a tailor. What people actually respond to is how your clothing fits.
It's as simple as that. If you show up to an interview wearing a suit that's two-and-a-half sizes too big, you'll look foolish. If you show up to an interview wearing a jacket that's so tight you can't button it, you will also look foolish.
What you must keep in mind is even though you might feel a bit inadequate, the tag on a man's suit is as private and personal as his social security number. It is meant for your eyes, and your eyes only.
It's also true that the main difference between a "nice" suit and a "cheap" suit is what it's made of. Sure, some high-end suit makers will pride themselves on being manufactured in America and stitched with the most expensive cloth known to man, but a nice suit is considered nice because of what it's made of.
So the first step to saving some money in the fashion department is taking care of your less-expensive suit. Even though you're not spending a lot of money on it, your suit will not fall apart unless you don't take care of it. That entails folding it on the creases, ironing when necessary, and please — always hang it up.
But after you've bought your suit, maybe it's from Macy's or even H&M, you must take it to a tailor. Not one suit fits you perfectly. If you think you've found a suit that doesn't need altering, you're either ignorant when it comes to suits, or you're lying to yourself.
Go to a tailor. If you've never been to a tailor, don't worry. The key to going to a tailor is keeping this in mind: most men wear suits two sizes too big. As far as the jacket goes, you should be able to button it without any visible wrinkles on your torso, but tightly enough so you can comfortably fit two fingers in between your stomach and the front of the jacket.
Moving along to pants, keep this in mind: there are a few ways a pair of pants can look. You can go for looks ranging from loose to very slim. When your tailor asks you how slim you want your pants, just show him how much cloth he should hem off from the back of your pants. This is where the tailor makes his money, so if you ask him or her to cut off half of the pant, it will cost more than if all you ask for is a couple centimeters.
For length, you want your pants to reach roughly the middle of the back of your shoe; that will cause a couple-centimeter break over the front of your shoe, but certainly not be long enough to touch the ground.
My beloved readers, I'm making bold statement: how a suit looks on you is more important than how much you spend on it.
So as spring rolls around and you start attending more bar mitzvahs and weddings, you might be embarrassed to tell your friends that you bought your suit at the same place they buy their hoodies.
Nevertheless, I give you my dear and valuable opinion that it's worth it. A suit is judged by how it looks on you, not by from what store it came.
What We're Wearing: No need to chill
Don't look twice, but cold is approaching — somewhere. Isn't it always hot in LA? Yes …and no. While it's not going to snow and the weather won't even drop to below 50 degrees during the day, winter nights create an excuse to bring out some winter garments.
Use the lower temps to dig out that one item you never seem to be able wear. Oftentimes, it is a sweater.
So what is a fall sweater? Cashmere. Due to its top-notch quality, cashmere can be very expensive. But it's lightweight enough to be worn in LA, and nowadays stores like Uniqlo and H&M are selling cashmere sweaters for under $50; elsewhere they can go for $250.
Another winter staple is, of course, the coat, and not just for those attending the east coast Model Congress conferences in November and February. They can top off an outfit even here.
There may be 30 different coats for different occasions floating out there, but I'll share my favorite: the topcoat. Huh? A topcoat? What century do you think this is? But the topcoat is one of the most versatile and stylish coats for fall and winter. If you're having trouble imagining a topcoat, picture something like a blazer but much longer. The fabric varies but the length is always mid-thigh.
The topcoat can be worn many ways. Firstly, what it's made for: over a suit. This is one of the most dapper looks for fall when you're dressed up. But the topcoat can be used casually, too, whether with khakis and a dress shirt, jeans and a washed button-down, a sweater or even a tee.
Depending on where you look, topcoats can cost from $3,000 to less than $100. Either way it's an investment: a coat is something that should last you for years, and $100 is a steal.
Here are three more tips for fall. First: socks. Warm up your feet with wool. Next: pocket squares – they don't need to pop, but a wool pocket square gives off the impression that you know what you're doing in the closet.
Last: spread collars. The hottest shirts in the fashion world right now, these are shirts with a collar pointing outwards — spread apart. These aren't reserved for the cold, but they're in, and they aren't going out anytime soon.
So as the chilly months arrive, instead of complaining about the weather, think of it as an opportunity to show the world what you've got, from sock to top.
Meet the Writer
Micah Gill, Copy Editor
Micah Gill is a freshman at Shalhevet and writing tops his list of things to do. Along with writing his own articles, he especially enjoys copy editing all the stories because it means he has an effect on, literally, the entire paper. Micah also appreciates sports and fantasy football is one of his few passions. If ninth grade serves as a precedent, Micah's going to enjoy working in the Boiling Point office and will spend plenty of time there.