Penn Model Congress: It's everyone's fault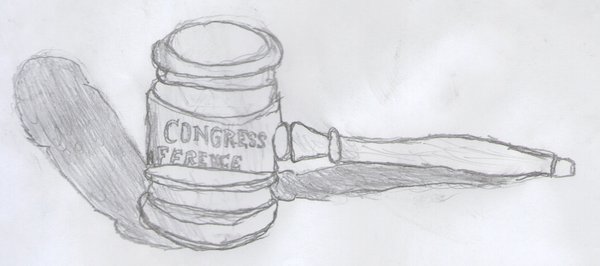 BP Editorial Board
February 1, 2014
Hang on for a minute...we're trying to find some more stories you might like.
When the administration told the Model Congress team it would not be allowed to go on its spring trip to Penn MC, the world was shocked (okay, maybe not the world, but the team certainly was, as were several non-debate students).
At first, there was outrage—how dare they cancel one of Shalhevet's most prized extracurriculars simply because nearly the whole team broke the three simple rules it was given? The punishment didn't fit the crime, several team members argued. Staying up past curfew, girls in boys' rooms, wrestling with each other on beds—did the team really deserve such a harsh and apparently irrevocable consequence simply because they did not follow the only instructions given to them?
The administration told them they wouldn't budge, and that this was not something to "lawyer" or resist, but still allowed the team the chance to write up an alternative consequence. Rav Weissman expected apologies but got none.
Instead of listening, the team fought back—and so did alumni and parents. The situation became ridiculously and unnecessarily exacerbated while the team stood idly by, brainstorming other ways to go to Penn. Should they join Hamilton High's delegation or take the administration to Fairness?
The team apparently didn't realize that perhaps they should listen to Rabbi Segal and Reb Noam and write up an alternative solution, or—what would happen at any other school—acknowledge that they broke the rules and accept that the punishment was actually quite logical.
Meanwhile, the administration was meeting with the parents and reconsidering what it had previously projected (mostly) as an irreversible decision.
Eventually they decided to allow the trip—under a few conditions—and just like that, the spoiled students, pushy parents and aggressive alumni won.
We at The Boiling Point love and support both the administration and the Model Congress team—but in this situation both parties acted weakly, and their decisions (and reversals of decisions) left us scratching our heads.
Next time (though hopefully a situation like this will never happen again), we would like to see the team take a moment to reflect on what it did instead of immediately fighting back while secretly scheming alternatives.
We'd also like the administration to have a bit more backbone—if they are going to make a drastic decision, then it needs to be thought through beforehand, and the administration shouldn't cave in to the complaints and demands of students and parents.
But for now, good luck to the team—after all this trouble, you guys better bring back the Best Delegation award.
This story won a National Award for Editorial Writing in the 2014  International Writing and Photo Contest of the Quill and Scroll Society, judged by the American Society of News Editors.